Charles F. Murphy, Kingmaker
Until 1961 Tammany Hall dominated the New York County Democratic Committee. Tammany was among the oddest, most enduring, and most effective political machines in American history: a fraternal and patriotic society, with arcane initiations and ceremonies drawn from white legends of Chief Tamanend, a Delaware Indian. Its members were braves, its officers the Wiskinkie and the Sagamore, and its elders the Sachems. At times, Tammany resembled nothing so much as a Raccoon Lodge of ballot box stuffers. As one parodist wrote:
Tammany Hall's a patriotic outfit,
Tammany Hall's an old society.
Fourth of July it always waves the flag, boys,
But never will it waive immunity.
On Independence Day 1905, the braves gathered as usual at the Wigwam—located then at Fourteenth Street near Irving Place—to hear the Long Talk and then partake of the Great Feast and drink of the Waters of Life. On the stage sat the Council of Sachems, including the boss, Charles F. Murphy. All wore ceremonial sashes, medals, frock coats, stiff collars, and silk hats despite a room temperature of 105 degrees. After the Long Talk, all rose to sing "The Star-Spangled Banner."
Off to the side, William Riordan, the New York Sun's political reporter, observed Murphy closely. As the meeting broke, Riordan caught up with the Secretary of the Democratic County Committee. "What's with Murphy?" Riordan asked. "He didn't sing 'The Star-Spangled Banner.'"
"Perhaps he didn't want to commit himself," the Secretary replied.
Charles Francis Murphy, Tammany's chief from 1902 to 1924, was a legend, ominously shrouded in silence, mystery, and power. As a contemporary noted, only two local autocrats, New York Giants manager John McGraw and Charles F. Murphy, were universally addressed as "Mister."
If silence can be flamboyant, then Mr. Murphy was an exhibitionist. Asked by a passerby for the time, Mr. Murphy would gaze back benignly, pull out his pocket watch, and hold it up to the questioner's eyes, never opening his mouth. He left no records, formal speeches, or letters and granted no interviews of consequence. He once murmured, "Never write when you can speak; never speak when you can nod; never nod when you can blink." Eighteen words was extravagance in Murphy's taciturn world.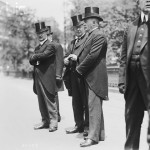 His motivations were inexplicable to his closest friends and one could only infer the obvious: politics was a road to success, honors, and wealth for an ambitious man who had been born poor.
The Murphys were so obscure that no one is sure of his father's first name. The second of nine children, Charles F. Murphy was born in 1856. He became a manual laborer at the age of fourteen and then a horsecar driver. In 1876, he organized a baseball team. He was a good catcher and received several offers from professional clubs. But in 1880 he used his life savings of $500 to open a bar, Charlie's Place, at 19th Street and Avenue A, where Stuyvesant Town now stands. He sold a beer and a cup of soup for five cents, frequently tended bar, and offered a sympathetic ear.
In 1892, he became district leader. He kept tabs on his voters, and if any Democrat in the district hadn't voted by 3 PM, Mr. Murphy sent him a card by a messenger, respectfully inviting him to the polls. Mr. Murphy could be found standing under an old gas lamp every night outside his clubhouse, available to anyone who needed to see him. Hard work and accessibility piled up huge majorities for the Democratic ticket.
Then and later, conversations with Mr. Murphy were brief and one-sided. The supplicant spoke for a minute or two. Then Mr. Murphy nodded yes or no. His promises were carefully considered and conservatively granted.  Once made they were binding, no matter how circumstances might change.
Tammany was the intermediary between the poor—particularly the immigrant poor—and American society. The poor gave Tammany their votes. In return, Tammany provided jobs and handouts. The leadership used its power for profit. During the early nineteenth century, Tammanyites such as Samuel Swartout, U.S. Collector of Customs and embezzler, literally grabbed the money and ran. The Tweed Ring took kickbacks from contractors. Boss Croker extorted bribes from whorehouses, gambling halls, and illegal bars in exchange for protection from law enforcement.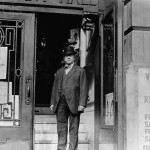 The local reformers, then as now, were more interested in cutting expenses than in easing the lives of the common people. They often tried to enforce an arid Protestant morality requiring rigid observance of the Sunday closing laws (which, in the context of a six-day week, meant workers had no fun at all). By contrast, Tammany winked at Sunday openings, passed out free turkeys at Christmas, buckets of coal during the winter, and free ice during the summer, and maintained the personal contacts that gave and still give a sense of security to the poor. Reform offered justice. Tammany offered mercy. In a world of sinners, mercy wins every time.
In 1897, Charles F. Murphy was appointed a Dock Commissioner. Fiercely proud of the title, Mr. Murphy thereafter preferred to be addressed as "Commissioner." The Commission offered opportunities for what Riordan—in his classic satire of machine politics, Plunkett of Tammany Hall—called "honest graft": the then-legal use of inside information and influence to make money. One of Murphy's brothers organized the New York Contracting and Trucking Corporation. The brother and two old friends each owned five shares. The remaining eighty-five shares were owned, according to M. A. Werner's Tammany Hall, by "an unnamed person who was never identified."
Whether the "unnamed person" was Charles F. Murphy was almost immaterial.  It was as if the city had given Murphy's brother a four-color press with permission to print all the money he might need. New York Contracting suddenly gained wonderfully inexpensive leases for city-owned docks, which it then sublet to international shipping companies for enormous rents.  Later, when the Pennsylvania Railroad began building Penn Station and its tunnels beneath the Hudson and the East Rivers, the Board of Aldermen stopped blocking the building permits only after the Pennsy awarded New York Contracting a huge construction contract—despite a bid twenty-five percent above the lowest bid.
The Commissioner became friends with one of his colleagues, J. Sergeant Cram, a monocled aristocrat (Harvard Class of '86) who served as Dock Commissioner and as Secretary of the Democratic County Committee, who was in politics for the fun of it.  Cram taught Murphy how to wear white tie and tails and eat peas with a fork. Their friendship gave Murphy insight into polite society, a side of life with which he had no previous contacts. It endured until Cram's ambitions impaired his judgment. U.S. Senator is a reasonable ambition in a Harvard man, but delusional in a Dock Commissioner.
Richard Croker had been boss for nearly two decades when Tammany lost the 1901 Mayoral election. On May 14, 1902, power fell to a triumvirate: Daniel F. McMahon, a district leader/crooked contractor, Louis F. Haffen, the Bronx Borough President, and Charles F. Murphy. ("Abbe Sieyes, Roger Ducos, and Napoleon Bonaparte," Cram murmured, alluding to the First Republic's three-man Consulate.) Five months and five days later Murphy put the others aside and became the Chief.  He would wield power for a generation.
His leadership style was to keep abreast of developments throughout the city, consult with the lesser leaders, and test the views of others before advancing his own. His taciturnity led "the boys" to think, as Werner wrote, that "he [always] had something in reserve…It was the cards he was holding back that gave him command of the situation." He had a facility for grasping even the most complicated political or legal issue. Every week, he met with his district leaders: they would talk about their problems. He listened, said a few words, and then acted. Politics was his vocation and avocation. He worked at it furiously and exclusively, and he invariably enjoyed the effort.
Mr. Murphy didn't originate the machine as an informal welfare system, but he expanded the district clambakes, aid for widows, and food baskets for the poor. What made Mr. Murphy different was what former President George H.W. Bush once called the vision thing. He began developing a stable of great candidates.
In 1903, when Murphy defeated incumbent Mayor Seth Low, a reformer, with George McClellan Jr., a Congressman and the son of the Civil War general, the braves began referring to the Chief in their campaign songs:
Big Chief sits in his teepee
Cheering braves to victory
Tammany, Tammany,
Swamp 'em, swamp 'em,
Get the wampum,
Tammany!
Two years later, McClellan was opposed by William Randolph Hearst whose campaign for Mayor made Murphy the issue. Hearst's campaigners sang:
Everybody woiks but Murphy;
He just rakes in the dough.
The braves sang back:
What's the matter with Murphy?
He's all right!
Mr. Murphy stopped all that: the last thing he wanted was to be conspicuous. He knew what needed to be done. Hearst won the 1905 election as the ballots went into the boxes, but McClellan won as they came out—by fewer than 3,500 votes, barely one-half of one percent. McClellan's gratitude was short-lived.  He attempted to oust Mr. Murphy. McClellan failed.  He never held office again.
William Jay Gaynor, Murphy's next choice, was unique among Mayors. He was scholarly, philosophical, witty, hot-tempered (his stunning second wife was rumored to have once ended an argument by firing a pistol at him)—and incorruptible. Gaynor provided no patronage to the organization. When a reporter asked, "What are you going to give Murphy?" Gaynor replied, "A few kind words."
His official letters, which he dictated personally, are preserved in the Municipal Reference Library. Most read like this:
Dear Sir:
Thank you for your kind letter of the 24th instant. Very truly yours,

William J. Gaynor
MAYOR
But every once in a while, one will find something like:
Dear Sir:
I see by your letter that you are a scoundrel and a scamp. Nonetheless, I have often derived much profit from the writings of scoundrels and scamps. Very truly yours,
William J. Gaynor
MAYOR
Mr. Murphy elected his first governor, John A. Dix, in 1910. Werner notes that Dix won fame only "by designing for himself as chief of the National Guard a uniform of much gorgeousness which he wore on state occasions until laughed out of it by a disrespectful press." His successor, William Sulzer, publicly broke with Murphy over patronage.  In a naked display of power, Murphy destroyed him: within eleven months of taking the oath Sulzer was impeached and removed from office on trumped-up charges involving campaign finance reports. The third time was a charm: he elected Alfred E. Smith, who went on to serve four terms.
Smith had gone from Speaker of the Assembly to New York County Sheriff to President of the Board of Aldermen. He initially turned down the shrievality. Sheriffs were then compensated by fees rather than a fixed salary, which meant that, in New York County, the incumbent could legitimately become a millionaire—without grafting or stealing—within a year.  Mr. Murphy finally had to call Smith in for a meeting at which he explained things: "Al, I'm making you sheriff so you can make some money.  Then you can afford to be an honest man." When Smith became governor, Murphy said, "I shall be asking you for things, Al, but if I ever ask you for anything which you think would impair your record, just tell me so and that will be the end of it." Richard Croker had never even elected a governor. Murphy hoped to make Smith President of the United States.  If he had lived, perhaps that might have happened.
In any event, Murphy elected three governors, three mayors, two United States Senators, and numerous proteges who bloomed after his death, including Mayor Jimmy Walker and U.S. Senator Robert F. Wagner Sr. By 1923, Tammany held the governorship, the mayoralty, and numerous other elected offices. No other Tammany leader ever had or would ever again enjoy such power.
On the morning of April 25, 1924, a doctor was summoned to Mr. Murphy's house. The Chief was crumpled in pain on the sun-dappled floor of his bathroom. It was probably a heart attack. Three days later, he was buried out of St. Patrick's Cathedral. Members of the political aristocracy filled every pew and, as Milton Mackaye wrote, "crowds of lesser satraps, freshly scrubbed and fumigated, stood…in the aisles and passageways." Murphy went to his tomb along streets lined with over sixty thousand people. It was, according to one observer, New York's most impressive funeral since the death of General Grant.
New York Press, October 28, 1998