Category —
Battles
Joseph Brodsky, in "Homage to Marcus Aurelius," describes the "etiquette of equestrian statuary: "…when a horse, for instance, rears up under the rider, it means that the latter died in battle. If all of its four hooves rest on the pediment, that suggests he died in his four-poster." Up at Riverside Drive and West 106th Street, Karl Bitter's heroic bronze represents Major General Franz Sigel, U.S. Army, astride his stallion (it is, as the Spanish say, an entire horse), gazing toward the Palisades. The horse's four feet are firmly planted in the ground. He is going nowhere, as if in protest to his rider's latest imbecility.
"What was curious about him," wrote Stephen Douglas Engle, Sigel's sole biographer, "was not what he did, but his exalted status for what he failed to do." He was born at Sinheim, in the Grand Duchy of Baden, on November 24, 1824. In 1843, Sigel graduated with honors from the Military School at Carlsruhe, received his lieutenant's commission, and despite his liberal views served Grand Duke Leopold with distinction until 1847, when he was challenged to a duel over his politics. As an officer, he could not refuse. He fatally wounded his opponent, was placed under arrest, and resigned his commission.
The European rebellions of 1848 are comparable only to the 1968 student revolts throughout Europe and the United States. In Germany, the Forty-Eighters sought German unification under a liberal constitution. Sigel became the revolutionary government's war minister. When the Prussians invaded to restore the old order, he took the field, lost all three of his battles, and skipped for Switzerland.
In exile, he revealed his true genius: public relations. Sigel's skills as a self-publicizing journalist and orator transformed him from the man who had lost every battle he had fought into a legendary hero. Meanwhile, he made a living. He even played piano in a sideshow at London's Crystal Palace. In 1852 he came to New York, where he taught, published a weekly newspaper, and joined the state militia. He also organized German athletic and cultural societies, thus creating and maintaining friendships among German immigrant leaders throughout the major eastern cities, and published articles in German-language newspapers across the country. In 1857, the German-American Institute of St. Louis, Missouri appointed him instructor in mathematics and history.
Throughout his adult life, Sigel was solidly built, weighing about 145 pounds, and roughly 5'7″ tall. In youth, his hair was coal black. He carried himself like a soldier; his gaze was piercing and his handshake firm. Despite an intelligent and sensitive mind, he was terse and humorless. Americans found him stiff, nervous, and unyielding. Yet the man whom West Pointers called "the block of ice" could move and inspire German-speaking audiences. He came to incarnate their hopes for winning honor and advancement in their new country.
On May 4, 1861, he was elected colonel of the Third Missouri; six days later, he helped suppress the attempted secession of Missouri. His first independent command, at the Battle of Carthage, was marked as usual by defeat, but somehow the press coverage presented him well, and he became famous. On August 10, 1861, as a newly minted brigadier general, he commanded a wing of the Federal forces at Wilson's Creek, contributing to the Union defeat by his inept handling of troops.  Indeed, his command was routed by two companies of Louisiana volunteers. Yet again he was widely praised in the press.
Part of this stemmed from media manipulation. He was a master of the exclusive interview and the news leak. His aides hand-delivered his dispatches to reporters so that his version of events got out first. Thus bloomed his career.
When he was passed over for independent field command in December 1861, he offered his resignation in protest. Public support from thousands of immigrants convinced his superiors to decline a resignation they had received with joy. Thus he commanded two divisions at the Battle of Pea Ridge, Arkansas, perhaps his finest hour, where he did not foul up. Friendly newspapers consequently proclaimed him the true genius of the victory, rather than his commander, the quietly competent General Samuel Curtis, and Sigel received his second star on March 21, 1862.
Major General Sigel was transferred to Virginia. His adoring fans lionized him during the train journey from Missouri. One who believed Sigel's press clippings might think Grant and Lincoln had little to do with the war's conduct. There were even popular dialect songs:
I've come shust now to tells you how
I goes mit regimentals,
To SCHLAUCH dem foes of Liberty,
Like dem old Continentals
Vot fights mit England, long ago
To save de Yankee eagle;
Un now I gets mine sojer clothes,
I'm going to fight mit Sigel.
Chorus:
Yaw! daus is drue, I shpeaks mit you,
I'm going to fight mit Sigel.
Happily, Sigel's modest performance as a corps commander under Major General John Pope was overlooked after Pope's debacle at the Second Battle of Manassas in August 1862. His superiors quietly shunted him into insignificant posts where he could do no harm.
But, unsatisfied by mere prestige, Franz Sigel lusted for glory. As the 1864 presidential election approached, he lobbied for a major command. He got the Department of West Virginia, effective February 29, 1864. A staff officer wrote, "The [German] vote must be secured at all hazards. And the sacrifice of West Virginia is a small matter." Grant soon ordered Sigel to advance upon Staunton, Virginia to cut the Virginia Central Railroad and threaten Lee's left flank.
Major General John C. Breckinridge, C.S.A., the Confederate commander of the Western Department of Virginia and Sigel's opposite number, had been appointed to his command only four days earlier. State legislator, Congressman, and United States Senator, Breckinridge had become the youngest Vice President of the United States at thirty-five. At thirty-nine, although a reluctant Presidential nominee, he had run second to Lincoln in the Electoral College. He had not left the Union: the Union had expelled him to the Confederacy by ordering his arrest for his principled opposition to the war. In a moment of anger and frustration, he accepted a general's commission in the Confederate army. He later called this the greatest mistake of his life.
In the spring of 1864, he was only forty-three years old. He was tall, strikingly attractive, genial, good-humored, hard working, and almost effortlessly competent. Although Breckinridge was not a professional soldier, he learned from experience. He did not make the same mistake twice. Basil Duke, one of his subordinates, wrote that Breckinridge "had unquestionably a remarkable sagacity in all matters pertaining to actual warfare…."
His courage and resolution were superb…Along with his stronger and more virile qualities was an exceeding amiability of temper and an admirable self-control."
Not the least among his lesser gifts was his magnificent horsemanship: his style was famously smooth and graceful: "General Breckinridge galloped past, riding like a Cid." Years later, on being called the handsomest man on horseback, a particularly dashing Union cavalryman replied, "You never saw John Breckinridge."
As Sigel was careless about security, General Robert E. Lee soon learned he would advance into the Shenandoah Valley with some 23,000 Union veterans: good troops, well rested, well supplied. They had served well under other commanders and would again. Against this, Breckinridge commanded some 5,500 Confederate regulars and militia.
Sigel began a leisurely advance on May 1, opposed only by skirmishing Rebel cavalrymen. Though effectively unimpeded, he advanced only sixty-five miles in two weeks. On May 5, he held maneuvers, sending forth a regiment as a skirmish line. Then he forgot about it. At the end of the day, the army counted its casualties: "Killed, none; wounded, none; missing, the 34th Massachusetts Infantry."
Confederate raiders began plundering Sigel's supply lines. He continued his advance while pulling his scouts from reconnaissance to escort the wagon trains, thus moving blindly into enemy country. He allowed his forces to be badly strung out over some nineteen miles of muddy road.  It is difficult to imagine a mistake that he did not make.
By contrast, Breckinridge's scouts reported nearly every Union move, sometimes within minutes.  The former Vice President had united his forces, making clever use of the railroads to speed his advance.  General Lee even authorized him to accept the services of 257 cadets from the renowned Virginia Military Institute, the West Point of the South. The cadets marched 160 miles in four days to reach the front.
On May 14, Sigel's forces encountered a Confederate cavalry screen—the human equivalent of radar—about eight miles north of New Market, Virginia. As Sigel pressed south into the town, the Rebel horsemen gave ground before him, remaining just out of reach while sending estimates of the Union forces to Breckinridge.
By 6:00 a.m., Breckinridge's artillery was already on the high ground about a mile south of New Market. Breckinridge feinted with his cavalry against the Union forces, trying to spark a fight, even while marching and counter-marching several of his units just within sight of the enemy to create the illusion of greater numbers. It worked. Sigel disregarded his own intelligence reports, having concluded that Breckinridge must be commanding upwards of 9000 men. Some of Sigel's subordinates believed there were 20,000 Confederates on the field.
Breckinridge stood atop Shirley's hill, the high ground south of New Market. He opened his watch, turned to his commanders and said, "It is 11:00 o'clock. I have offered him battle and he declines to advance on us. I shall advance on him."
Throughout the war, Breckinridge's basic battle plan never varied, largely because it always worked and his opponents never bothered to study his successes. He used it again at New Market. His cavalry flanked Sigel's front line, pushing it back, and his infantry pressed the Union troops back into the town. By 12:30 p.m., Breckinridge had taken New Market from Sigel.
At 2:00 p.m., Breckinridge rode forward with his field artillery. Instead of using his guns conventionally, merely to soften up the enemy before the attack, he used them as the most mobile part of his offense, often ahead of his infantry, advancing, firing, and advancing again. This was revolutionary: the infantry were supposed to protect the guns, not the other way around. This too worked. Sigel's first line fell back in disorder, running through his second line and throwing it into confusion.
Breckinridge handled his outnumbered troops so well that when he began his general advance in mid-afternoon, he would have more troops in combat than Sigel. At this moment, a Union artillery battery blasted a hole in the left center of Breckinridge's line with grapeshot and canister. His troops were now fully engaged. His only reserve was the cadets. Breckinridge turned to his aide de camp, Major Charles Semple, with tears in his eyes. "Put the boys in, and may God forgive me for the order."
An aide galloped up to the commandant of cadets with the orders. The cadets cheered. Then, in perfect order, they advanced, closing their ranks under fire as their comrades began dropping. They plugged the gap, fired a volley, and then advanced with the rest of Breckinridge's line through mud that sucked the shoes from their feet.
Sigel tried to organize a counterattack. In his excitement he began barking orders in German, making his commands incomprehensible. The cadets drove toward a battery. The Union artillerists fired to nearly the last moment, leaving one gun behind. Then the boys were among them, and it was over. Ten cadets died; forty-seven were wounded. Breckinridge rode up, encrusted with mud, and called out, "Well done, men!" One cadet replied, "That's very nice, general, but where's the commissary wagon?"
Undaunted, Sigel began yet another attempt to transform military debacle into personal advancement even as he left the field.  He began firing reports to the newspapers, describing his retreat as a "retrograde movement" and grossly inflating the size of Breckinridge's forces. The New York Tribune for May 18, 1864 even printed "SIGEL WHIPS THE REBELS AT NEW MARKET."
But the feline Union chief of staff, Henry Halleck, had already wired General Grant, "…Sigel is already in full retreat…If you expect anything from him you will be mistaken. He will do nothing but run. He never did anything else." Halleck then inquired whether General Grant felt the Department of West Virginia needed a new commander. Grant shot back: "BY ALL MEANS…APPOINT…ANYONE ELSE TO THE COMMAND OF WEST VIRGINIA."
On May 19, 1864, four days after New Market, the day after the New York Tribune had printed its headline, Sigel was relieved of command. He would never command troops again and resigned his commission in 1865.
For the rest of  his long life, he would edit and publish German weeklies in Baltimore and then New York. In 1869, the Republicans nominated him for Secretary of State of the State of New York. He campaigned against prohibition, arguing that lager was God-sent, and asked the immigrants to stand up and "fights mit Sigel again." As usual, he lost.
He died August 22, 1902. Over 25,000 followed his coffin to Woodlawn Cemetery. Five years later, a magnificent parade marked his monument's unveiling on Riverside Drive. Behind the mounted police, cavalry, infantry, and artillery marched the Grand Army of the Republic and dozens of the German societies he had so loved and who had so loved him, from the Deutsche Liederkranz to the Vereinigung Deutsche Demokraten des Bronx and the New Yorker Deutscher Apothker Verein.
Franz Sigel is an exemplar: how not to do it. Yet, his career was not without glory—for others. Every 15th of May, VMI's Corps of Cadets march in review, bayonets fixed, to the roll of muffled drums. Before them float the school colors, bearing the same seal of Virginia (with its motto "Sic semper tyrannis") that their predecessors followed to New Market. Then the adjutant, having roared attention to roll call, barks ten names: Cabell, Atwill, Crockett, Hartsfield, Haynes, Jefferson, Jones, McDowell, Stanard, and Wheelwright. After each name, the ranks before him shout back, "Dead upon the field of honor, sir!"
New York Press, June 21, 2000
Greenwich Village's Sheridan Square is not named for Richard Brinsley Sheridan, who wrote The Rivals. The statue of General Philip Sheridan, for whom the square is named, is around the corner in Christopher Park. And the only nearby battle was the Stonewall Riot at 53 Christopher Street in June 1969. Sheridan's statue, erected in 1936, is so poorly executed one might not know the subject without his name on the plinth. The sculptor was one of those of whom Hilaire Belloc observed, "We dream in fire and work in clay, and some of us puddle in butter with our toes."
One can forgive bad public art if it is bad on a truly grand scale—the kind of stuff that Peter Fleming describes so well in Brazilian Adventure: "Victory has got a half Nelson on Liberty from behind. Liberty is giving away about half a ton, and also carrying weight in the shape of a dying President and a brace of cherubs. (One of the cherubs is doing a cartwheel on the dying President's head, while the other, scarcely less considerate, attempts to pull his trousers off.) Meanwhile an unclothed male figure, probably symbolical, unquestionably winged, and carrying in one hand a model railway, is in the very act of delivering a running kick at the two struggling ladies, from whose drapery on the opposite side an eagle is escaping, apparently unnoticed. Around the feet of these gigantic principals all is bustle and confusion. Cavalry are charging, aboriginals are being emancipated, and liners launched. Farmers, liberators, nuns, firemen, and a poet pick their way with benign insouciance over a subsoil thickly carpeted with corpses, cannon balls, and scrolls."
The works of Anna Hyatt Huntington (1876-1973) are—sadly—a cut above this. Her genius was for small, subtle, vivid animal sculptures, and she is not forgotten: the National Museum of Women in the Arts sells a reproduction of her Yawning Jaguar in genuine hydrostone for $99.99 online, shipping and handling extra. Huntington's large sculptures combine her superb technique with overblown romantic bombast. She studied with Gutzon Borglum, whose megalomaniacal later works include Mount Rushmore and the Confederate monument on Stone Mountain, Georgia. (Borglum began what became the world's largest bas-relief, three acres of Lee, Jackson, and Davis on horseback, all at least nine stories high.)
In 1923, Anna Hyatt married Archer Milton Huntington, who bankrolled the Hispanic Society of America. Understandably, then, her flamboyant El Cid Campeador dominates the society's forecourt at Audubon Terrace, between 155th and 156th Streets. An admirer wrote, "The Cid gloriously bestrides his mount, he carries himself with exactly the flourish that is associated with his legend, and from the tips of his feet to the hand clenching the staff of his flaunting banner he is magnificently alive." Mrs. Huntington added four statues of seated warriors about the base, surrounded by heraldic lions, stags, does, bears, jaguars, vultures, and wild boar, and then, energies unquenched, designed the bases of two nearby flagpoles, carved with "muscular men and frantic horses entangled in desperate struggle, kneeling monks and churchmen, and statuettes symbolic of the arts." On the rear walls of the forecourt are equestrian bas-reliefs of Don Quixote and of Boabdil, Granada's last Muslim king, who has reined up to turn and gaze at his lost city. On its base is engraved a verse by Mr. Huntington:
He wore the cloak of grandeur. It was bright
With stolen promises and colours thin,
But now and then the wind—the wind of night—
Raised it and showed the broken thing within.
Mrs. Huntington's genius sometimes overwhelms. Yet if she had sculpted Sheridan's statue in Christopher Park, we would recognize the subject. He is better represented in the bravura statue by Borglum at Massachusetts Avenue and 23rd and R Streets in Washington: having pulled up his warhorse Rienzi, Sheridan has turned in the saddle, hat crumpled in his gloved right hand, ready to roar out his orders and turn the tide at Cedar Creek.
Philip Henry "Little Phil" Sheridan, who never lost a battle, was short—about 5 feet 5 inches tall, with a long torso, stumpy legs, and, as Lincoln quipped, "such long arms that if his ankles itch he can scratch them without stooping." After eight years' active duty, Sheridan was still a second lieutenant in 1861. Within a year he would be a general. Like most great American commanders of the past, he would be unwelcome in today's Army, corrupted by Robert McNamara and his successors into a puddle of political correctness.
Sheridan was quick-tempered and blunt: West Point suspended him for a year after he assaulted a cadet officer with a bayonet and his fists. Ten years later, Major Generals Sheridan and George H. Thomas—the latter justly called the Rock of Chickamauga—were conferring in a day coach when a Southern railroad conductor spoke to Little Phil with "less than adequate respect." Sheridan wordlessly rose, beat the conductor senseless, threw him off his own train, returned to his seat, and resumed the conversation, "no explanation given and none required."
Yet Sheridan's planning reflected a deliberate, thoroughly professional mind. He had been a quartermaster, one who marshals men and supplies, and the discipline took. His commands fought hard, but never without food, clothing, shelter, or ammunition.
Perversely, he became immortal for the day he was surprised. In the fall of 1864, Sheridan was campaigning in the Shenandoah Valley, transforming the breadbasket of the Confederacy into a wasteland, where "crows flying over it for the balance of this season will have to carry their own provender."
Before dawn on October 19, 1864, the Confederate Army of the Valley, Lieutenant General Jubal A. Early commanding, fell upon Sheridan's encamped army at Cedar Creek, Virginia. Like Sheridan, Early was tough, irritable and profane. Always outnumbered, always outgunned, he was audacious and imaginative. Three months before, he e had terrified the Union when he had reached the gates of Washington, having slipped his command through the Army of the Potomac. Now he had surprised Sheridan's army and hoped to stop the campaign of destruction.
He shattered the Union's left and center. The entire Eighth Corps, nine thousand strong, panicked and ran. The attack happened so quickly that a goodly number of federal troops fled in their underwear. The rebels were looting Sheridan's tents as the sun rose over the Shenandoah Valley.
Little Phil was not there.  He was returning from a conference in Washington. He had reached Winchester, Virginia, and Thomas Buchanan Read's most famous poem, "Sheridan's Ride," begins there:
Up from the South at break of day,
Bringing to Winchester fresh dismay,
The affrighted air with a shudder bore,
Like a herald in haste, to the chieftain's door
The terrible grumble, and rumble, and roar,
Telling the battle was on once more,
And Sheridan twenty miles away.
When called at dawn on October 19, in Winchester, "twenty miles away," Sheridan heard distant artillery fire. He thought it part of a reconnaissance in force he had ordered before departing for Washington. He stepped outside around 9 a.m. The guns seemed louder. He mounted his warhorse Rienzi and met his cavalry escort. Then, puzzled, he dismounted and put his ear to the ground. What the ex-Indian fighter heard was the continuous roar of full battle and the sound was approaching. His army was in retreat. Now he trotted forward. As he crested a rise, Sheridan suddenly saw, in Maj. George "Sandy" Forsyth's words, "hundreds of slightly wounded men, throngs of others unhurt but utterly demoralized, and baggage-wagons by the score, all pressing to the rear in hopeless confusion." He received reports as Rienzi walked forward at a measured pace. A conventional commander might have regrouped just outside Winchester, gathering stragglers into a defensive line. Instead, he ordered the stragglers collected and funneled back up the turnpike toward the front.
Then he spurred Rienzi toward the sound of the guns. At his right, an orderly carried Sheridan's personal battle flag, bearing the two stars of a major general.
But there is a road from Winchester town,
A good broad highway leading down…
Every nerve of the charger was strained to full play,
With Sheridan only ten miles away.
It was a brilliant Indian summer morning. Rienzi stretched his legs, leaving most of the escort in the dust. The Newtown crossroads were jammed with supply wagons and caissons. Sheridan took Rienzi over the wall and into the fields.
Then, striking his spurs with a terrible oath,
He dashed down the line 'mid a storm of huzzas…
Sheridan thundered through the files of retreating men, most wounded only in their pride. He roared, "Come on back, boys, face the other way, we'll give 'em hell, God damn them, we're going to lick those fellows out of their boots," among other things. A witness of Sheridan's verbal skills wrote he "didn't spare anybody in the bunch and included all their kinfolk, direct and collateral. It was a liberal education in profanity to hear him." And it worked. Thure de Thurlstrup's painting, Sheridan's Ride, now at Brown University, shows Sheridan at full gallop, the pennant whipping in the breeze, as the stragglers stop, stare, begin cheering and turn around.
South of Newtown, he regained the road to find the Sixth Corps standing fast in line of battle. Not everyone had run away. General Alfred Torbert rode up, saluted, and said, "My God, I'm glad you've come." Sheridan rode out before the troops, wheeled Rienzi and shouted, "Men, by God, we'll whip them yet. We'll sleep in our old tents tonight." The men roared back. He found his three corps commanders conferring nearby. Brigadier General Emory murmured that his men were ready to cover the retreat. Sheridan spat his reply: "Retreat! Hell, I just got here!"
It was 10:30 a.m. His men hungry and exhausted, Early's assault had bogged down. Major General John Brown Gordon, who had broken Sheridan's left that morning, begged to renew the attack. Early replied, "This is glory enough for one day." Sheridan brought up his reserves and regrouped. At noon, he rode the length of his own front, as biographer Roy Morris Jr. put it, "swinging his hat in his right hand to give the soldiers a glimpse of his familiar bullet-shaped head." Their thunderous cheers rolled down the line with him. At 4 p.m., 200 Union buglers sounded the charge. Sheridan smashed into the Confederate left, turned it and then rolled up Early's line. By 5:30 the fighting was over. Sheridan's horsemen pursued the rebels into the night.
Cedar Creek was Sheridan's greatest triumph. At 9 a.m., he was beaten; by sundown, he had driven the enemy from the field. Within a week, Read's poem was a bestseller. The horse gets the best lines:
I have brought you Sheridan all the way
From Winchester, down to save the day!
"Sheridan's Ride" was recited in high schools for nearly a century.
On April 1, 1865, Sheridan personally commanded the charge at Five Forks, leaping Rienzi over the rebel breastworks into, as Morris noted, "a group of astonished southerners like the angel of death," forcing General Robert E. Lee from Richmond. On April 6, he forced six generals and 10,000 men to surrender at Sayler's Creek. On April 8, he blocked Lee's last line of retreat. Around 1 p.m. on April 9, Grant and Sheridan rode up to Wilmer McLean's home at Appomattox Court House, Virginia, where Lee waited in the parlor.
The performance of Sheridan and his men during the first nine days of April 1865 is nearly unparalleled. As Grant said, "Sheridan has no superior as a general, either living or dead, and perhaps not an equal." Little Phil was then 34 years old.
Rienzi died in 1878. Sheridan had his body preserved. Today, in the Smithsonian's Hall of Armed Forces History, Rienzi stands, saddled as he was that golden October morning:
Here is the steed that saved the day
By carrying Sheridan into the fight,
From Winchester, twenty miles away!
New York Press, August 29, 2000
Demonstrations and riots had torn New York for over a year. The legal government had fled and nearly three-quarters of the population with it. Committees of public safety dominated by radicals ruled the streets. An army of 23,000 insurgents held lower Manhattan.
On the morning of July 9, messengers from Philadelphia crossed the Hudson with a document for the Commander-in-Chief of the Revolutionary army. Five days before, Congress had approved a clear policy statement that coincidentally clarified his personal position. Until now he had been a rebel. Now he was a traitor.
The Commander-in-Chief ordered that six long-hand copies of the document be made and distributed to his brigade commanders. Then he ordered Retreat—the military ceremony ending the day—for 6:00 p.m., a half-hour earlier than usual. Most of his troops were bivouacked in the rolling wooded hills of what is now midtown. Their ceremonies would be held wherever brigade commanders could find sufficiently large, flat, open spaces.
The two brigades encamped in the city proper were ordered to form on the Common—from roughly the south end of City Hall Park to the intersection of Broadway and Park Row. By 5:30, the Common was a chaos of dust, marching regiments, bellowed orders, rolling drums, and piercing fifes. The adjoining streets were full of civilians, drawn by the stir.
The Commander-in-Chief swung into the saddle shortly before six for a brief ride to the Common. He was in his mid-forties, a big man, about 210 pounds and six feet-two inches tall. From early manhood, as Bruce Bliven Jr. wrote, his tremendous natural presence had made him "a man people looked to when he was in the room." His face was ruddy, with the clear, pale skin that burns rather than tans. He was remarkably strong and, except for his teeth, in fine health. He was so broad-shouldered that his uniform coats needed no padding. He sat easily and gracefully in the saddle: he was, as a fellow Virginian, Thomas Jefferson, said, "the finest horseman on the continent."
He rode into the hollow square of men amid a cacophony of shouting as the company officers reported to their regimental commanders, the regimental commanders to the brigade commanders, and the brigade commanders to the Commander-in-Chief that all men were present or accounted for.  "Then the formation was ordered to stand at ease," Bliven wrote in Under the Guns, "and it was quiet."
He habitually wore an assumed expression of good-humored reserve. This was in part due to physical discomfort—his teeth hurt—but more to force of habit. He consciously worked to conceal his emotions and generally succeeded (Bliven notes in Battle for Manhattan that the Commander-in-Chief was naturally passionate and hot-tempered). At worst, he sometimes showed irritation by withdrawing into an icy, impenetrable formality.
Only a few, such as General Charles Lee, whom the Commander-in-Chief would personally relieve of command on the battlefield after Lee's bungling the Battle of Monmouth, would taste the extraordinary, almost terrifying rage coiled within George Washington: the sudden flush, the calm features contorted with contempt and anger, the narrowed blue eyes turned to slate, the grating roar of the voice, so rarely raised above a conversational tone, and the savage words striking like the butt end of a bullwhip.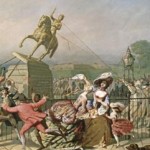 But this was not such a day. The ceremonies opened with routine announcements: the Commander-in- Chief approved sentences of flogging passed by court-martial against two deserters; the form of the passes for the Hudson River ferries had changed; the Congress had authorized each regiment to have its own chaplain and pay him thirty-three-and-a-third dollars a month.
Then an aide-de-camp declaimed the document from Philadelphia:
When in the Course of human Events…We hold these Truths to be self-evident, that all Men are created equal, that they are endowed by their Creator with certain unalienable Rights, that among these are Life, Liberty, and the pursuit of Happiness…that when any Form of Government becomes destructive of these Ends, it is the Right of the People to alter or to abolish it…it is their Right, it is their Duty, to throw off such Government…A Prince whose Character is thus marked by every act which may define a Tyrant, is unfit to be the Ruler of a free people…And for the support of this declaration, with a firm Reliance on the protection of divine Providence, we mutually pledge to each other our lives, our Fortunes, and our sacred Honor."
The chaplain read from the Eightieth Psalm; the brigades gave three cheers; and the troops were dismissed. That night, a mob quietly toppled the gilt-lead statue of King George III at Bowling Green, where the fountain is now, and broke it into sections small enough to cart away for melting into shot.
From contemporary descriptions of his looks and personality, David Bushnell was probably a nerd. He sold his share of the family farm to pay his tuition at Yale College. From his arrival as a thirty-one-year-old freshman, Bushnell studied the Transactions of the Royal Society and other scientific journals in the library. His obsession was solving a particular problem: detonating explosives under water.
By 1773, he had succeeded. Dr. Benjamin Gale observed him place two ounces of gunpowder in a container, which Bushnell then submerged and detonated. Before graduating in 1775, he had devised a bomb, which he called a "powder magazine." Two hollowed blocks of oak, bound with iron bands, contained 150 pounds of gunpowder. When an adjustable clockwork timer ran down, it released a gunlock "with a good flint" to detonate the bomb. The device was buoyant, to float up against the bottom of its target.
Now Bushnell turned to the means of delivering the bomb. Apparently this was much easier. Over the summer of 1775, he designed and built the world's first working submarine.
The Turtle was 7 1/2 feet long, 6 feet high, and built of oak in the shape of an egg or a clam, bound with iron bands, the seams caulked, and "the whole smear' d over with tar." The conning tower was made of metal, with a hinged door and eight small windows of thick glass, each about the size of a half-dollar. When afloat, it was nearly awash. Once under water, it could be navigated by compass. Both compass and depth gauge were illuminated by fox fire: phosphorescent wood.
She moved with three crank-driven pair of oars, "crossed like a windmill," that drove the boat forward and back, up and down, and to port and starboard. Her operator could make as much as three knots by vigorously turning the crank. When the operator wanted to submerge, he pressed a spring-operated valve, opening a seacock that admitted water into a ballast tank. To surface, he expelled the water by pedaling a pump with his feet.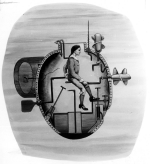 When on the surface, a ventilator admitted fresh and expelled stale air. Its valves automatically closed as the boat submerged and opened as she surfaced. When submerged, the operator had about a half-hour's supply of oxygen.
The powder magazine was carried on the Turtle's back. Once the submarine had reached its target, the operator used a crank-operated drill to hole the ship's underwater planking. The drill then inserted a screw into the hole. The screw, in turn, was linked to the bomb.
Now the ship needed a crew. Sergeant Ezra Lee, from Lyme, Connecticut volunteered and  Bushnell trained him, while the British seized Staten Island, Long Island, and Governor's Island. In late July, 1776, the Turtle was carted overland to the Hudson. The time had come.
On a calm August night, Lee began history's first submarine combat mission. Off Whitehall Stairs, near the Battery, he entered the craft, the hatch was clamped tight, and he cast off, setting out to sink Lord Howe's flagship, H.M.S. Eagle.
Few warships have set forth "so open to fatal accident," as Stewart Holbrook wrote in Lost Men of American History. He summarized Lee's situation: "…should a leak start, the operator could do little but drown where he was, for he was clamped in from outside. A floating log might break one of the eight windows. A good stiff jolt could set off the devilish infernal machine that rode on the Turtle's back."
The ebbing tide pulled Lee past the British fleet and toward the open sea. He cranked furiously to bring her about and then, against the tide, back to the fleet. It took two-and-a-half hours.
In the darkness, to a man seeing her from six inches above the water, the Eagle seemed gigantic. Lee glided to her stern, opened the seacock, and submerged. He felt the Turtle rubbing against the man-of-war. Save for the foxfire glowing on his compass and depth gauge, Lee was in utter darkness. He began drilling into the Eagle's hull.
Within a few seconds, Lee realized the drill wasn't penetrating the ship.  Unbeknownst to him, the Eagle's bottom had been sheathed with copper against fouling. He paddled a little further and tried again. No luck. He went into a dive, passed under the Eagle, and came up on the other side. Still no luck.  Lee now realized the bomb couldn't be delivered to the target.
The dawn's early light now filtered through the Turtle's windows. Lee heard orders being given on the decks above him. He still had a four-mile voyage through the Royal Navy to get home, cranking every inch of the way. Worse, the foxfire had failed and he couldn't read his compass. He surfaced to get his bearings, submerged, and started north for the Battery, now, thankfully, traveling with the tide.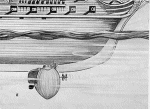 But he still had to resurface periodically to check his course, and he was noticed. As he passed Governor's Island, a barge started for him. When the redcoats approached "within fifty to sixty yards of the machine," Lee "suddenly detached…the magazine," which bobbed to the surface. The redcoats, suspecting "a Yankee trick, took alarm, and returned to the island."
As the Turtle moved on, the mine slowly drifted in the tide.  It was barely past Governor's Island when it explodedwith "a report like thunder," raising a huge column of water and chunks of wood and iron into the air. Meanwhile, Lee reached Whitehall Stairs, his crew opened the hatch, and he crawled out. Years later, Washington wrote of this to Jefferson, "I thought then and still think it was an effort of genius."
On October 9, 1776, a British fleet sank an American sloop carrying the Turtle. Bushnell raised the submarine, but what happened next is unclear. Some suggest that Bushnell was unable to repair the boat. Holbrook indicates the Turtle went back to sea in 1777. West of New London, Connecticut, the frigate H.M.S. Cerberus was holding a captured schooner as a prize. One of the prize crew found and hauled on a long line that seemed to have fouled on the schooner. At its end was "a machine up to one hundred weight" that the sailors hauled aboard.  They shook it. It blasted the schooner to bits. Bushnell's magazines were later released as drift mines in the Delaware River where they went bumping, and sometimes exploding, among a terrorized British fleet.
Sergeant Lee was personally congratulated for his valor by the Commander-in-Chief. He went on to fight at Trenton, Brandywine, and Monmouth and achieved the rank of  "ensign," which we now call second lieutenant. He later served as a secret agent for Army intelligence. He died at Lyme on October 29, 1821, venerated as a hero of the Revolution. His tombstone states that he was "Esteemed by Washington." An 1824 entry in Rogers's New American Biographical Dictionary states that Lee was "the only man of which it can be said that he fought the enemy upon land, upon water, and under the water."
After David Bushnell was discharged from the Army in 1781 as a captain, he vanished. His family heard of him in 1787: a request that they ship a chest of papers to him at an address in New London. There were rumors he had gone to France, experimented on secret weapons for the French Republic, and died in the Terror. Then, nothing.
In January or February 1826, nearly fifty years after the Turtle's attack on H.M.S. Eagle, a Georgia country doctor known as Bush died quietly at home in Columbia County. He had been something of a solitary, though pleasant in his personal dealings.  His patients thought well of him. We now know Dr. Bush was David Bushnell.  At some point between 1787 and 1796, Bushnell had changed his name, obtained a medical degree (not as difficult then as now), and moved to Georgia, where he established a practice and spent his spare time tinkering with "curious machinery" of which little is known.
At Bushnell's death, according to H. L. Abbot's The Beginning of Modern Submarine Warfare, "his workshop contained the unassembled pieces of a spherical wooden boat."
New York Press, July 7, 1999
The fighting ended when Cornwallis surrendered his army to George Washington at Yorktown on October 19, 1781. But the Royal Army held New York for another two years. They had taken the city in the fall of 1776. By 1782, New York City's population was less than 10,000. Most resided below Wall Street. Accident, disaster, and the war had disrupted civic life. The Great Fire of September 21, 1776, had burned everything between Whitehall and Broad Streets, as far up Broadway as Rector Street and as far up Broad as Beaver St. Rents rose 400 percent within the first year of occupation; the price of food and other goods and services 800 percent.
The provincial assembly, city council and courts were dormant, although nothing indicates the politicians had stopped drawing their salaries. The city was governed by the Royal Army, and in the absence of a free press its government had become corrupt.
Some New Yorkers made fortunes. Mr. Joshua Loring, who had pimped his blonde wife to General Sir William Howe for appointment as commissary of prisoners, became wealthy by selling provisions meant for prisoners of war on the black market.
Others found the red coat a mask for savagery. Captain William Cunningham, the provost marshal, commanded the jails and prison ships holding American prisoners of war. The Sons of Liberty had roughed him up before the war; he would repay the debt with interest.
He enjoyed torturing people. According to Burrows and Wallace's Gotham, he admitted "…to murdering as many as two thousand American prisoners by starvation, hanging, or poisoning their flour rations with arsenic." To Cunningham his prisoners were probably no more than props for realizing his fantasies of power and cruelty. At night, he swaggered through his domains, wearing the red coat with silver lace and epaulettes, the cocked hat, the powdered wig and the tall, glossy boots and spurs, "with a whip in his hand, sending his prisoners to bed, [shouting] 'Kennel, ye sons of bitches! Kennel, God damn ye!'"
But most persons in New York City during the Revolution were loyalist refugees from revolutionary terrorism. On November 30, 1782, the American and British delegates signed preliminary articles of peace. The first article reads, "His Britannic Majesty acknowledges the said United States…to be free Sovereign and independent states…" They were proclaimed in the King's name from the steps of the City Hall on Wall St. The loyalists were horrified. William Smith, a longtime resident, merchant and fervent loyalist, wrote that the news "shocks me as much as the Loss of all I had in the World and my Family with it." Thousands sold everything-furniture, houses, land, goods-at fire-sale prices and prepared to leave. A few committed suicide.
A few were confident of their ability to survive any change of regime. James Riker recorded that a New Yorker said to his tailor, "How does business go?" "Not very well," the tailor replied. "My customers have all learned to turn their own coats."
Sir Guy Carleton, commander-in-chief of His Majesty's Forces in North America, began organizing his command's withdrawal from the city in April 1783. He was legitimately concerned about personal reprisals against the loyalists and held on to New York until every Tory who wanted to get out had left. In the meantime, his staff arranged transportation, settled accounts, paid bills, and auctioned off huge quantities of army surplus.
The first 5,000 Loyalists left New York for Nova Scotia and New Brunswick on April 27, 1783. Thousands more followed. With them went numerous African-Americans, former slaves freed by the British military government for services to the King's armies.
On September 3, 1783, the Americans, British, French, and Spanish signed the Treaty of Paris. The news reached New York in early November. It was time.
On November 21, 1783, Carleton ordered all British forces to withdraw from Long Island and upper Manhattan. That morning, General George Washington, the American commander-in-chief, met George Clinton, the governor of New York, at Tarrytown. They rode south through Yonkers to Harlem, where they stopped at a tavern near what is now Frederick Douglass Boulevard and 126th Street.
The day chosen for the evacuation was Tuesday, November 25, 1783. It dawned cold, with a bitter northwest wind. During the morning, a Mrs. Day ran up the Stars and Stripes over her tavern and boarding house on Murray Street, its first appearance in the city since September 1776. Captain Cunningham, resplendent in red coat and white wig, pounded on the door. "Take in that flag," he roared, "the city is ours till noon." He then tried to pull it down. She belted him full in the face with her broomstick, bloodying his nose, and then "dealt the Captain such lusty blows as made the powder fly in clouds from his wig, and forced him to beat a retreat."
Washington had chosen General Henry Knox to command the American troops marching from McGown's Pass, in what is now northeastern Central Park, into the city. Knox had been a bookseller: a dumpy, bespectacled little man who read every book in his stock. The war transformed his theoretical passion for artillery (after all, he'd read all the books about it) into practical experience. Behind the glasses and the big belly was the soul of a lion: in 1775, he inspired Continentals and militiamen to drag the cannon seized by Ethan Allen at Ticonderoga ("In the name of the Great Jehovah and the Continental Congress!") down to Albany and across the Berkshires in the dead of winter to General Washington's army at Boston, and he had marched with them.
Knox set out early, heading a column of some 800 foot, dragoons, and artillery. He paused at the Bowery and 3rd Avenue near today's Cooper Union, until 1 p.m., chatting with the British officers commanding the redcoats standing a block or so before him. The last detachments now received orders to move. They moved down the Bowery and Chatham Street, picking up their outposts as they passed, and, wheeling into Pearl Street, marched to the East River wharves, whence they were rowed to the fleet.
Knox followed the British down Chatham Street and then turned onto Broadway. He marched south to Cape's Tavern, a little below Trinity Church, and took possession of the city in the name of the United States. On receiving a message from Knox that he had taken possession of the city, Washington swung into the saddle and rode downtown, Clinton at his side.
At the New Jail, at the northeast corner of today's City Hall Park, Captain Cunningham paraded the Provost Guard for the last time. Accompanied by the hangman in his yellow jacket, Cunningham's command passed between a platoon of British troops, which fell in behind them as they marched down Broadway. They and the City Hall's Main Guard would be the last enemy forces in history to occupy this city.
Washington rode down Pearl Street to Wall Street, and then west on Wall to Broadway. At Cape's Tavern, a group of citizens welcomed the Commander-in-Chief: "In this place, and at this moment of exultation and triumph, while the Ensigns of Slavery still linger in our sight, we look up to you, our deliverer, with unusual transports of Gratitude and Joy."
Burrows and Wallace quote an eyewitness:
The troops just leaving us were as if equipped for show, and with their scarlet uniforms and burnished arms, made a brilliant display. The troops that marched in, on the contrary, were ill clad and weather-beaten, and made a forlorn appearance. But then they were our troops, and as I looked at them, and thought upon all they had done for us, my heart and eyes were full, and I admired and gloried in them the more because they were weather-beaten and forlorn.
The British had left the Union Flag flying over Fort George, on the Battery. The halyards—the lines for raising and lowering the flag—were gone. The banner had been nailed to the staff. And the pole was greased, heel to truck, "…to prevent or hinder the removal of the emblem of royalty, and the raising of the Stars and Stripes." The grease "rebuffed all efforts to climb the staff."
In the crowd was Captain John Van Arsdale, a New Yorker, Revolutionary soldier, and peacetime sailor. Recalling Peter Goelet's hardware store about ten minutes away in Hanover Square, he sprinted across town and liberated a saw, hatchet, cleats, rope, and nails. He began nailing the cleats into the greasy pole. He climbed a little, drove in more cleats, and climbed farther. Bit by bit, he ascended the pole. He reached the top. He ripped down the British flag and flung it to the cheering crowd. Then he attached new halyards and scrambled down the pole as the Stars and Stripes ran up it. General Knox's field guns began a thirteen-gun salute. The crowd burst into hysterics. The band began to play.
When the colors went up and the salute was fired, the British weighed anchor and made for the open sea. The Commander-in-Chief and his officers went with Gov. Clinton to Fraunces Tavern at Broad and Pearl Streets for "a feast of reason and a flow of soul." They offered thirteen toasts to allies, friends, comrades living and dead, their hopes for their new country and certain immutable principles.
The next nine days were marked by what one observer called "good humor, hilarity, and mirth." Thus, at Governor Clinton's dinner for the French ambassador on Tuesday, December 2, 1783, his 120 guests consumed 135 bottles of Madeira ("it may not look like much, but it can fell an elephant"), thirty-six bottles of port, sixty bottles of beer and thirty bowls of punch while breaking 60 wineglasses and eight cut-glass decanters.
On Thursday, December 4, Washington breakfasted with his officers in the Long Room on the second floor of Fraunces Tavern. Then the Commander-in-Chief rose to his feet and there was silence. Most intelligent warriors who have written of their experiences, from Xenophon to William Manchester, admit they fought not for king, flag, or country, but for the men they were with. The Revolutionaries were no exception.
Washington paused. To those who knew him and his lifelong, conscious effort to master his emotions, his struggle to maintain composure, to behave as became a man to whom others looked for leadership, was apparent. He said: "With a heart full of love and gratitude, I now take leave of you. I most devoutly wish that your later days may be as prosperous and happy as your former ones have been glorious and honorable." Then he could say no more. Gen. Knox stepped forward. Perhaps he meant to shake the Commander-in-Chief's hand. Suddenly, he embraced Washington and wept.
At last the Commander-in-Chief went down the stairs, popped on his cocked hat, and strode into Pearl Street. The infantrymen snapped to present arms. He acknowledged the salute. Then he walked west. Orders were barked. The column moved out behind him. Near the Battery, at the foot of Whitehall Street, a barge waited to take him to Paulus Hook on the New Jersey shore. From there he traveled to Philadelphia, where he resigned his commission to Congress and returned to private life.
Evacuation Day was celebrated in New York for more than a century. James Riker records an old distich:
It's Evacuation Day, when the British ran away
Please, dear Master, give us holiday.
But competition from Thanksgiving, a rival end-of-November holiday aggressively publicized by R.H. Macy & Co., progressively weakened its observance. Around the beginning of the First World War, it faded away.
New York Press, November 30,1999
If warfare were boxing, General Sir William Howe had George Washington on points in early September 1776. Having driven the rebels off Long Island in eight days, Sir William now spent two weeks in peace negotiations with John Adams and Benjamin Franklin at Colonel Christopher Billopp's stone mansion in Tottenville, Staten Island, now called Conference House. Howe's secretary wrote, "They met, they talked, they parted. Nothing now remains but to fight it out…"
Washington had reorganized his army, with 5,000 men in New York City, below Chambers Street in lower Manhattan; 5,000 along the East River; and 9,500 on Harlem Heights, the bluffs running from the Hudson at 135th Street to Point of Rocks at 127th Street and St. Nicholas Avenue to the Harlem River at 155th Street. On September 12, Congress authorized Washington to withdraw from New York City. The army began moving supplies to Harlem Heights via the West Side's Bloomingdale Road and the East Side's Post Road.
On September 13, 1776, Sir William ordered the landing. During the evening of September 14, 1776, H.M.S. Roebuck (forty guns), H.M.S. Phoenix (forty guns), H.M.S. Orpheus (thirty-two guns), H.M.S. Carysfort (twenty-eight guns), and H.M.S. Rose (thirty-two guns) came up the East River to Kip's Bay at 34th Street and dropped anchor about 200 yards offshore, outside musket range.
September 15, 1776 dawned bright and clear and soon became hot and muggy. The American militia had no cannon at Kip's Bay. Most were untrained recruits. Some had been in service for barely a week. Some who were without muskets carried pikes (scythe blades fastened to a pole). They had not been fed in twenty-four hours. Most had been on duty all night.
Meanwhile, British landing barges—big sixteen-oared rowboats, each capable of carrying fifty to sixty men—had assembled in Newtown Creek, across the river. Seven battalions of redcoats and three battalions of blue-coated German mercenaries—between 2,500 and 3,000 men—boarded them and, when ready, began rowing toward Kip's Bay.
At 11:00 a.m., the five warships gave the Americans a full broadside. Eighty-six cannon balls went sizzling into the trenches, followed by volley fire—single shots, one after the other, so one cannonball was in the air at all times. Within minutes, the shoreline was fogged over with black powder smoke. The British and Germans landed and formed. Then the drums began beating and, marching in cadence, closed up with lines dressed, they advanced out of the smoke in superb order. Nearly all of those Americans who had not run for the woods before ran now.
Howe's men fanned out with "clockwork competence." By noon, his left, Hessians under Colonel von Donop, held a line from the East River at 23rd Street to Sunfish Pond around 27th Street and Park Avenue. Lieutenant General Lord Cornwallis's Guards and Grenadiers held the center, a convex curve from the Sunfish Pond to Inclenberg (now Murray Hill, as far west as Madison Avenue at 34th Street) to Lexington Avenue and 40th Street. Brigadier General Leslie's light infantry held the right from 40th Street to the East River.
From 2:00 p.m. until 5:00 p.m., Howe waited while his barges ferried an additional 9,000 men across the East River. Howe was concentrating his command within the perimeter before advancing to his objectives. This is a nearly fool-proof rule for conducting a water-borne infantry landing. Yet Howe had not anticipated the Americans' sudden collapse and had no contingency plan for a rapid advance across Manhattan, river to river, which might have cut off the rebels in lower Manhattan.
When the naval bombardment began, George Washington and his staff had ridden for the sound of the guns. He galloped down to a crossroads near 42nd Street and Fifth Avenue to find his militia running uptown. This shocked him, for he saw no British skirmishers or signs of pursuit. He received reports from his officers and issued orders. Meanwhile, a fresh American column had come from the West Side. He ordered its commanders to form a battle line at the crossroads, near a farm.
As the officers began moving their men, the formation suddenly fell apart and the soldiers began running away. Washington rode up and down the line, trying to rally them and, pointing to the farm, shouting, "Take the wall! Take the cornfield!" Then some seventy of General Leslie's light infantrymen appeared on Inclenberg about a quarter-mile away. The rest of the Americans now took to their heels.
George Washington went berserk with rage. His extraordinary temper was no less powerful for his heroic, life-long struggle to control it. An innate power of profanity was enhanced, as is the way with farmers, by varied, forceful, and quite imaginative cloacal and venereal expressions. When Washington was in full cry, as one eyewitness wrote, "the very leaves shook on the trees." Now he tore off his hat and flung it to the dust. He cursed violently, roaring that his men were not men at all but scum, and that the war itself was impossible with cowards for soldiers. He slashed at them with his riding crop, even beat at them with the flat of his sword.
No one paid any attention. Within ten minutes, Washington and his aides stood alone on a road littered with equipment—muskets, powder horns, hats, knapsacks, coats, and canteens—his men had dropped to speed their passage. They would run all the way to McGowan's Pass (today a few hundred yards west of Fifth Avenue, around 106th Street on the Central Park's East Drive.) Exhausted by his rage, Washington slumped in the saddle, staring dazedly at the ground. His aides waited silently until the light infantry had advanced nearly within musket shot, and then one took the bridle of Washington's horse and led him away.
Among the officers Washington had met at the crossroads was General Israel Putnam, whom he had ordered to evacuate New York City. Putnam was a short, stocky, fifty-eight-year-old veteran of the French and Indian Wars. Rough-spoken, warm-hearted, and colorful, he was nearly uneducated and knew little of logistics or strategy. But he rode like a centaur and, on the battlefield, was a superb leader of troops, energetic and enterprising, renowned for his roaring ways and iron courage. As Bruce Bliven Jr. wrote in Battle for Manhattan, "…it was axiomatic that, at the sound of shooting, Old Put would naturally wheel his horse and head in the direction of the fray." His men worshipped him and his adventures were legendary: almost getting burned at the stake by Indians, shipwreck off the Cuban coast, and his still-famous ride to escape capture by British dragoons, whom he evaded by taking a short cut—down a precipitous flight of steps, carved in a cliff face near Pomfret, Connecticut—at full gallop.
Within three hours, Putnam's staff had drafted, published, and carried the evacuation orders to the units in New York City. By 4:00 p.m., a column was marching north. At one point, it stretched from 23rd Street to Chambers Street. Putnam kept them moving, galloping his foam-flecked horse up and down the line, barking orders, and roaring at the men to keep up the pace. Roughly speaking, they marched up Eighth Avenue to Columbus Circle and onto the Bloomingdale Road (today's Broadway as far as 105th Street) to Harlem Heights.
At 5:00 p.m., Howe sent a Hessian brigade toward the city. Royal Marines landed near the Battery to raise the flag. And the rest of the British forces marched north along the Post Road toward McGowan's Pass, even as Putnam was whipping his forces up the Bloomingdale Road, little more than the breadth of Central Park away, each column unaware of the other.
At 96th Street and Fifth Avenue, Washington posted Colonel William Smallwood's Marylanders across the Post Road. Recruited from Baltimore and Annapolis, they were largely old friends who had gone to war together and good shots, too. General Leslie's light infantry approached up the Post Road. Smallwood's men opened fire. The British paused and then fired back. As the exchange continued, Leslie sent troops west along the New Bloomingdale Crossroad, which ran across Central Park to intersect with the Bloomingdale Road at what is now Broadway and 91st Street.
Leslie's men reached the Bloomingdale Road. Putnam's column had nearly passed except his rear guard, the Second Connecticut, who skirmished with the British light infantry while the rest of the column plodded north, and then withdrew as did Smallwood's command.
At dawn on September 17, Washington wrote to Congress that he was confident of victory if attacked, provided his men acted "with tolerable resolution." As he wrote, Colonel Thomas Knowlton of Connecticut was leading 120 of his Rangers—tough, hand-picked troops—up a hill south of the Hollow Way, a valley running from Morningside Heights to the Hudson approximately on the line of 125th Street. This hill is now the site of Columbia University, Barnard College, and the Cathedral of St. John the Divine. At a farm on 106th Street between West End Avenue and Riverside Drive, Knowlton's men were spotted by British pickets who fired an alarm.
Knowlton dispersed his men along one of the farm's stone walls as four hundred British light infantrymen marched in column up the Bloomingdale Road. Knowlton pointed to a spot on the road, about fifty yards south of the wall, and ordered his men not to show themselves or fire until the first British soldiers had reached it. The column swung briskly past the mark, Knowlton gave the order, and his men stood up and opened fire.
The British formed a firing line. For half an hour, as Bliven wrote, they shot it out, "practically face to face." Then, off to the east, roaring drums and skirling bagpipes signaled the advance of the Royal Highland Regiment of Foot, known as the Black Watch, kilts and all. Knowlton now ordered his men to fall back, each firing in turn to cover one another's withdrawal.
Washington joined his adjutant-general, Colonel Joseph Reed, Philadelphia lawyer turned staff officer, to watch the skirmish from Harlem Heights. As Knowlton's men reached the Hollow Way, roughly where the 125th Street I.R.T. station stands, the British light infantry paused on a rise near Grant's Tomb.
Then, a British bugler, in full view of the Americans, "put his horn to his lips and blew the fox hunter's signal for the end of the chase, of a fox gone to earth." The Americans had run away—again. Washington, a fox-hunting man, understood the insult immediately. Reed later told his wife, "It seemed to crown our disgrace."
Washington ordered Knowlton to take his rangers and three rifle companies and try cutting off the British light infantry by taking Morningside Heights—particularly, a rocky rise where the General Grant Houses stand now, on the block bounded by 123rd and 124th Streets, Broadway, and Amsterdam Avenue. Other American troops, commanded by Lieutenant Colonel Archibald Crery, would distract the British by skirmishing in their front.
Around 11:00 a.m., as Knowlton led his men onto the ledge, he was seen and fatally wounded by an enemy marksman. His men then launched a ferocious attack. Then Crery began advancing in earnest. The skirmish became a small battle.
Leslie's men withdrew in good order. At a buckwheat field near Broadway between 119th and 120th Streets, they stood and fought. By now, Leslie had reinforcements: a company of Hessian riflemen, two artillery pieces, the Black Watch, a regiment of Grenadiers, and a battalion of Hessian grenadiers.
By noon, both sides were fighting in formal lines, drawn up in regular array. The American line stood from Riverside Church to Teachers College, just north of 120th Street. The British were strung along 119th Street. They slugged it out for two hours, until the Americans began pushing the British back. Then the redcoats began withdrawing, as Colonel Reed reported, "rather abruptly." Some Americans, "made reckless by the sight of Highlanders and the British on the run," chased them as far as 111th Street. Washington ordered that the Americans break off the engagement. The shooting stopped. Then the rebels realized they had beaten some of the world's finest soldiers in a stand-up fight, and they began cheering.
Over the next two months, Washington withdrew his army to comparative safety in White Plains. Sir William Howe, relieved of command, left New York forever in 1778. But George Washington would return in November, 1783, triumphant on a white horse.
New York Press, August 3, 1999
At first light, Daniel McCurtin awoke. He checked the weather and then glanced down the Upper Bay toward the open sea. He paused. There had been a change during the night. It was June 19, 1776, and the British had come. McCurtin, a private in the Continental army, later wrote that the "whole Bay was full of shipping as it ever could be" and the masts of the ships moored by Staten Island "resembled a forest of pine trees with their branches trimmed." General Sir William Howe, commanding His Majesty's forces in North America, had passed the Narrows with forty-eight men-of-war and transports. Neither McCurtin nor the hundreds of New Yorkers who soon lined the Battery and the waterfront piers had seen anything like it.
They had seen nothing yet. During the next day, Sir William's seafaring brother, Admiral Richard, Lord Howe—dark, like most of that family, and popular with his command as his brother was with his (Lord Howe's sailors called him "Black Dick")—joined him with 82 more ships. By July 12, more than 150 ships stood off Staten Island; by mid-August, more than 400. King George III and his ministers had assembled the greatest seagoing invasion since the Spanish Armada nearly two centuries before.
On July 12, 1776, the British did three things. First, they landed on Staten Island. The county militia, mustered for home defense, surrendered as one man. Then two frigates, H.M.S. Phoenix and H.M.S. Rose, testing the harbor defenses, swept up the Bay under full sail. The Rose's commander opened a particularly fine claret as the American artillery fired on him from Red Hook, Governor's Island, Paulus Hook in New Jersey, and Forts Washington and Lee. They missed. They all missed. They never came close. The two men-of-war cruised some thirty miles north to Tappan Bay and returned a few days later, utterly undamaged.
Finally, the Howe brothers tried to open negotiations. Sir William Howe ("Sir Billy" behind his back) was a civilized man, preferring peace to war. Perhaps it was his sensuality. Howe's paunch spoke of his weakness for the pleasures of the bottle and the table, even as the presence in his suite of Mrs. Joshua Loring, a charming Bostonian, evidenced a fondness for those of the bed (Sir William had appointed the complaisant Mr. Loring to the lucrative post of His Majesty's Commissary of Prisoners).
But love of pleasure was not professional incapacity. William Howe, tall, pleasant and taciturn, was in his late 40s. He had held the King's commission for more than thirty years. A careful, intelligent commander who generally eschewed wasteful frontal assaults against entrenched positions, Howe's massive popularity with his troops stemmed from their confidence that he would not waste their lives in the pursuit of glory.
Yet Howe could be magnificently, even wildly brave. In September 1759, Howe had scaled the Cliffs of Abraham, leading 4000 troops in the surprise attack on the French at Quebec, still considered among the most audacious feats in military history. On June 17, 1775, at Bunker Hill, he personally led his grenadiers' second assault against "an incessant stream of fire…more than flesh could endure" from Israel Putnam's militiamen, and when his men broke and ran, William Howe momentarily remained, defiant and nearly alone on the hillside in his cocked hat and bright scarlet coat, before turning and walking away.
The Howe brothers, knowing war from experience, preferred peace. But how to address the letter to the rebel commander? "General" might seem to recognize the legitimacy of Congress, which had commissioned him. "Colonel," his highest rank as a militia officer in the King's service, might be insulting. Ah! the best address for a Virginian gentleman: George Washington, Esq.
In They Fought for New York, John Brick describes the arrival of Lieutenant Brown, R.N. of H.M.S. Eagle, with the letter under flag of truce. He saluted a blue coated colonel at the Battery stairs.
"Sir," Brown said, "I have a letter from Lord Howe to Mr. Washington."
"Sir," replied Colonel Joseph Reed, Philadelphia lawyer turned adjutant general of the United States Army, "we have no person here in our army with that address."
Opening negotiations is difficult when your foes won't even accept your mail on a lawyer's advice.
Sir William then addressed another letter to "George Washington, Esq., etc., etc." This, too, was refused. The bearer, Lieutenant Colonel James Patterson, Howe's adjutant general, then asked whether General Washington would care to meet with him.
Washington received Patterson at his headquarters at 1 Broadway. Patterson explained the "etc., etc." as terms used in diplomacy when a man's precise rank was in doubt. Washington replied there was no doubt about his precise rank and that "etc., etc." could mean "anything-or nothing." Patterson then suggested negotiations between Lord Howe and Washington. The Commander-in-Chief refused. He was merely a soldier, powerless to negotiate political issues: That was Congress's domain.
By August 19, 1776, Sir William had 32,000 professional soldiers on Staten Island, including two regiments of Guards, the Black Watch, and 8000 mercenaries, rented for the occasion from the Landgrave of Hesse-Cassel. Three days later, he invaded Brooklyn at Gravesend Bay. By noon, he had 15,000 men ashore with scarcely a shot fired.
Although Washington had fortified Brooklyn Heights, building Fort Greene, Fort Putnam and Fort Box, the American forces largely stood forward on the Heights of Guan (now Crown Heights, Stuyvesant Heights, Ocean Hill and Ridgewood). Apparently none of the American commanders knew of the Jamaica Pass, "a deep winding cut" at what is now Broadway Junction, near East New York. This led to the Jamaica Road, roughly parallel to what are now Fulton Street and Atlantic Avenue, which curved between the Americans on the Heights of Guan and their fortifications near Brooklyn Heights. During the early morning of August 27, Howe sent 4000 light infantrymen unopposed through the Pass. By dawn, they held the Jamaica Rd.
The Battle of Long Island opened with desultory skirmishing. Several hours after sunrise, two cannons boomed in the American rear. As the British and Hessians in their front suddenly stopped fooling around and began formal attacks, the Americans found Howe's light infantrymen charging from behind.
The rebel left and center collapsed. Many soldiers simply surrendered. Others fled into the woods. Through the ranks of British grenadiers sprinted Hessian jagers, vanishing into the trees after the rebels. They were green-coated professional huntsmen and gamekeepers, superbly fit, disciplined to an edge of ruthlessness, and armed with short-barreled rifles. They were trained to fight in forests, for at home they tracked poachers and thieves, and tended to take no prisoners. Decades later, the skulls of men run down and bayoneted by the jagers were still turning up on building sites, roadsides and tilled fields.
The American right comprised 1500 troops under General William Alexander, a stocky, jovial Scots eccentric, who, though fighting for a republican cause, claimed the title of Lord Stirling. He had been more than holding his own: Two of his regiments had driven British regulars from a flanking crest and seized the high ground. Stirling had not held the hill for fifteen minutes when thousands of British and German troops unexpectedly smashed into his front. His scouts then told him his left flank was in the air, the American left and center were gone and British regulars were cutting him off.
Stirling, unlike the other American commanders, had apparently studied his ground and even considered possible routes of retreat. He had one left: through marshes to Gowanus Creek, 80 yards wide at the mouth. Even then, his men would be slaughtered in the mud unless the British advance was stopped, if only for an hour.
Stirling, "with grim-faced Scottish fortitude," detached 250 Marylanders. They were militiamen. This was their first battle. He ordered his officers to move the rest of his command across the Gowanus. Then he rode to the Marylanders and put himself at their head.
They faced 10,000 British and German regulars, advancing in broad ranks two or three lines deep, now confident of victory, the field music's drummers beating a quick step, the King's and the regimental colors unfurled. The company-grade officers marched beside their men, swords at the carry, and the field-grade officers rode behind the lines, not out of cowardice but to maintain communications and control. As the enemy's shooting became effective, the ranks would close up, again and again, while marching forward. At 100 yards or so, they would halt. The soldiers would fire a volley and then charge at a full run, bayonets fixed, probably yelling at the top of their lungs. The effect was intentional: to seem terrifying, invincible and nearly inhuman.
Anyone watching the Guards' trooping the color on the Queen's birthday is observing 18th-century tactics. American propaganda trains us to ridicule this kind of magnificent formal spectacle. But the British and Germans fought thus because it usually worked. It certainly did on August 26, 1776. British soldiers generally were, as the Duke of Wellington later called them, "the scum of the earth": semi-literate at best, thuggish, crude and boisterous. They were controlled through harsh discipline, with floggings ordered on the slightest pretext. Their lives were a constant round of drill and maintenance (blacking boots, polishing buckles, pipe-claying breeches to keep them white and sponge-cleaning the red coats, dry-cleaning being unknown), occasionally interrupted by whoring and drinking. The constant drill strengthened the habit of obedience, enabling officers and non-coms to control and maneuver their men with great flexibility amidst the horror of battle.
But Stirling had seen it before. He told his men that he knew James Grant, the British general commanding the troops on his front, and had been in the House of Commons when Grant had boasted he could march from one end of America to the other with 5000 men. He urged them to prove Grant wrong.
Then his sword flashed from its scabbard, and with a broad sweep, Stirling pointed at the advancing enemy, roared, "Charge!" and spurred his horse forward. The 250 went with him. They charged, broke, withdrew, regrouped and charged again-five times. Because they "fought like wolves," they bought the time their comrades needed to cross the marshes. Of the 250, 10 men and one officer stumbled by nightfall into the American entrenchments at Brooklyn Heights. Stirling was not among them.
It was only noon. Howe had lost 65 killed and 255 wounded while inflicting more than 2000 casualties on the rebels. One imagines the response of Patton to a demoralized enemy hopelessly off balance with his back to a river. Howe could have ended the war that afternoon, and there would have been no United States. Imagine Elizabeth II's elegant profile on the shillings in our pockets.
And Sir William Howe said no. His men prepared for a careful assault on the American fortifications. In the harbor, Lord Howe's captains expected orders to place their ships in the East River between Brooklyn and New York to bottle up Washington in Brooklyn. The orders never came. Lord Howe did not even send out cutters-small boats, manned by expert oarsmen, carrying light cannon in swiveling mounts-to patrol.
More than 220 years later, this remains inexplicable. Probably, the Howe brothers, being half a world away from London, were making policy despite their orders. Thomas Fleming, in Liberty, wrote: "To achieve the kind of [negotiated] peace Admiral Howe envisioned, Washington's army had to survive. If it was battered into mass surrender in Brooklyn or slaughtered on the East River, hard-liners…would insist on a peace of unconditional surrender, [making] America another Ireland."
Washington had a genius for retreat. Few things are as difficult as the organized, controlled withdrawal of a defeated army. His mind turned to the 14th Continentals, a regiment of American regulars, mostly sailors in civilian life, largely raised from Marblehead, Massachusetts (characterized by one of his officers as "a dirty erregular stincking place"). Between nightfall on August 26 and August 29, Washington and his staff assembled every boat "that could be kept afloat and had either sails or oars." The 14th Continentals manned them. The army was gradually withdrawn from the lines and ferried to Manhattan under cover of darkness. At dawn on August 30, the last boats left. One carried George Washington. He had not slept in forty-eighthours.
Washington's withdrawal from Brooklyn, his army intact, was the first step in his retreat to victory.
New York Press, July 28, 1999
Even today, when people often change careers, General Edward Ferrero's resume might seem startling. The son of Italian political refugees, he was born in Granada, Spain on January 18, 1831 and arrived in New York while still an infant. Edward's father taught dance. He opened a school at the northeast corner of 14th Street and 6th Avenue. The future general was practically raised on the academy's shining floors, becoming a dancer, choreographer, and teacher, even teaching dancing to the cadets at West Point. He is generally described as charming, witty, and good-humored, with beautifully polished manners and exquisite personal grace.
Yet the dance master was also a lieutenant colonel in the New York National Guard. After the secessionists fired on Fort Sumter in 1861, Ferrero recruited the 51st New York, a new regiment of roughly 1000 men, at his own expense. He was commissioned its colonel on October 14. In an army of the inexperienced, Ferrero's peacetime soldiering made him look pretty good. He knew something about moving units about a parade ground (what is drill, after all, but choreography?). Besides, he was a teacher: he knew how to train men.
His regiment was assigned to General Ambrose E. Burnside's North Carolina expedition. Burnside was a West Pointer, a veteran of garrison duty during the Mexican War, and a major general of the Rhode Island militia. Burnside seemed the stereotype of a mid-Victorian general: broad-shouldered and firm-jawed, with a steady gaze and flamboyant muttonchop whiskers. (The term "sideburns" comes from his name.) Despite his formidable appearance, the Rhode Islander was genial and kindly, the soul of truth and honor, and as unsuited to command an army by virtue of poor judgment and lack of common sense as any man with stars on his shoulders in the history of the Republic. But Lincoln liked Burnside and believed him far more competent than he was—one of his rare misreadings of character.
Burnside gave Colonel Ferrero command of a brigade—three regiments, roughly 3000 men. At Roanoke Island, Ferrero led his men ashore: they took the first fortified redoubt captured in the war. In light of his successes, Lincoln gave Burnside command of the Union's major fighting force in the East, the Army of the Potomac. At Antietam, Burnside rigidly insisted on crossing a small stream by sending men piecemeal across a narrow stone bridge within range of Confederate cannon. They could have waded. The result was slaughter.
Ferrero fought well, winning promotion to brigadier general on September 10, 1862. Three months later, he fought under Burnside again at Fredericksburg, when the Rhode Islander repeatedly sent the Army of the Potomac uphill against entrenched Confederate artillery, losing 13,000 men in a day.
Burnside was not working out. Lincoln transferred him to command of the Ninth Corps, a then-independent unit consisting of roughly 25,000 men that supported the Army of the Potomac without being part of it. Ferrero, then only thirty-three years old, would command its Fourth Division, consisting entirely of African-American soldiers, many former slaves from Maryland.
By the summer of 1864, the Civil War in the East was a grim reaping. The Union had finally found a commander with the habit of victory. At thirty-eight, Ulysses S. Grant had been a washed-up clerk in his family's store in Galena, Illinois. At forty-one, he was general-in-chief of the Union armies. Grant was quiet, unpretentious, even seedy. His rumpled exterior concealed, as Jean Edward Smith wrote,  "a formidable intellect and a rock-solid self-confidence…a topographer's feel for landscape, a photographic memory when it came to maps, a command of the English language at its incisive best."
Grant understood that the Union's superior resources would wear the Confederacy away, if only he engaged the enemy and never let go. His opponent, General Robert E. Lee, for his part understood Grant and his strategy. After three years, Lee knew Southern independence would rest on dragging out the war through the November elections. If Northern voters, weary of fighting, turned out Lincoln and the Republicans, the incoming Democrats would make peace.
On May 4, 1864, Grant crossed Virginia's Rapidan River with 120,000 men. There, in the gloomy woodland known as the Wilderness, which Bruce Catton called "the last place on earth for armies to fight," he engaged Lee in a rapid succession of bloody battles: The Wilderness, Spotsylvania Court House, and Yellow Tavern. On May 20, Grant again advanced, attempting to outflank Lee, forcing Lee to move to keep ahead of him. On June 3, Grant had reached Cold Harbor, seven miles east of Richmond, the Confederate capital.
That day, Grant sent three corps, tens of thousands of men, charging across an open field against Confederate artillery. He did it repeatedly, only stopping some seven thousand casualties later. It was not that he had lost so many men—casualties are in the nature of the business—it was that he had wasted them, and Grant could not justify it even to himself. He had taken 60,000 casualties in one month's hard fighting, nearly half the men with whom he had crossed the Rapidan. But the Union could replace them, while the Confederacy could no longer replace the 30,000 casualties Grant had inflicted on Lee.
Within a week, Grant moved yet again, this time in secret. On June 15, barely ten days after Cold Harbor, Lee realized he had been outfoxed for once when the Union army attacked the Confederate rail hub at Petersburg, Virginia. Lee's luck was with him: the local Confederate commander held Grant off for three days, until Lee arrived in force on June 18. Now the armies dug in, erecting a line of forts and trenches that stretched some forty miles from Richmond to Petersburg. It was the first modern trench warfare: its students would apply its lessons fifty years later on the Western Front.
And, as on the Western Front, the result was stalemate. The frustration that had prompted Grant to order frontal assaults at Cold Harbor also led him to entertain radical means to break through Lee's lines outside Petersburg. They wouldn't work, either.
Unlike many Union officers assigned to command black troops, Ferrero seems to have had no reservations about their military virtues. Most of them were new to soldiering: he drilled and trained them vigorously.
East of Petersburg, the armies were closest at Elliott's Salient, also called Pegram's Salient. This was a Confederate artillery emplacement held by Johnson's Division, an under-strength unit of a few thousand men commanded by Major General Bushrod Johnson, barely 500 feet from Burnside's Ninth Corps.
One of Burnside's regiments was the 48th Pennsylvania, an infantry regiment recruited among Schuylkill County coalminers. Even its commander, Lieutenant Colonel Henry Pleasants, was a mining engineer. During their bull sessions, Pleasants' men devised a plan. They would dig a 500-foot-long tunnel beneath the Confederate trenches and fill it with explosives to blast a hole in Lee's line. A division would then attack through the breach. Pleasants proposed the scheme to Burnside, who approved it and obtained the begrudging consent of Gen. George Meade, who commanded the Army of the Potomac, and of General Grant.
Burnside selected the Fourth Division—Ferrero's command—to spearhead the attack. Ferrero's men were fresh, having been held in reserve. After the explosion, Ferrero's mission would be to advance around the crater, clearing Confederate stragglers from their trenches. Then three more divisions would move through the breach to seize Cemetery Hill, about 500 yards beyond. The hill overlooked Petersburg itself: its control would make Lee's position untenable. Ferrero immediately began training his men for the assault.
On June 25, 1864, the Pennsylvanians began digging the tunnel with picks and shovels, finishing it on July 23. The main shaft was 586 feet long and four and a half feet wide, with two lateral galleries, or branches, totaling 75 feet, extending beneath the Confederate entrenchments. Over the next four days, the Pennsylvanians packed 320 kegs of black powder, totaling 8000 pounds, into the galleries. Then they installed the fuse.
Within twelve hours of the attack, however, General Meade dropped his own bomb. Meade had just survived a congressional investigation into his conduct at Gettysburg a year before. If this attack failed, Meade wanted no political repercussions for ordering black soldiers to the slaughter. Accordingly, he ordered Burnside to substitute a white division for Ferrero's as the assault's first wave.
The change of plan was so sudden that some of Ferrero's commanders did not learn of it until after midnight on the morning of battle.
It was an amazing decision. Ferrero had trained his men for weeks in anticipation of the assault. The other divisions were unprepared. Moreover, although Ferrero's men had never been in close contact with the enemy, they were anxious to fight. Of course, Burnside had his orders, but a competent commander would have chosen Ferrero's replacement as assault leader based upon his subordinates' qualities. Burnside had his division commanders draw lots. James Ledlie won. No one worse could have been chosen.
A thirty-two-year-old civil engineer, born in Utica, New York, James Hewitt Ledlie had been commissioned a major in 1861, rising to brigadier general by the end of 1862. He had generally avoided combat in various district and post commands. This was probably good for all concerned. As Ezra Warner wrote in Generals in Blue, Ledlie was "an arrant physical coward" who hit the bottle under stress. Nonetheless, in May 1864, he was assigned to command a brigade in the Ninth Corps. A month later, he was given command of the First Division of the Ninth Corps, even though his subordinates were already complaining of his poor performance on the battlefield and his drinking habits.
Ledlie's First Division, though weary and demoralized from weeks of fighting without relief and completely unprepared for this new assignment, was to enter the breach. At 3:30 a.m., zero hour, they were standing to. No explosion. After 4 a.m., the 48th Pennsylvania reported that the fuse had died out some forty feet short of the explosives. Lieutenant Jacob Douty and Sergeant Henry Rees entered the gallery and reignited the fuse. They had barely emerged from the tunnel's mouth at 4:45 a.m. when the spark reached the explosives.
General Bushrod Johnson had anticipated a Union attempt to breach his lines through a frontal assault. Nothing had prepared him or his men for this. The earth shook for miles around. Then the ground burst like a volcano beneath the Confederate artillerists and infantrymen in the trenches in what Johnson's official report called an upheaval "of an immense column of more than 100,000 cubic feet of earth." Cannon, timbers, and men rose with it, flipping end over end in the air. Nine Southern infantry companies simply vanished.
As the column rose some 200 feet, 170 feet of Confederate entrenchment disintegrated, leaving a crater 135 feet long, 97 feet wide and 30 feet deep, littered with twisted pieces of iron, shattered wheels, broken cannon, human fragments, and half-buried screaming men. Nearly 150 pieces of Union artillery then opened fire upon the Confederate positions in what Johnson later called "the heaviest artillery fire known to our oldest officers in the field."
Ledlie's incompetence bore fruit from the first moment. He had failed to provide for ladders or steps: his men had to struggle to get out of their own trenches. His officers did not know where they were going once they reached the Crater because Ledlie had not briefed them on their new goal, Cemetery Hill, and their route to it.
The explosion and the enormous pit had struck Ledlie's troops with awe. As they stumbled forward from the dust and smoke, their discipline failed: they could not resist the temptation to crowd forward to look into the hole. The attack slowed and stopped. The various units mingled together, breaking the lines of command. Officers could not find their men in the crowd. Fire began coming from the other side.
Good troops recover from the shock of disaster and Johnson's men were very good. His surviving infantry and artillery began firing on the flanks of the advancing federal columns. Now, instead of advancing around the Crater, Ledlie's troops began entering it to take shelter from enemy fire.
At a depth of thirty feet, getting into the Crater was easy. Getting out of it was not. Half an hour after they had stepped off, Ledlie's command was huddled in a confused, leaderless mass at the bottom of the pit. Unit after unit backed up after them, leaving thousands of men either crammed into the Crater or stalled in no man's land—useless as combat troops, but excellent targets. Even the Confederates found the slowness of the Union's advance inexplicable. One observer noted that Johnson's division had been so shaken that "there was nothing on the Confederate side to prevent the orderly [advance] of any column through the breach which had been effected, cutting the Confederate army in twain."
Thus the First Division stalled. Its commander was not present to restore order, clear the trenches, and resume the advance. General Ledlie was huddled "in a bombproof shelter ten rods [165 feet] in the rear of the main line," plying himself with a bottle of rum borrowed from a regimental surgeon. He couldn't observe the fighting or pass instructions to his officers. A court of inquiry later found that "Had the division [been] led by a resolute, intelligent commander, it would have gained the crest in fifteen minutes after the explosion, and before any serious opposition could have been made to it."
Within minutes of the explosion, Johnson had dispatched his aides to the Confederate divisions on his flanks for reinforcements. On his right flank was William Mahone's Virginians. Johnson's aide, an English volunteer named Smith, promptly galloped back to report Mahone was on the march.
Brigadier General William Mahone was not yet thirty-eight years old when Smith dashed up to his headquarters. Though the son of an innkeeper, Mahone had graduated from Virginia Military Institute, having paid his tuition from the proceeds of a card game at his father's tavern.
He had been a college professor and professional railroader before entering the Confederate army in 1861. And his handsome and strong-willed wife Otelia Butler, mother of their thirteen children and a character in her own right, was nearly as famous as Mahone.
Mahone had transformed his command into what the authors of the encyclopedic Confederate Military History have described as "a remarkably spirited and unified organization which was inspired with a strong esprit [de] corps, and distinguished for readiness to take all chances in either defense or assault." Moreover, Petersburg was Mahone's hometown. (As Grant had quipped of Meade defending his native Pennsylvania at Gettysburg, "A rooster fights for his own dung hill.")
Burnside sent in two more divisions. They either froze in no man's land or took cover in the Crater. Then Burnside sent in Ferrero's Fourth Division. They had to stop in the front line of the Federal trenches because other troops were blocking their way. Then Ferrero was ordered to advance. Then he was ordered to halt. Then he was ordered to advance. By now, his men were taking enemy fire and unable to protect themselves. They rushed forward. Some obeyed their orders, charging around the pit. Others stopped in no man's land. Still more rushed into the Crater, hopelessly entangling themselves with the mob that had once been Ledlie's command. Ferrero was not there. He was back in the bombproof with Ledlie, sharing the bottle.
Burnside, still farther in the rear, had been so sure of success that his baggage had been ordered packed for the advance into Petersburg. He disbelieved the bad news about the assault and kept sending troops up to the Crater. His attention was further distracted by the presence of the remarkably temperamental and profane General Meade, who began squabbling with him over the failure of the attack. The only fly on the wall was Horace Porter, one of Grant's staff officers: he later claimed that day's arguments between Generals Burnside and Meade "went far towards confirming one's belief in the wealth and flexibility of the English language as a medium of personal dispute." At 9:45 a.m., Grant and Meade flatly ordered Burnside to break off the offensive and withdraw. Burnside did not forward the order to his troops for nearly three more hours.
In the meantime, Mahone's Virginians had come to the Crater, filling the breach in the Confederate lines created by the explosion. Then at 9 a.m., while Mahone was redeploying his command—moving them into place for a counterattack—part of Ferrero's Fourth Division, having passed the Crater as originally planned, advanced upon him in line of battle. Only half of Mahone's command was in place. He charged anyway.
The Virginians came boiling out of a ravine, smashing head-on into the Federals, and in a serious of ferocious charges, killed or forced back every Federal soldier who had gone beyond the Crater. Johnson's artillery encouraged the bluecoats on their way with canister—shells filled with musket balls that scattered in all directions after exploding.
Between 9 a.m. and 10 a.m., as Johnson reported, Confederate artillerists began using mortars—small, short-range artillery with high trajectory—to drop explosive shells "with remarkable precision" into the mass of men huddled at the bottom of the pit. Then the rebel infantry pressed to the Crater's rim, hiring into the nearly helpless Federal troops floundering in "their huge, earthen barrel."
Around noon, Mahone's command charged into the pit, driving out the survivors in hand-to-hand fighting. Many Confederates had been told Ferrero's division was under orders to take no prisoners. Now they returned the compliment, shooting and bayoneting every black soldier they could find.
By mid-afternoon, the fighting was over. Bodies lay four and five deep on the floor of the Crater. The Union suffered 3,798 to 5,300 casualties. Of these, half were from Ferrero's African-American division, who had stood their ground and fought and died.  Nevertheless, The New York Times reported that the black soldiery had fallen "out of the range of fire after several advances forward," an evasive suggestion that they had run away. Indeed, Northern journalists seem to have been nearly as one in blaming Negro troops for the defeat. An unnamed special correspondent wrote that their conduct "was as disgraceful as it proved disastrous to themselves." This was simply untrue: it would have been news to one of Ferrero's men, Sergeant Decatur Dorsey of the 19th Regiment, U.S. Colored Troops, who won the Medal of Honor for saving his company colors from a Confederate charge and rallying his men to advance.
The Confederacy had lost from 1,032 to 1,500 men. The assault had been, as Grant wrote, a "stupendous failure." He would besiege Petersburg for another eight months.
The U.S. Army convened a court of inquiry, which heard testimony for sixteen days. They found Burnside and Ledlie at fault. Only now, after Antietam and Fredericksburg and the Crater, was Burnside finally relieved of command. Ledlie resigned his commission in January 1865, having been literally read out of the service on Grant's orders. Ferrero was found responsible for having been "where he could not see the operation of his troops [or know] the position of the two brigades of his division or whether they had taken Cemetery Hill."
Robert E. Lee promoted Mahone to major general before sundown on the day of battle. Mahone fought until the very end and surrendered with Lee at Appomattox. His neighbors elected him mayor of Petersburg; his fellow Virginians, U.S. Senator, from which office he dominated the politics of the Old Dominion. His Atlantic, Mississippi & Ohio Railway was a direct ancestor of today's Norfolk Southern. Once, when Mahone was standing beside one of its steam locomotives, someone asked him the meaning of the initials "A. M. & O." painted on its tender. "All Mine and Otelia's," he replied.
Ambrose E. Burnside resigned his commission on April 15, 1865. Rhode Island welcomed him as a conquering hero. His warm, charismatic personality overcame his consistent history of military debacle to see him three times elected governor and, in 1874, U.S. senator, which office he held until his death on September 13, 1881. Six years later in Providence, on July 4, 1887, the State of Rhode Island and Providence Plantations dedicated an equestrian statue to its beloved incompetent.
James Ledlie, that "arrant physical coward," made a fortune in building and promoting western and southern railroads. In 1882, he died of dropsy and jaundice at the St. Mark's Hotel in New Brighton, Staten Island. His New York Times obituary does not mention the Battle of the Crater. Ledlie, Nevada, which was named for him in 1880, became a ghost town after his Nevada Central Railroad was torn up in 1938. At last report, all that remained was a collapsed wooden building and a solitary telegraph pole.
Edward Ferrero never ceased to praise his men for their courage under fire at the Crater. Despite the court of inquiry's finding, he was brevetted major general on December 2, 1864 for "meritorious service." After he was mustered out of the army in 1865, Ferrero returned to New York, and, over the next three decades, operated a succession of splendid ballrooms and catering halls that, from their descriptions in the contemporary press, seem precursors to such institutions as Leonard's of Great Neck. He died in his home at 111 West 7th street on Monday, December 11, 1899. His New York Times obituary, like that of Ledlie, does not mention the Crater, either. He lies in Green-Wood Cemetery in Brooklyn. His most enduring work, The Art of Dancing, has been reprinted and may be found on Amazon.com.
New York Press, January 14 & 28, 2003