Category —
Local history
Among the stories recently published in the dailies about past transit strikes, I saw none about the brief strike by motor-men employed by the privately owned Brooklyn Rapid Transit Company (BRT) in November 1918. It led directly to the Malbone Street wreck, in which a strikebreaker lost control of a Brighton Beach train during the evening rush on the grade down Crown Heights between Park Place and a tunnel under Flatbush Avenue at Malbone Street, killing 93 people. Eighty-four years later, it remains the worst disaster in the history of New York's subway system.
Formerly the Brooklyn, Flatbush and Coney Island Railroad, the Brighton Beach line dated from the 1870s. It had been one of several lightly built steam railroads linking the city of Brooklyn with its seaside resorts. In 1913, the BRT controlled the line, now electrified, along with streetcar and elevated lines throughout Kings County.
Throughout 1918, the last year of the Great War, tensions between the BRT and the Brotherhood of Locomotive Engineers had escalated. At least twenty-nine motormen had been fired for membership in the union. The Brotherhood had filed a grievance with the National War Labor Board, a federal review panel created to strengthen the war effort by improving labor-management relations. In late October, the Board had recommended that the BRT rehire the men with back pay, but the Board had no power of enforcement, and the BRT declined to even meet with the union's delegation. A strike was called for 5 a.m. on Friday, November 1, 1918.
The walkout staggered the BRT. Supervisors and clerks with little or no training as motormen filled empty cabs. Among the strikebreakers was Edward Luciano, a young clerk working under the assumed name of Billy Lewis to blunt anti-Italian prejudice. He had been with the BRT for two years, recording crew assignments. Earlier in 1918, he had received two hours of classroom instruction to become a motorman. In the fall, he had spent two days riding with regular motormen as practical experience in train operations.
This—as Brian Cudahy notes in The Malbone Street Wreck—fell far short of the BRT's usual sixty hours of training, ninety-question exam, sixty hours of apprenticeship aboard regular trains, as well as a physical examination and further testing and certification. After all this, a motorman would spend weeks taking empty trains on practice runs in and around yards and terminals before being allowed to operate a train carrying passengers.
At 5 a.m. on November 1, Luciano began his usual eleven-and-a-half-hour tour of duty. When it ended at 4:30 p.m., his superiors offered him a $20 bonus and a post-strike raise to pilot a rush-hour train from Kings Highway to Manhattan and back to Brooklyn over the Brighton Beach line to Coney Island. ("A man has to earn a living," he later explained to a reporter from The New York Times.)
At trial, William Brody, a BRT trainmaster, testified that Thomas Blewitt, a BRT superintendent responsible for certifying motormen, had represented Luciano as properly qualified. Cudahy speculates that as men with similar "qualifications" had taken trains over the line all day, Brody and Blewitt felt they could take a chance with Luciano. At the yard, he was given a train, four of whose five cars were at least thirty years old, each car with a steel underframe and a wooden body and roof.
At 6:08 p.m., Luciano's train arrived at Park Row terminal, a great vaulted train shed that stood at the Manhattan end of the Brooklyn Bridge, between the Municipal Building and the golden-domed tower that Joseph Pulitzer had built for the New York World.
At 6:14 p.m., Luciano began his return trip to Brighton Beach. Charles Darling, a lawyer riding in the first car, later said the train moved with starts and stops and sped a curve at Sands Street, the first station in Brooklyn. The train then rumbled onto the Fulton Street elevated line. Walter H. Simonson, a civil engineer, recalled that the car was jammed to near standing-room only.
At 6:29 p.m., Luciano departed Grand Avenue for the junction at Franklin Avenue. The switch there was wrongly set, keeping the train on the Fulton Avenue line toward East New York, rather than turning it southward toward Brighton Beach. After some delay, the train was properly routed onto the Brighton Beach line at 6:38 p.m. Two minutes later, Luciano left Park Place station.
Crown Heights is a land form as well as a neighborhood. Between Park Place, at the crest of the Heights, and Prospect Park, the station at the foot of the hill, the track dropped seventy feet over a distance of less than a mile. By now, Luciano was probably frazzled. His conductor signaled a stop at the next station, Consumers' Park, but Luciano rushed through without stopping. Simonson felt the train accelerate, as if to make up for lost time. Now the next stop was Prospect Park, just the other side of Flatbush Avenue.
Making trains move is relatively easy. Stopping them is less so. Braking a subway train safely and smoothly, to halt it in proper alignment with a station platform so passengers may depart and board, is an art. Train brakes operate with compressed air. By maximizing air pressure in a train's main brake line, a motorman releases the brakes—that is, he permits the air to push the brake shoes from the wheels so the train can move.
When a motorman wants to slow a train, he applies the brakes by reducing the air pressure, permitting the brake shoes to make contact with the wheels. Air brakes take time to apply and to take effect; thus a train may travel hundreds of feet while stopping. A motorman who knows from training and experience how his train will respond to a particular uphill or downhill grade can gauge when to begin braking. Luciano had no such experience. He had never run a train over the Brighton Beach line—or anywhere else before that day.
At the foot of the hill, the line curved sharply, entering a short tunnel beneath the intersection of Flatbush Avenue and Malbone Street. The speed limit for this curve was six miles an hour. Luciano later testified he was going thirty. However, he also testified that the air brakes had failed, after which he had applied the emergency brakes and thrown the train into reverse. Investigators from both the New York State Public Service Commission and the BRT found when examining the wreckage that the brakes had not failed, the emergency brakes had never been applied and the motors were never reversed. The New York Times quoted a naval officer who had survived the wreck as estimating the train's speed as fully 70 mph when it left the track.
It was 6:42 p.m. when Luciano reached Malbone Street. The control car, No. 726, roared into the curve and derailed, ripping up the third rail in a burst of blue sparks. The second car, No. 80, and the third, No. 100, also jumped the tracks, smashing into the wall with a crash heard nearly a mile away.
No. 726 skidded along the roadbed into the tunnel, its front and rear corners crashing into the tunnel wall, windows fragmenting in shards upon screaming passengers. The two following cars had swung wider. No. 80 struck the edge of the tunnel's mouth and ripped along its inner wall, where steel girders strong enough to support the tunnel roof and Flatbush Avenue above it protruded from the concrete surface. These tore into the car's roof and left side, disintegrating it in a burst of wood, steel, glass and flesh.
Back in No. 100, Walter Simonson felt the car rising beneath him. It tilted to the left, squarely striking the concrete pier at the opening of the tunnel. In the moment before the lights went out, Simonson saw the left side of the car fragment and its benches shatter, their riders crushed and impaled on splintering car timbers. He saw other passengers beheaded by the tunnel girders and the car's roof crumple into the car, all as quickly as that. Centrifugal force threw straphangers against stone and steel. Simonson himself was flung against a stump of No. 100's left side, which kept him from flying into the tunnel.
Then the train stopped. Ten seconds had passed. It was still 6:42 p.m.
The two last cars had not derailed. Car No. 100, however, was mere fragments of wood and broken and twisted bits of iron and steel. It had been fifty feet long going into the tunnel. Now its wreckage was compressed into a space of forty feet. From beneath part of its roof, Simonson squeezed free and staggered down toward the open cut in the darkness.
Up at the front of the train, Car No. 726, too, was largely intact. Charles Darling watched as Luciano emerged unscathed from the cab. (The power had shorted out when No. 746 tore up the third rail.) The lawyer asked what had happened. "I don't know," Luciano replied. "I lost control of the damn thing. That's all." Then he stepped from the car and walked up the track to Prospect Park station. A newsboy, waiting there for the train, had heard the crash, the silence and the screams. A minute or so later, he saw a man walk out of the tunnel from the middle of the tracks—presumably Luciano, who got home between 8 and 9 p.m., probably by trolley.
The first rescuers to arrive on the scene found the tunnel jammed with debris "so tightly…that no crevice or opening was left," reported The New York Times. With lanterns at hand, they began removing wreckage piece by piece. Cops and firemen set about removing the wounded from the tangle of steel, glass and splintered wood, "which stuck out like bayonets in all directions, some of them having already pierced those in the cars." Those who could walk staggered from the tunnel. Others had to be carried out. Cradles of burlap were made for the recovered bodies, which were hoisted by the rescuers to the street and laid out in rows before being taken to the morgue.
Automobiles were commandeered and their headlights shone on the wreckage. Brooklyn Gas Company and Brooklyn Edison Company also sent gangs of men with searchlights to illuminate the site. Down in the tunnel, surgeons were working by lantern light, side-by-side with priests administering last rites. Ebbets Field was opened as an aid station for the least seriously injured passengers. Some 200 others were taken to local hospitals.
Luciano and five BRT officials were indicted for manslaughter. Before the trial began, however, the BRT's lawyers obtained a change of venue from Brooklyn to Nassau County. Mysteriously, although the prosecution knew that Luciano had perjured himself by lying that he had applied the brakes, they never used the evidence. All cases ended in hung juries, acquittals and dismissals.
In December, the BRT went into receivership. This delayed the payment of any claims for over three years. Eventually, the company paid damages totaling $1.6 million. In 1923, the BRT was reorganized as the Brooklyn-Manhattan Transit Corporation—the BMT. It, too, went into receivership and then dissolved itself on November 1, 1941, the 23rd anniversary of the wreck.
After his 1919 acquittal, Luciano moved and entered the real estate business. Then he vanished.
After the wreck, even the name of Malbone Street was tainted. It was eventually changed to Empire Boulevard.
A trace of the BRT may survive endures in the letters "TRB," under which The New Republic, once published in New York, runs its weekly opening editorial. Legend has it that an editor at the magazine, Bruce Bliven, under pressure from the composing room to invent a byline for a new column, simply reversed the initials of the subway he had ridden into the city.
New York Press, December 31, 2002
New York's first great police detective was Thomas F. Byrnes. A largely self-educated Irish immigrant, Byrnes joined the force in 1863. He rose to sergeant by 1869 and captain by 1870. In 1878, the Manhattan Savings Bank, which was in his precinct, was robbed. Byrnes took the robbery as a personal affront and tracked down the criminals through hard, thorough, gritty detective work. Two years later, the newly promoted Inspector Byrnes took command of the Detective Bureau, which he made among the most efficient and absolutely secret in the world. After the state legislature reorganized the Detective Bureau to his specifications in 1882, his power was immense.
A master self-publicist, Byrnes published Professional Criminals of America (1886), a minor classic, still in print, which no student of American history should be without. Julian Hawthorne, Nathaniel's son, wrote a series of tales taken "from the Diary of Inspector Byrnes." He described Byrnes as "handsome…large and powerful in every sense of the word. His head is well shaped, with a compact forehead, strong nose, and resolute mouth and chin, shaded with a heavy moustache. His figure is erect, his step light, his bearing alert and easy. His eyes are his most remarkable feature… They have in moments of earnestness an extraordinary gaze. His voice is melodious and agreeable, but he often seems to speak between his teeth, and when aroused his utterance acquires an impressive energy."
Other journalists, though less adoring, were also impressed. Lincoln Steffens described Byrnes as "simple, no complications at all—a man who would buy you or beat you, as you might choose, but get you he would." Jacob A. Riis met Byrnes while working as a police reporter for the New York Tribune. In his autobiography, The Making of an American, Riis describes Byrnes as tough, effective, unscrupulous, autocratic, and utterly ruthless. He believed thieves had no rights a police officer was bound to respect. Above all, he was a ferocious and imaginative interrogator. Byrnes coined the phrase "third degree" to describe his methods of eliciting useful information from criminal suspects. He had no scruples about torture and did anything necessary to make suspects confess. Anything.
In February or March of 1891 an interviewer asked Byrnes's opinion of the London police's handling of the Whitechapel murders: the savage mutilation of East End streetwalkers attributed to Jack the Ripper. The Chief Inspector commented that the London police had sent him a photograph of the Ripper's most famous letter, the signature boldly scrawled across the page, with its return address, "From Hell." According to The New York Times, Byrnes "said it would be impossible for crimes such as Jack the Ripper committed in London to occur in New York and the murderer not be found."
This was published about six weeks before the night of April 23, 1891.
Water Street, in downtown Manhattan, was then lined with low watering holes and dance halls, catering to what Luc Sante's Low Life calls "a highly elastic clientele of sailors." Herbert Asbury noted in The Gangs of New York that practically every house on Water Street contained at least one dive. He wrote "at one time, some tenements had a saloon, dance hall, or house of prostitution on every floor."
The East River Hotel stood at the southeast corner of Catherine Slip and Water Street. Sante describes the hotel as a crimp joint, used by "operators who specialized in drugging and robbing sailors, sometimes arranging for them to be shanghaied about tramp boats, if they survived." Asbury also says that sailors were robbed and killed there in their sleep, and their bodies disposed of through trapdoors opening into underground passages that led to the docks.
Between 10:30 and 11 p.m. on April 23, 1891 an aging whore flounced into the hotel with a john in tow. Her name was Carrie Brown, but she was known familiarly as "Old Shakespeare" because she knew (and would recite for a bottle of swan gin) the major female role in Hamlet, Macbeth, and The Merchant of Venice. She claimed to have been a celebrated actress yer younger days.
The john signed the hotel register as "C. Knick." Mary Miniter, an assistant housekeeper, caught a glimpse of him. She later described him as having a foreign appearance, about 32 years old, 5 feet, 8 inches tall, slim build, long sharp nose, heavy mustache of light color, and wearing a dark-brown cutaway, black trousers and a dented black derby. Even so, Miniter claimed she did not get a good look at him: he seemed "anxious to avoid observation." Old Shakespeare took the key to Room 31.
Around 9 the next morning, Eddie Harrington, the night clerk, saw the key for Room 31 had not been returned. He went upstairs and knocked. Then he took out the master key.
C. Knick was gone, and no one had noticed his departure. Carrie Brown's remains were on the bed. The coroner determined she had first been strangled. Then the murderer had mutilated her body in a frenzy of stabbing and cutting. Dr. Jenkins, who performed the autopsy, thought the killer had attempted to carve the abdomen out of her body.
Rumors of the killing swept the city. By the next morning, even The New York Times had splashed the story on its front page:
Choked, Then Mutilated
A Murder Like One Of Jack The Ripper's Deeds
Whitechapel's Horrors Repeated in an East Side Lodging House
Worse still, the Times repeated Byrnes's boast that the Ripper murders could not have happened in New York without the criminal's arrest within thirty-six hours. This was precisely not the take Byrnes wanted on the story. His men fanned out into the Fourth Ward.
By April 25, among the numerous men under arrest was George Frank, formerly known as Ameer Ben Ali, also known as Frenchy, an Algerian Arab who professed to neither speak nor understand English. On the night of the murder, Frenchy, an habitue of the East River Hotel, had occupied Room 33, across the hall from Room 31.
Five days later, Chief Inspector Byrnes triumphantly announced that Frenchy was the killer. He admitted Frenchy had not been C. Knick. However, Byrnes alleged that after C. Knick had left, Frenchy had crept across the hall, robbed and killed Carrie Brown, and crept back into his own room. There were blood drops on the floor of Room 31 and in the hall between Rooms 31 and 33; blood marks on both sides of the door to Room 33, as if the door had been opened and closed by bloody fingers; blood stains on the floor of Room 33, a chair in that room, the bed blanket and the mattress (apparently, the East River Hotel did not provide sheets). Blood had been found on Frenchy's socks. Scrapings from his fingernails indicated the presence of blood. His explanations of how the blood came to be on him had been found false.
Frenchy was arraigned on April 30 and held in the Tombs until his trial opened on June 24, 1891. As he could not afford an attorney, the court appointed Abraham Levy as his counsel. Abe Levy would conduct some 300 homicide defenses, making him a legend of the criminal bar: this was his first. The court had found an interpreter from his own village in Algeria, so Frenchy could participate in his defense. District Attorney DeLancey Nicoll and a chief assistant, Francis Wellman, prosecuted. Byrnes and four officers testified for the prosecution. According to Edwin Borchard, so did numerous witnesses "from the lowest stratum of New York life, to prove that Frenchy had been living a sordid life, and, particularly, that he was accustomed to staying at the East River Hotel and to wandering from room to room at night."
Three medical experts testified that a chemical analysis of his fingernail scrapings and of the blood stains on the bed in Room 31, the hallway, the door to Room 33, inside Room 33 and on his socks showed "intestinal contents of food elements, all in the same degree of digestion—all exactly identical." They inferred from this that the bloodstains resulted from blood flowing from the abdominal injuries of Carrie Brown.
By contrast, the defense, lacking the resources to conduct a thorough investigation, had to rely on the defendant, who was a dreadful witness. Frenchy sometimes seemed to understand English; at other times, he claimed not to understand questions even after they had been translated into his native dialect. He consistently denied killing Old Shakespeare, but the prosecution (Francis Wellman later wrote in The Art of Cross-Examination) "badly tangled" Frenchy "time and time again upon cross-examination." Frenchy was convicted of second-degree murder and, on July 10, 1891 sentenced to life imprisonment in Sing Sing.
The belief on the street was that Frenchy had been framed. There were two rumors. One was that the murderer, a blond sailor, had sailed for the Far East. The other was that Old Shakespeare really had been murdered by Jack the Ripper. Although most of the Ripper murders were committed during the late summer and autumn of 1888, Frances Coles, also known as "Carrotty Nell," was butchered in February 1891: only two months before Carrie Brown took C. Knick upstairs. Steamers had reduced the travel time from London to New York to roughly a week. Asbury suggests many investigators believed that Jack the Ripper had accepted Byrnes's challenge, and that the police had arrested Frenchy to save Byrnes' professional honor.
Nearly eleven years later, in 1902, Gov. Benjamin B. Odell received a pardon application for Frenchy, based on new evidence. Apparently, a man who matched the description of C. Knick had worked for several weeks in the spring of 1891 at Cranford, New Jersey, about fifteen miles from the city. He had been absent from Cranford on the night of April 23, 1891 and disappeared entirely several days later. Among the objects left in his room were a brass key bearing a tag with the number "31" and a bloody shirt. The key matched the keys to the East River Hotel. After all, the murderer had locked the door to Room 31. No evidence had ever connected Frenchy to the key.
Moreover, Jacob Riis submitted an affidavit based on direct observation. When he had visited the hotel on the morning after the murder, before the coroner's arrival, he had not found blood on the door of either room or in the hallway. The Governor inferred from the affidavits of Riis and other observers that the bloodstains, which had been found by the police only on the day after the murder, had been made at the time of the visit of the coroner and the crowd of reporters when the body was examined and removed. Even the police had testified that there was no blood on or near the lock or knob of the door to Room 31, which presumably the murderer had unlocked, opened, closed and relocked. Yet Frenchy's guilt was premised on evidence suggesting he had passed out of Room 31 dripping blood on the floor, wearing bloody socks, and then smeared blood on the door, floor, and bed of Room 33.
Between the weakness of the old evidence and the strength of the new, the Governor's mind was made up. On April 16, 1902, after an imprisonment of ten years, nine months, and ten days, Frenchy was ordered released. Borchard reports that the French government arranged Frenchy's return to Algeria.
Thomas F. Byrnes retired from the force in 1895 after three years as chief of police. He died in 1910.
No one really knows who killed Polly Nicholls, Annie Chapman, Elizabeth Stride, Catherine Eddowes or Mary Jane Kelly in the fall of 1888, or Carrotty Nell in February 1891. Nor do we know who killed Carrie Brown.
New York Press, September 4, 2001
Acommercial for the last season of Sex and the City showed Sarah Jessica Parker doing an elegant balancing act in stilettos along old steel rails set in a Brooklyn cobblestone street. I recognized the location: I had been there myself.
Around 1994, attending to business down in the old industrial district between the Brooklyn and Manhattan bridges once known as Vinegar Hill, now re-christened DUMBO (for Down Under the Manhattan Bridge Overpass), I came across an abandoned railroad. Steel rails ran through the cobbled streets, with here and there a spur turning off the main line into a factory or industrial loft. In some cases the line ran straight into the blank wall of what had become a luxury apartment building. Of course, there were no trains. The many asphalt and concrete patches over the rails showed the line to be long abandoned.
This had once been the Jay Street Connecting Railroad—JSC for short. You can see on the Port Authority's New York Harbor Terminal map for 1949 where the JSC and the harbor's many other railroads ran: They stand out bright red against the elegant expanses of blue water and buff-gold land. Like the yards, piers, and terminals that fringe the waterfront, they're the color of Monopoly board hotels. You can see the short line's spaghetti tangle of tracks (at a scale of one inch to 400 feet) on the Port Series maps published by the U. S. Army Corps of Engineers. According to the Interstate Commerce Commission's records, the JSC operated from 1904 to June 1959.
From the Port Series map alone, the JSC seems to have been among the shortest railroads in the United States, with a main line no more than a half-mile long. It began in the shadows of the Brooklyn Bridge, just north of New Dock Street, in what is now the Empire-Fulton Ferry State Park. It then ran north along Plymouth Street. At Adams Street, the main line swung west for a block, toward the East River, and then north into John Street, finally terminating amidst the complex of piers, warehouses, and factories between Jay, Bridge, and Gold Streets owned by Arbuckle Brothers, the family firm that made Yuban Coffee and owned the little railroad.
In its life and death, the short line's history illuminates change: in industrial technology, in the regional economy, in the neighborhood it served (named Vinegar Hill by an 1820s developer to commemorate a fierce battle during the Irish rebellion of 1798). For example, Empire-Fulton Ferry Park exists today only because the railroad used that open space for team tracks: an open-air freight terminal where the crews of horse-drawn teams and wagons (and later trucks) could unload cargoes from freight cars directly into their vehicles. Unlike most railroads, the JSC had no direct connection with another railroad. On the map, it seems as solitary as a Lionel train set on a kitchen table. In fact, it interchanged with other railroads by car floats: long, flat-decked barges with railroad tracks on them for transporting freight cars about the harbor. This was not unusual: at one time, New York's railroads used tugboats and barges to move over 5,300 freight cars every day about the harbor, providing direct service to pier heads in all five boroughs.
From the 1830s onward, the harbor handled almost half of the nation's foreign trade while serving the largest manufacturing region in the United States. Numerous railroads tapped into this business by building to the Jersey side of the Hudson River: the Pennsylvania, the Erie, the Lackawanna, the Lehigh Valley, the Jersey Central, the Reading. As Thomas R. Flagg notes in New York Harbor Railroads, serving New York was not easy. The area is divided by rivers and bays. Building direct railroad connections in and about the harbor was technologically challenging and prohibitively expensive. Until 1910, when the Pennsylvania Railroad built the huge Pennsylvania Station complex, tunneling both the Hudson and East Rivers, and 1917, when Hell Gate Bridge brought the New York, New Haven & Hartford Railroad from the Bronx into Long Island, Brooklyn, and Long Island had no direct rail connections to the rest of the country. (Even then, the Pennsylvania's Hudson tunnel was only for passenger trains, being too small for freight.)
During the 19th century, Brooklyn's waterfront saw explosive industrial growth. Factories and warehouses were built at the water's edge, many with their own piers. From the 1880s, most railroads used car floats to carry freight cars between waterfront freight yards in, say, Jersey City or Weehawken, and waterside freight terminals in the five boroughs. Cars with Manhattan- or Brooklyn-bound freight were shunted toward float bridges, with steel structures attached at their land end by hinges and the other end either floating freely with the tides or suspended from an overhead framework. A tugboat hauling a float loaded with freight cars shoved it up to a float bridge. Once the float was pinned to the bridge—secured with toggle bars and heavy ropes—a locomotive pulled the cars from the float, one at a time to prevent capsizing, replacing them with cars from the yard. Then the tugboat hauled the car float to another terminal to repeat the process.
The JSC was created by Arbuckle Brothers, once synonymous with Ariosa and Yuban coffees, a huge wholesale grocery firm founded before the Civil War: Even the railroad's locomotives were painted in Arbuckle's signature orange and black. In 1860, Arbuckle Brothers operated a single store in Pittsburg; within two decades, it would be among the largest importers of coffee and sugar in the United States. This was due largely to John Arbuckle, an amazingly imaginative man, who devised a sugar-based glaze to keep roasted coffee beans from going stale. He then invented a machine that graded, filled, weighed, and sealed roasted coffee beans in paper packages of uniform weight and quality. One machine replaced 500 people who had previously done the same work by hand. The machine even labeled the bags. By the 1870s, Arbuckle was shipping its coffee across the country in brightly colored one-pound bags. Cowboys had a passion for it—some call Arbuckle's Ariosa "the coffee that won the West."
By the turn of the century, Arbuckle's owned a factory and warehouse complex on the waterfront north of the Manhattan Bridge, with ocean-going freighters docking at its three piers to unload Colombian coffee beans for its roasters. Believing that a railroad would be more efficient in shifting cargoes among the buildings, John Arbuckle started what became the JSC in 1904. On realizing the railroad might profit from serving neighboring businesses, Arbuckle's extended it along Plymouth Street, eventually reaching North Dock Street around 1920.
From the beginning, the JSC relied on import-export traffic from the steamship lines at its piers and freight cars interchanged by car float at its Jay Street float bridge. Short trains of two or three cars constantly rumbled through Vinegar Hill for delivery to factories and warehouses along the right of way. Goods requiring delivery to other parts of Brooklyn were unloaded at the team track by express men with wagons and trucks.
The JSC's identical steam locomotives, respectively numbered 1 and 2, were powerful six-wheel switchers ordered new in 1906 from the world's largest locomotive builder, the Baldwin Locomotive Works. Short wheelbases let them shove boxcars along the railroad's extremely sharp curves into its customers' warehouses and industrial lofts. The railroad also had its own barn-red tugboats, with unusually tall pilot houses (so that their captains might see over the tops of the boxcars on their floats) and slender stacks painted in Arbuckle Brothers orange and black.
Other railroad freight terminals, similarly interchanging freight cars by car float, lined the shores of the five boroughs. The Bush Terminal Railroad, serving the massive industrial complex built by Irving T. Bush at the beginning of the 20th century, was the largest. On a 200-acre Brooklyn lot, Bush constructed fifteen industrial lofts (each six to eight stories high), eight steamship piers, more than 100 warehouses and a railroad that, at its busiest, used eight locomotives and even provided commuter service into the complex.
By the 1930s, the JSC had replaced its aging steamers with an offbeat collection of cheap, second-hand gasoline and diesel-electric locomotives from three different builders, as diverse as a sampler box of chocolates. Most were literally unique, built to demonstrate some manufacturer's pioneering technology. Oldest and freakiest was Number 3, the second-oldest gasoline-powered freight locomotive in America. It was essentially a shack housing a 175-horsepower engine on a flatcar, built by General Electric in 1915, a generation before anyone believed internal combustion would replace steam in powering American transportation.
Arbuckle's began selling their properties during the Great Depression. Eventually, even Yuban Coffee (the name comes from "Yuletide Banquet") went to what is now Kraft Foods. The railroad soldiered on, enjoying a booming business during World War II. Then change came to Brooklyn's waterfront and the JSC. Coal for home heating and industrial use, once the single largest category of harbor railroad freight, vanished with the adoption of oil and gas heat. Suburbia demanded better roads and highways: the consequent construction of a right of way maintained at taxpayer expense made motor trucking more flexible and economical than railroads and car floats, which had to pay for their equipment and pay taxes on it as well.
In 1955, Sea Land Service, Inc. pioneered containerization at its Weehawken docks. Within a generation, stevedoring—the labor-intensive break-bulk or piecemeal system of unloading ships we see in films such as On the Waterfront—had been replaced by intermodal containers: standardized trailer-sized steel boxes that could be freely shifted with a crane from one mode of transportation to another-from ship to flatbed trailer, say-within two or three minutes. Containerization's efficiency, combined with construction of the Port Authority's container ports in Newark and Elizabeth, New Jersey, nearly destroyed Brooklyn's seaport. Finally, the factories themselves began relocating from the city. In any case, car float service was profitable only with cheap labor. As labor unions pressed for better wages, building, operating, and maintaining fleets of tugboats and car floats had become astronomically expensive almost overnight.
As late as 1955, the JSC was busy enough to need yet another second-hand diesel. But within four years, its business shriveled away. On June 27, 1959, the railroad was abandoned. Its equipment was scrapped on site or sold. It was the first harbor terminal railroad to fail. Today, the sole survivor is the New York Cross-Harbor Railroad, which operates the remains of the former Bush Terminal and New York Dock railroads in Brooklyn and a daily car float across the Upper Bay to CSX and Norfolk Southern at Greenville, New Jersey. On land, the Cross-Harbor interchanges with the South Brooklyn Railway, another tiny railroad, surviving by the skin of its teeth, which once, legend says, attempted to haul a dead whale by flatcar to the Coney Island Aquarium. The whale proved too big for the tunnel south of Fourth Avenue, but that, as they say, is another story.
Of the JSC, only the rails in the street remain. About a year and a half ago, I noticed that my local New York Sports Club displays a huge poster of a buff runner sprinting up a Brooklyn street near the Manhattan Bridge. There are rails embedded in the cobblestones beneath his feet. The photographer used them to focus the viewer's attention on the runner.
New York Press, April 16, 2003
My first "Old Smoke" column recounted the adventures of the Hon. John Morrissey, Congressman and heavyweight boxing champion of the United States, who once, according to the Philadelphia Bulletin, told the House of Representatives that he "had reached the height of my ambition. I have been a wharf rat, chicken thief, prize fighter, gambler, and Member of Congress." This was some twelve years after his indictment for the murder of William "Bill the Butcher" Poole, the 19th-century anti-Catholic street-fighting man whose memory, until recently, survived only among readers of Herbert Asbury's masterpiece, The Gangs of New York. Now, thanks to Martin Scorsese's Oscar-nominated film, freely adapted from Asbury's book, Bill the Butcher is now far better known than during his own lifetime.
Or after a fashion, anyway. A few days ago, my wife pointed out a New York Post article about a recent ceremony held in Brooklyn's Green-Wood Cemetery: a granite headstone was placed at Poole's hitherto unmarked grave, inscribed with Poole's legendary dying words: "Good-bye, boys, I die a true American." The article even had someone playing "Taps" over the old reprobate—a gesture that Green-Wood's president, Richard Moylan, seemed anxious to justify to audiences for the film, which sets Bill's death, at the climax of the movie, in the midst of the Draft Riots of 1863.
"He was a bad guy, really," Moylan observed in his capacity as an historian. The riots in question comprised a week of unrestrained mob violence—burning, looting and lynching—directed predominantly at the city's black population. "We did it for all those who lost their lives in the riots," the Green-Wood president explained.
The trouble with using Bill Poole to commemorate those killed in the 1863 riots is that Poole was murdered in February 1855, some eight years before. Bill the Butcher had as much to do with the Draft Riots as Bob the Builder. As an artist, of course, Scorsese isn't trying to present history or depict Poole as an historical person. His interest in the figure lies elsewhere, in truths far more profound than one finds in the recitation of mere fact.
But there's a disingenuous quality to the little incident at Green-Wood. Moylan claimed the Butcher's gravestone was about history. To me, it seemed all about promoting tourism and making money.
More than six feet tall and weighing 200 pounds, William Poole stood out in an age of small men. He began his career in the Bowery Boys, New York's most important street gang. Unlike today's gangsters, the Boys were working men—whether laborers or self-employed small businessmen like Poole, who was a butcher by profession as well as avocation. They were also, as Asbury wrote, "the most ferocious rough-and-tumble fighters that ever cracked a skull or gouged out an eyeball." Here, too, Poole stood out, for he fought like a berserker.
By the mid-1850s, Poole had drifted into freelance political enforcing. His personal gang controlled the Christopher Street waterfront. Militant supporters of the Know-Nothing party (so called because its members answered all questions about the movement from outsiders with the phrase, "I know nothing"), Poole and his men bitterly opposed Irish-Catholic immigration, hating the immigrants as cheap labor competing for their jobs and loathing the politicians who pandered to the immigrant vote.
New York City's Nativists were not all thugs. The Know-Nothings had elected James Harper—a partner in the Harper Brothers publishing house—mayor for one term. In other states, they elected governors, congressmen, and state legislators. Regaining City Hall through ballot box stuffing and terror seemed entirely possible. Seen in this light, Bill the Butcher was a pioneer in using street fighters to dominate a nominally democratic society. Two generations later, the same idea would occur to Benito Mussolini.
Poole emerged from the shadows after joining forces with political boss Captain Isaiah Rynders. The Captain, a former riverboat gambler and knife fighter, operated his political organization, the Americus Club, from a bar on Park Row across from City Hall. A one-time U.S. Marshal, Rynders was a virulent racist who left the Democratic Party during the 1850s for the Nativists. Among his new friends was Bill Poole.
It was during this time that young John Morrissey charged into the Americus Club and challenged every man in the bar. Asbury states that Poole was among the dozen or so thugs who accepted Morrissey's challenge with a flurry of mugs, clubs, and bung starters. Rynders was moved by Morrissey's audacity and courage (Morrissey convalesced in his best bedroom, complete with attending physicians and nurses) and even offered him a job. Morrissey declined, largely because he detested Bill the Butcher.
The Butcher then announced he would seize the ballot boxes at an upcoming election. Some honest and wealthy citizens, knowing the police would not enforce the election law, retained Morrissey. Before the polls opened, Morrissey had stationed some fifty men in and about the building, ordering it held to the death. As Asbury writes, "He also let it be known that there would be no adverse criticism if Bill the Butcher's bullies were permanently maimed, and that ears and noses would be highly regarded as souvenirs of an interesting occasion."
Poole and his men rushed the building around noon. On observing Morrissey and his welcoming committee, the Butcher paused, glaring at the Tammanyites. But hatred did not overwhelm Poole's common sense: the Butcher knew how to count, and so he left with his men. This made Morrissey's reputation, and Tammany permitted him to open a small gambling house without undue police interference, which soon made him a wealthy man.
Street fighting between Tammanyites and Nativists was usually about power: sometimes it was even about sports. Poole's death stemmed from a boxing match between Tom Hyer, the Young American and Nativist brawler, and Yankee Sullivan, beloved of Tammanyites and Irish Catholics. One of Sullivan's fans, an ex-Bowery Boy and ex-cop named Lewis Baker who had, as a judge observed, "a most unaccountable passion for disorderly scenes and associates," got into a bar fight with Hyer, who had a knack for that kind of groin-kicking, bottle-smashing, eye-gouging, window-breaking work. After a cop refused to intervene in what he considered a dispute among gentlemen, Hyer (bleeding from gunshot and stab wounds) beat and kicked Baker senseless and left him in the street.
Baker's troubles only began, however, when he ran into Bill Poole in a Canal Street drive called the Gem. Poole had once beaten Yankee Sullivan senseless himself and, feeling that Baker had been disrespectful to Hyer, nearly finished the job the Young American had begun. This time, the cops interfered. Poole left the bar insisting that whatever might remain of Baker after their next meeting would "scarcely be worth the attention of an undertaker." Thereafter, Baker went out only with a bodyguard, usually one Paudeen McLaughlin, whose disposition, Asbury notes, "had been particularly murderous since his nose was chewed off during an affray at the Five Points."
Some time later, Poole and Morrissey met in a Broadway watering hole. Morrissey wagered $50 in gold that Poole could not name a place where Morrissey would not meet him in a fight. Poole named the Christopher Street pier—his home turf. Mrs. Morrissey had not raised any fools, and Morrissey handed Poole the money. He then asked for another location. Poole suggested the Amos Street dock (at the end of today's West 10th Street). They agreed to meet at 7 o'clock the next morning. Morrissey arrived with a dozen men. Poole did not show. Two hundred of his men did, however, beating Morrissey and his men until, as Luc Sante notes in Low Life, "a delegation of Tammany politicians" rescued them.
Poole and Morrissey next met on February 24, 1855 in Stanwix Hall, a newly opened bar on Broadway near Prince Street. Morrissey was playing cards when he heard Poole. Morrissey strode up, spat in Poole's face, and drew a pistol. It misfired. Poole drew his own pistol. Either Morrissey or Mark Maguire, a friend of Morrissey's, then asked Poole, "You wouldn't shoot an unarmed man, would you?" Poole swore and threw his pistol on the floor. He picked up two carving knives from the free lunch counter and, hurling them into the bar, invited either Maguire or Morrissey to fight it out. Both declined. After all, Bill the Butcher knew the use of knives, and he was famous for throwing a butcher knife through an inch of pine at twenty feet. Then the cops arrested them both and released them almost immediately outside the bar.
Morrissey reportedly went home to 55 Hudson Street for the night. Poole, however, soon returned to Stanwix Hall. Baker, McLaughlin, and several other Tammany sluggers were there. McLaughlin jostled Poole. When Poole turned, the noseless Tammanyite spat three times in his face and challenged him. Poole slapped five $10 gold pieces on the bar, offering to fight whoever would cover his bet.
Then one Turner, another Tammanyite, flung open his cloak and drew a Colt revolver. While trying to aim at Poole, he shot himself in the arm, screamed and fired again, hitting Poole's leg. The Butcher fell, and Baker, placing his own pistol against Poole's chest, shot him in the heart and abdomen. Poole scrambled to his feet, probably on pure adrenalin, and grabbed a carving knife from the bar. The Tammanyites fled as one. Poole screamed that he would tear Baker's heart from his living flesh. As Poole's legs gave out, he flung the knife at Baker, and the blade was quivering in the doorjamb as the Butcher collapsed to the floor.
Everyone surrendered except Baker, who hid in Jersey City until March 10, when he sailed on the brig Isabella Jewett for the Canary Islands. The authorities remained passive (after all, Baker was an ex-cop) until George Law, a wealthy Nativist, lent his clipper yacht Grapeshot to the police; they overhauled Baker about two hours off Tenerife and brought him back in irons. Baker, Turner, Morrissey, and McLaughlin were indicted and repeatedly tried for murder. The prosecution was abandoned only after the third hung jury.
Bill the Butcher lived fourteen days after the shooting. According to Asbury, his doctors found it unnatural that he should live so long after taking a bullet in the heart. Certainly he had time to compose his last words. He died with Hyer and other friends about his bed. They gave him a hero's funeral, with thousands lining lower Broadway as a half-dozen brass bands and more than 5,000 men marched in his procession from Christopher Street to Whitehall Street, whence his remains were ferried to Brooklyn. Asbury observed that new plays were hurriedly written and current productions revised so that as the curtain fell, the hero could drape himself in an American flag and cry out, "Good-bye, boys, I die a true American," to thunderous applause.
That, too, was all about money.
New York Press, March 5, 2003
The fighting ended when Cornwallis surrendered his army to George Washington at Yorktown on October 19, 1781. But the Royal Army held New York for another two years. They had taken the city in the fall of 1776. By 1782, New York City's population was less than 10,000. Most resided below Wall Street. Accident, disaster, and the war had disrupted civic life. The Great Fire of September 21, 1776, had burned everything between Whitehall and Broad Streets, as far up Broadway as Rector Street and as far up Broad as Beaver St. Rents rose 400 percent within the first year of occupation; the price of food and other goods and services 800 percent.
The provincial assembly, city council and courts were dormant, although nothing indicates the politicians had stopped drawing their salaries. The city was governed by the Royal Army, and in the absence of a free press its government had become corrupt.
Some New Yorkers made fortunes. Mr. Joshua Loring, who had pimped his blonde wife to General Sir William Howe for appointment as commissary of prisoners, became wealthy by selling provisions meant for prisoners of war on the black market.
Others found the red coat a mask for savagery. Captain William Cunningham, the provost marshal, commanded the jails and prison ships holding American prisoners of war. The Sons of Liberty had roughed him up before the war; he would repay the debt with interest.
He enjoyed torturing people. According to Burrows and Wallace's Gotham, he admitted "…to murdering as many as two thousand American prisoners by starvation, hanging, or poisoning their flour rations with arsenic." To Cunningham his prisoners were probably no more than props for realizing his fantasies of power and cruelty. At night, he swaggered through his domains, wearing the red coat with silver lace and epaulettes, the cocked hat, the powdered wig and the tall, glossy boots and spurs, "with a whip in his hand, sending his prisoners to bed, [shouting] 'Kennel, ye sons of bitches! Kennel, God damn ye!'"
But most persons in New York City during the Revolution were loyalist refugees from revolutionary terrorism. On November 30, 1782, the American and British delegates signed preliminary articles of peace. The first article reads, "His Britannic Majesty acknowledges the said United States…to be free Sovereign and independent states…" They were proclaimed in the King's name from the steps of the City Hall on Wall St. The loyalists were horrified. William Smith, a longtime resident, merchant and fervent loyalist, wrote that the news "shocks me as much as the Loss of all I had in the World and my Family with it." Thousands sold everything-furniture, houses, land, goods-at fire-sale prices and prepared to leave. A few committed suicide.
A few were confident of their ability to survive any change of regime. James Riker recorded that a New Yorker said to his tailor, "How does business go?" "Not very well," the tailor replied. "My customers have all learned to turn their own coats."
Sir Guy Carleton, commander-in-chief of His Majesty's Forces in North America, began organizing his command's withdrawal from the city in April 1783. He was legitimately concerned about personal reprisals against the loyalists and held on to New York until every Tory who wanted to get out had left. In the meantime, his staff arranged transportation, settled accounts, paid bills, and auctioned off huge quantities of army surplus.
The first 5,000 Loyalists left New York for Nova Scotia and New Brunswick on April 27, 1783. Thousands more followed. With them went numerous African-Americans, former slaves freed by the British military government for services to the King's armies.
On September 3, 1783, the Americans, British, French, and Spanish signed the Treaty of Paris. The news reached New York in early November. It was time.
On November 21, 1783, Carleton ordered all British forces to withdraw from Long Island and upper Manhattan. That morning, General George Washington, the American commander-in-chief, met George Clinton, the governor of New York, at Tarrytown. They rode south through Yonkers to Harlem, where they stopped at a tavern near what is now Frederick Douglass Boulevard and 126th Street.
The day chosen for the evacuation was Tuesday, November 25, 1783. It dawned cold, with a bitter northwest wind. During the morning, a Mrs. Day ran up the Stars and Stripes over her tavern and boarding house on Murray Street, its first appearance in the city since September 1776. Captain Cunningham, resplendent in red coat and white wig, pounded on the door. "Take in that flag," he roared, "the city is ours till noon." He then tried to pull it down. She belted him full in the face with her broomstick, bloodying his nose, and then "dealt the Captain such lusty blows as made the powder fly in clouds from his wig, and forced him to beat a retreat."
Washington had chosen General Henry Knox to command the American troops marching from McGown's Pass, in what is now northeastern Central Park, into the city. Knox had been a bookseller: a dumpy, bespectacled little man who read every book in his stock. The war transformed his theoretical passion for artillery (after all, he'd read all the books about it) into practical experience. Behind the glasses and the big belly was the soul of a lion: in 1775, he inspired Continentals and militiamen to drag the cannon seized by Ethan Allen at Ticonderoga ("In the name of the Great Jehovah and the Continental Congress!") down to Albany and across the Berkshires in the dead of winter to General Washington's army at Boston, and he had marched with them.
Knox set out early, heading a column of some 800 foot, dragoons, and artillery. He paused at the Bowery and 3rd Avenue near today's Cooper Union, until 1 p.m., chatting with the British officers commanding the redcoats standing a block or so before him. The last detachments now received orders to move. They moved down the Bowery and Chatham Street, picking up their outposts as they passed, and, wheeling into Pearl Street, marched to the East River wharves, whence they were rowed to the fleet.
Knox followed the British down Chatham Street and then turned onto Broadway. He marched south to Cape's Tavern, a little below Trinity Church, and took possession of the city in the name of the United States. On receiving a message from Knox that he had taken possession of the city, Washington swung into the saddle and rode downtown, Clinton at his side.
At the New Jail, at the northeast corner of today's City Hall Park, Captain Cunningham paraded the Provost Guard for the last time. Accompanied by the hangman in his yellow jacket, Cunningham's command passed between a platoon of British troops, which fell in behind them as they marched down Broadway. They and the City Hall's Main Guard would be the last enemy forces in history to occupy this city.
Washington rode down Pearl Street to Wall Street, and then west on Wall to Broadway. At Cape's Tavern, a group of citizens welcomed the Commander-in-Chief: "In this place, and at this moment of exultation and triumph, while the Ensigns of Slavery still linger in our sight, we look up to you, our deliverer, with unusual transports of Gratitude and Joy."
Burrows and Wallace quote an eyewitness:
The troops just leaving us were as if equipped for show, and with their scarlet uniforms and burnished arms, made a brilliant display. The troops that marched in, on the contrary, were ill clad and weather-beaten, and made a forlorn appearance. But then they were our troops, and as I looked at them, and thought upon all they had done for us, my heart and eyes were full, and I admired and gloried in them the more because they were weather-beaten and forlorn.
The British had left the Union Flag flying over Fort George, on the Battery. The halyards—the lines for raising and lowering the flag—were gone. The banner had been nailed to the staff. And the pole was greased, heel to truck, "…to prevent or hinder the removal of the emblem of royalty, and the raising of the Stars and Stripes." The grease "rebuffed all efforts to climb the staff."
In the crowd was Captain John Van Arsdale, a New Yorker, Revolutionary soldier, and peacetime sailor. Recalling Peter Goelet's hardware store about ten minutes away in Hanover Square, he sprinted across town and liberated a saw, hatchet, cleats, rope, and nails. He began nailing the cleats into the greasy pole. He climbed a little, drove in more cleats, and climbed farther. Bit by bit, he ascended the pole. He reached the top. He ripped down the British flag and flung it to the cheering crowd. Then he attached new halyards and scrambled down the pole as the Stars and Stripes ran up it. General Knox's field guns began a thirteen-gun salute. The crowd burst into hysterics. The band began to play.
When the colors went up and the salute was fired, the British weighed anchor and made for the open sea. The Commander-in-Chief and his officers went with Gov. Clinton to Fraunces Tavern at Broad and Pearl Streets for "a feast of reason and a flow of soul." They offered thirteen toasts to allies, friends, comrades living and dead, their hopes for their new country and certain immutable principles.
The next nine days were marked by what one observer called "good humor, hilarity, and mirth." Thus, at Governor Clinton's dinner for the French ambassador on Tuesday, December 2, 1783, his 120 guests consumed 135 bottles of Madeira ("it may not look like much, but it can fell an elephant"), thirty-six bottles of port, sixty bottles of beer and thirty bowls of punch while breaking 60 wineglasses and eight cut-glass decanters.
On Thursday, December 4, Washington breakfasted with his officers in the Long Room on the second floor of Fraunces Tavern. Then the Commander-in-Chief rose to his feet and there was silence. Most intelligent warriors who have written of their experiences, from Xenophon to William Manchester, admit they fought not for king, flag, or country, but for the men they were with. The Revolutionaries were no exception.
Washington paused. To those who knew him and his lifelong, conscious effort to master his emotions, his struggle to maintain composure, to behave as became a man to whom others looked for leadership, was apparent. He said: "With a heart full of love and gratitude, I now take leave of you. I most devoutly wish that your later days may be as prosperous and happy as your former ones have been glorious and honorable." Then he could say no more. Gen. Knox stepped forward. Perhaps he meant to shake the Commander-in-Chief's hand. Suddenly, he embraced Washington and wept.
At last the Commander-in-Chief went down the stairs, popped on his cocked hat, and strode into Pearl Street. The infantrymen snapped to present arms. He acknowledged the salute. Then he walked west. Orders were barked. The column moved out behind him. Near the Battery, at the foot of Whitehall Street, a barge waited to take him to Paulus Hook on the New Jersey shore. From there he traveled to Philadelphia, where he resigned his commission to Congress and returned to private life.
Evacuation Day was celebrated in New York for more than a century. James Riker records an old distich:
It's Evacuation Day, when the British ran away
Please, dear Master, give us holiday.
But competition from Thanksgiving, a rival end-of-November holiday aggressively publicized by R.H. Macy & Co., progressively weakened its observance. Around the beginning of the First World War, it faded away.
New York Press, November 30,1999
Walter Francis O'Malley is infamous because he moved the Dodgers from Brooklyn to Los Angeles in 1957. Thirty-six years later, Wilfred Sheed dedicated My Life as a Fan not to, but against, "the villainous Walter O'Malley." According to Peter Golenbock's Bums, one man claimed the best news he ever received was that of O'Malley's death. Carl E. Prince, in Brooklyn's Dodgers, collects these opinions: O'Malley was a "Gaelic Machiavelli," a "cold schemer who would cast aside any loyalties in order to make a dollar," "lured by the glint of gold in California, and oblivious of the loyal, broken-hearted fans [the Dodgers] left behind them."
This, as Neil Sullivan observed in The Dodgers Move West, is "poor history." Yet emotion is reality: Brooklyn Dodgers fans have a legendary intensity of feeling. Even the New York Times observed that "Few baseball clubs have had greater identity with, and greater impact on, their communities than the Dodgers have had on Brooklyn."
In 1883, Charles Byrne, a Brooklyn real estate developer, bought a professional baseball franchise and hired Charles Ebbets as the office clerk. Their East New York ballpark stood at the junction of several streetcar lines. Fans dodged speeding cars to get into the park. They were called dodgers. The team adopted this nickname. In 1912, Ebbets, who became club president in 1898, built a 25,000-seat stadium in Pigtown, a four-acre shantytown on the border of Flatbush and Crown Heights, and named it for himself.
After his death in 1925, Ebbets was succeeded by Wilbert Robinson, the club's eccentric general manager. Uncle Robbie once handed an umpire his laundry list instead of the starting lineup, into which he did not put men if he could not spell their names. Sometimes, he forgot their names entirely: players might not touch a bat for an entire season.
Some players also betrayed a shaky grasp on the essentials: in 1926, Babe Herman hit "the most remarkable triple in the history of the game." It put three men on base—after a fashion—when the runner on second, the runner on first and Herman all slid into third, one after the other.
The quality of play so declined that by 1937 few minded when a leather-lunged fan finally began bellowing "ya bum ya" at bad players. Willard Mullin, a World-Telegram cartoonist, left Ebbets after a losing double-header: his cab driver asked, "What'd dem bums do today?" Mullin began caricaturing the team and its fans with a tatterdemalion derelict resembling Emmett Kelly. Thus, the Dodgers won their final nickname: the Bums.
Meanwhile, the fans were in a class by themselves. Hilda Chester, "a rather large woman with a leaning toward flowered print dresses," rang cowbells, one in each hand, to support the Dodger cause. The Dodger Sym-Phony—five guys from Williamsburg with tuba, snare drum, cymbals, bass drum, and trumpet—first made noise at Ebbets on Aug. 24, 1941. When the band disagreed with an umpire's call, they played "Three Blind Mice." The trumpeter blew "Charge" whenever the Dodgers rallied. The tuba played a funeral march as visiting players stalked back to the dugout after an out, the bass drummer timing his stroke to coincide with the player's bottom hitting the bench.
A sign on the right field wall read: THE DODGERS USE LIFEBUOY. There, early one morning, a Giants fan scrawled in red: AND THEY STILL STINK. The "h" in the Schaefer Beer sign lit up to indicate a hit; the "e" to indicate an error. Abe Stark, a clothier from Pitkin Aveenue, promised a new suit to any hitter whose ball hit his billboard: HIT SIGN-WIN SUIT. His fame from the sign helped elect him Brooklyn borough president and City Council president.
In 1950, O'Malley, a corporation lawyer, became president and principal shareholder of the Brooklyn Dodgers. He first contemplated replacing Ebbets Field in 1948 and announced his intentions in 1953. No one took him seriously. People were more focused on the team. Brooklyn Major League Baseball's greatest moment was 3:43 p.m. on Tuesday, October 4, 1955. Bottom of the ninth, game seven of the World Series, Dodgers ahead 2-0, Yankees at bat. With two men out, Elston Howard grounded to Pee Wee Reese at short. The Dodger snagged and threw the ball to first, where Gil Hodges, one foot nailed to the bag, leaned far to his left and caught it. From 3:44 until 4:01, it was practically impossible to get a dial tone on Manhattan's telephones: the system was overwhelmed by the largest volume of calls since V-J Day in 1945. Hundreds of thousands of Brooklynites poured into the streets, cheering, laughing, weeping tears of joy.
Motorcades clogged Flatbush Avenue, Kings Highway, Atlantic Avenue, Ocean Parkway, 86th Street, and 4th Avenue. Long into the night, Brooklyn resounded with clanging cowbells, popping toy cannons, and firecrackers; there were bonfires and dancing in the streets, wild cheering, auto horns sounding, and spoons banging against pots and pans. The bars were jammed and the drinks were free.
O'Malley had announced two months before that the team would "…have to have a new stadium…" after the 1957 season. Then he sold Ebbets Field to a real estate developer, subject to a three-year lease. O'Malley wanted to show that the "show was on the road."
At a glance, the team had never been more prosperous. The ballpark had drawn two million paying customers in 1951 and led the National League in home attendance five times between 1947 and 1957. Yet the team's attendance figures showed a declining trend. For less discriminating fans, televised baseball obviated going to the ballpark.
O'Malley blamed Ebbets itself. With a capacity of 32,111, it was among the country's smallest Major League stadiums. Posts and girders blocked the view from many seats. Worse, the stadium had only 700 parking spaces in a single lot on Montgomery Street. Hundreds of thousands of Dodger fans had moved from the tenements to suburbia. At first, fans drove from the suburbs to find only on-street parking. Many complained of vandalism to their cars.
Furthermore, Jackie Robinson drew a new audience to the ballpark for which many old-line fans were unprepared. Sullivan quotes an interviewee: "When the blacks started coming to the game, a lot of whites stopped coming… [The blacks] didn't care about the Sym-Phony or Hilda Chester… They didn't have the history that we had." To such bigots, Ebbets seemed "an uninviting place in an increasingly unfamiliar neighborhood."
O'Malley proposed that the Dodgers would build their own domed stadium, with no posts, protection from inclement weather, convenient restrooms and 12,000 parking spaces. He would build it above the Long Island Rail Road terminal at Atlantic and Flatbush Avenue in downtown Brooklyn, which would provide easy access by mass transit. However, he wanted the city to use its power of eminent domain to condemn the land, assemble the site and sell it to the Dodgers at a reasonable price. Otherwise, the private landowners would gouge him.
The man to make the decision was Robert Moses, the chairman of the city's committee on slum clearance, who turned it down in August 1955. Moses directed more than thirty different public agencies, most created under laws that he had drafted, and all serving his agenda: the construction of highways to speed automobile traffic to and from suburbia. Public funds diverted to a new stadium was money diverted from highway and bridge projects. Also, Moses disliked spectator sports: here, as elsewhere, Moses' private prejudices dictated public policy.
New York politicians did not take O'Malley seriously because they did not believe he would leave Brooklyn. This was a mistake. O'Malley had contacted Los Angeles officials during the 1956 World Series. In October 1956, while the Dodgers stopped in Los Angeles on their way to Japan, O'Malley met with Los Angeles County Supervisor Kenneth Hahn. A few months later, in early 1957, he visited Los Angeles to meet Hahn and Mayor Norris Poulson.
Nearly a decade before, the city of Los Angeles had assembled a 183-acre site at Chavez Ravine for a housing project that had never been built. Poulson determined the city could transfer the site to the Dodgers by structuring the deal to satisfy the federal requirement of a substantial public purpose.
In May 1957, the National League authorized the Dodgers to move if the decision were announced by October 1, 1957. A month later, O'Malley bought the Chicago Cubs' Pacific Coast League franchise and Wrigley Field stadium in Los Angeles for $1 million. Now he had a place to play ball until the new stadium was completed.
The Brooklyn fans realized O'Malley was serious. They demonstrated at Borough Hall, Ebbets Field, and the Dodgers' main office at 215 Montague Street, their picket signs reading "Brooklyn is the Dodgers. The Dodgers are Brooklyn," and their buttons "Keep the Dodgers in Brooklyn." Robert Moses published his opinions in an article, modestly entitled "Robert Moses and the Battle of Brooklyn," in the July 22, 1957, issue of Sports Illustrated. He wrote that losing the Dodgers was a "damn shame," while arguing that most of Brooklyn's three million residents really did not care. He cited declining attendance at Ebbets.
On Sept. 14, 1957, seventeen days before the National League's deadline, New York City Corporation Counsel Peter Campbell Brown finally ruled that the city could condemn the Atlantic Avenue site for the Dodgers. Two days later, Los Angeles announced its formal negotiations with the Dodgers. The deal had been reached some time before. The city would give the Dodgers the Chavez Ravine site and allocate $2 million for preliminary grading. The county of Los Angeles would spend $3 million for access roads. The Dodgers would build a $10 million stadium with 50,000 seats and parking for 24,000 cars; give Wrigley to the city and any oil and gas revenues derived from the site to a trust fund for youth recreation.
On September 17, Mayor Wagner and Nelson Rockefeller offered O'Malley a new deal for the Atlantic Avenue site. O'Malley murmured the offer had merits. The city's board of estimate wanted more money. O'Malley objected. That ended the new deal.
On September 24, the Dodgers beat the Pirates in the last game ever played at Ebbets. After the last out, Gladys Gooding, the Dodgers' organist for a generation, played "Auld Lang Syne." On Oct. 7, 1957, the Los Angeles City Council approved the deal and the Dodgers announced the move in an Oct. 8 press conference at the Waldorf-Astoria. The New York Times attacked O'Malley as motivated by greed. O'Malley was burned in effigy before Borough Hall.
The Bums went west because Poulson and Hahn could structure a deal and no one could in New York. O'Malley's crime, as Sullivan observes, was to remove the fig leaf from baseball. He betrayed the secret that the game is a business, assaulting the fans' romantic attachment to the team, the set of illusions against which all talk of profit and loss, demographic shifts and market forces struggles in vain. Perhaps the price of candor is infamy.
New York Press, April 2, 2002
If warfare were boxing, General Sir William Howe had George Washington on points in early September 1776. Having driven the rebels off Long Island in eight days, Sir William now spent two weeks in peace negotiations with John Adams and Benjamin Franklin at Colonel Christopher Billopp's stone mansion in Tottenville, Staten Island, now called Conference House. Howe's secretary wrote, "They met, they talked, they parted. Nothing now remains but to fight it out…"
Washington had reorganized his army, with 5,000 men in New York City, below Chambers Street in lower Manhattan; 5,000 along the East River; and 9,500 on Harlem Heights, the bluffs running from the Hudson at 135th Street to Point of Rocks at 127th Street and St. Nicholas Avenue to the Harlem River at 155th Street. On September 12, Congress authorized Washington to withdraw from New York City. The army began moving supplies to Harlem Heights via the West Side's Bloomingdale Road and the East Side's Post Road.
On September 13, 1776, Sir William ordered the landing. During the evening of September 14, 1776, H.M.S. Roebuck (forty guns), H.M.S. Phoenix (forty guns), H.M.S. Orpheus (thirty-two guns), H.M.S. Carysfort (twenty-eight guns), and H.M.S. Rose (thirty-two guns) came up the East River to Kip's Bay at 34th Street and dropped anchor about 200 yards offshore, outside musket range.
September 15, 1776 dawned bright and clear and soon became hot and muggy. The American militia had no cannon at Kip's Bay. Most were untrained recruits. Some had been in service for barely a week. Some who were without muskets carried pikes (scythe blades fastened to a pole). They had not been fed in twenty-four hours. Most had been on duty all night.
Meanwhile, British landing barges—big sixteen-oared rowboats, each capable of carrying fifty to sixty men—had assembled in Newtown Creek, across the river. Seven battalions of redcoats and three battalions of blue-coated German mercenaries—between 2,500 and 3,000 men—boarded them and, when ready, began rowing toward Kip's Bay.
At 11:00 a.m., the five warships gave the Americans a full broadside. Eighty-six cannon balls went sizzling into the trenches, followed by volley fire—single shots, one after the other, so one cannonball was in the air at all times. Within minutes, the shoreline was fogged over with black powder smoke. The British and Germans landed and formed. Then the drums began beating and, marching in cadence, closed up with lines dressed, they advanced out of the smoke in superb order. Nearly all of those Americans who had not run for the woods before ran now.
Howe's men fanned out with "clockwork competence." By noon, his left, Hessians under Colonel von Donop, held a line from the East River at 23rd Street to Sunfish Pond around 27th Street and Park Avenue. Lieutenant General Lord Cornwallis's Guards and Grenadiers held the center, a convex curve from the Sunfish Pond to Inclenberg (now Murray Hill, as far west as Madison Avenue at 34th Street) to Lexington Avenue and 40th Street. Brigadier General Leslie's light infantry held the right from 40th Street to the East River.
From 2:00 p.m. until 5:00 p.m., Howe waited while his barges ferried an additional 9,000 men across the East River. Howe was concentrating his command within the perimeter before advancing to his objectives. This is a nearly fool-proof rule for conducting a water-borne infantry landing. Yet Howe had not anticipated the Americans' sudden collapse and had no contingency plan for a rapid advance across Manhattan, river to river, which might have cut off the rebels in lower Manhattan.
When the naval bombardment began, George Washington and his staff had ridden for the sound of the guns. He galloped down to a crossroads near 42nd Street and Fifth Avenue to find his militia running uptown. This shocked him, for he saw no British skirmishers or signs of pursuit. He received reports from his officers and issued orders. Meanwhile, a fresh American column had come from the West Side. He ordered its commanders to form a battle line at the crossroads, near a farm.
As the officers began moving their men, the formation suddenly fell apart and the soldiers began running away. Washington rode up and down the line, trying to rally them and, pointing to the farm, shouting, "Take the wall! Take the cornfield!" Then some seventy of General Leslie's light infantrymen appeared on Inclenberg about a quarter-mile away. The rest of the Americans now took to their heels.
George Washington went berserk with rage. His extraordinary temper was no less powerful for his heroic, life-long struggle to control it. An innate power of profanity was enhanced, as is the way with farmers, by varied, forceful, and quite imaginative cloacal and venereal expressions. When Washington was in full cry, as one eyewitness wrote, "the very leaves shook on the trees." Now he tore off his hat and flung it to the dust. He cursed violently, roaring that his men were not men at all but scum, and that the war itself was impossible with cowards for soldiers. He slashed at them with his riding crop, even beat at them with the flat of his sword.
No one paid any attention. Within ten minutes, Washington and his aides stood alone on a road littered with equipment—muskets, powder horns, hats, knapsacks, coats, and canteens—his men had dropped to speed their passage. They would run all the way to McGowan's Pass (today a few hundred yards west of Fifth Avenue, around 106th Street on the Central Park's East Drive.) Exhausted by his rage, Washington slumped in the saddle, staring dazedly at the ground. His aides waited silently until the light infantry had advanced nearly within musket shot, and then one took the bridle of Washington's horse and led him away.
Among the officers Washington had met at the crossroads was General Israel Putnam, whom he had ordered to evacuate New York City. Putnam was a short, stocky, fifty-eight-year-old veteran of the French and Indian Wars. Rough-spoken, warm-hearted, and colorful, he was nearly uneducated and knew little of logistics or strategy. But he rode like a centaur and, on the battlefield, was a superb leader of troops, energetic and enterprising, renowned for his roaring ways and iron courage. As Bruce Bliven Jr. wrote in Battle for Manhattan, "…it was axiomatic that, at the sound of shooting, Old Put would naturally wheel his horse and head in the direction of the fray." His men worshipped him and his adventures were legendary: almost getting burned at the stake by Indians, shipwreck off the Cuban coast, and his still-famous ride to escape capture by British dragoons, whom he evaded by taking a short cut—down a precipitous flight of steps, carved in a cliff face near Pomfret, Connecticut—at full gallop.
Within three hours, Putnam's staff had drafted, published, and carried the evacuation orders to the units in New York City. By 4:00 p.m., a column was marching north. At one point, it stretched from 23rd Street to Chambers Street. Putnam kept them moving, galloping his foam-flecked horse up and down the line, barking orders, and roaring at the men to keep up the pace. Roughly speaking, they marched up Eighth Avenue to Columbus Circle and onto the Bloomingdale Road (today's Broadway as far as 105th Street) to Harlem Heights.
At 5:00 p.m., Howe sent a Hessian brigade toward the city. Royal Marines landed near the Battery to raise the flag. And the rest of the British forces marched north along the Post Road toward McGowan's Pass, even as Putnam was whipping his forces up the Bloomingdale Road, little more than the breadth of Central Park away, each column unaware of the other.
At 96th Street and Fifth Avenue, Washington posted Colonel William Smallwood's Marylanders across the Post Road. Recruited from Baltimore and Annapolis, they were largely old friends who had gone to war together and good shots, too. General Leslie's light infantry approached up the Post Road. Smallwood's men opened fire. The British paused and then fired back. As the exchange continued, Leslie sent troops west along the New Bloomingdale Crossroad, which ran across Central Park to intersect with the Bloomingdale Road at what is now Broadway and 91st Street.
Leslie's men reached the Bloomingdale Road. Putnam's column had nearly passed except his rear guard, the Second Connecticut, who skirmished with the British light infantry while the rest of the column plodded north, and then withdrew as did Smallwood's command.
At dawn on September 17, Washington wrote to Congress that he was confident of victory if attacked, provided his men acted "with tolerable resolution." As he wrote, Colonel Thomas Knowlton of Connecticut was leading 120 of his Rangers—tough, hand-picked troops—up a hill south of the Hollow Way, a valley running from Morningside Heights to the Hudson approximately on the line of 125th Street. This hill is now the site of Columbia University, Barnard College, and the Cathedral of St. John the Divine. At a farm on 106th Street between West End Avenue and Riverside Drive, Knowlton's men were spotted by British pickets who fired an alarm.
Knowlton dispersed his men along one of the farm's stone walls as four hundred British light infantrymen marched in column up the Bloomingdale Road. Knowlton pointed to a spot on the road, about fifty yards south of the wall, and ordered his men not to show themselves or fire until the first British soldiers had reached it. The column swung briskly past the mark, Knowlton gave the order, and his men stood up and opened fire.
The British formed a firing line. For half an hour, as Bliven wrote, they shot it out, "practically face to face." Then, off to the east, roaring drums and skirling bagpipes signaled the advance of the Royal Highland Regiment of Foot, known as the Black Watch, kilts and all. Knowlton now ordered his men to fall back, each firing in turn to cover one another's withdrawal.
Washington joined his adjutant-general, Colonel Joseph Reed, Philadelphia lawyer turned staff officer, to watch the skirmish from Harlem Heights. As Knowlton's men reached the Hollow Way, roughly where the 125th Street I.R.T. station stands, the British light infantry paused on a rise near Grant's Tomb.
Then, a British bugler, in full view of the Americans, "put his horn to his lips and blew the fox hunter's signal for the end of the chase, of a fox gone to earth." The Americans had run away—again. Washington, a fox-hunting man, understood the insult immediately. Reed later told his wife, "It seemed to crown our disgrace."
Washington ordered Knowlton to take his rangers and three rifle companies and try cutting off the British light infantry by taking Morningside Heights—particularly, a rocky rise where the General Grant Houses stand now, on the block bounded by 123rd and 124th Streets, Broadway, and Amsterdam Avenue. Other American troops, commanded by Lieutenant Colonel Archibald Crery, would distract the British by skirmishing in their front.
Around 11:00 a.m., as Knowlton led his men onto the ledge, he was seen and fatally wounded by an enemy marksman. His men then launched a ferocious attack. Then Crery began advancing in earnest. The skirmish became a small battle.
Leslie's men withdrew in good order. At a buckwheat field near Broadway between 119th and 120th Streets, they stood and fought. By now, Leslie had reinforcements: a company of Hessian riflemen, two artillery pieces, the Black Watch, a regiment of Grenadiers, and a battalion of Hessian grenadiers.
By noon, both sides were fighting in formal lines, drawn up in regular array. The American line stood from Riverside Church to Teachers College, just north of 120th Street. The British were strung along 119th Street. They slugged it out for two hours, until the Americans began pushing the British back. Then the redcoats began withdrawing, as Colonel Reed reported, "rather abruptly." Some Americans, "made reckless by the sight of Highlanders and the British on the run," chased them as far as 111th Street. Washington ordered that the Americans break off the engagement. The shooting stopped. Then the rebels realized they had beaten some of the world's finest soldiers in a stand-up fight, and they began cheering.
Over the next two months, Washington withdrew his army to comparative safety in White Plains. Sir William Howe, relieved of command, left New York forever in 1778. But George Washington would return in November, 1783, triumphant on a white horse.
New York Press, August 3, 1999
At first light, Daniel McCurtin awoke. He checked the weather and then glanced down the Upper Bay toward the open sea. He paused. There had been a change during the night. It was June 19, 1776, and the British had come. McCurtin, a private in the Continental army, later wrote that the "whole Bay was full of shipping as it ever could be" and the masts of the ships moored by Staten Island "resembled a forest of pine trees with their branches trimmed." General Sir William Howe, commanding His Majesty's forces in North America, had passed the Narrows with forty-eight men-of-war and transports. Neither McCurtin nor the hundreds of New Yorkers who soon lined the Battery and the waterfront piers had seen anything like it.
They had seen nothing yet. During the next day, Sir William's seafaring brother, Admiral Richard, Lord Howe—dark, like most of that family, and popular with his command as his brother was with his (Lord Howe's sailors called him "Black Dick")—joined him with 82 more ships. By July 12, more than 150 ships stood off Staten Island; by mid-August, more than 400. King George III and his ministers had assembled the greatest seagoing invasion since the Spanish Armada nearly two centuries before.
On July 12, 1776, the British did three things. First, they landed on Staten Island. The county militia, mustered for home defense, surrendered as one man. Then two frigates, H.M.S. Phoenix and H.M.S. Rose, testing the harbor defenses, swept up the Bay under full sail. The Rose's commander opened a particularly fine claret as the American artillery fired on him from Red Hook, Governor's Island, Paulus Hook in New Jersey, and Forts Washington and Lee. They missed. They all missed. They never came close. The two men-of-war cruised some thirty miles north to Tappan Bay and returned a few days later, utterly undamaged.
Finally, the Howe brothers tried to open negotiations. Sir William Howe ("Sir Billy" behind his back) was a civilized man, preferring peace to war. Perhaps it was his sensuality. Howe's paunch spoke of his weakness for the pleasures of the bottle and the table, even as the presence in his suite of Mrs. Joshua Loring, a charming Bostonian, evidenced a fondness for those of the bed (Sir William had appointed the complaisant Mr. Loring to the lucrative post of His Majesty's Commissary of Prisoners).
But love of pleasure was not professional incapacity. William Howe, tall, pleasant and taciturn, was in his late 40s. He had held the King's commission for more than thirty years. A careful, intelligent commander who generally eschewed wasteful frontal assaults against entrenched positions, Howe's massive popularity with his troops stemmed from their confidence that he would not waste their lives in the pursuit of glory.
Yet Howe could be magnificently, even wildly brave. In September 1759, Howe had scaled the Cliffs of Abraham, leading 4000 troops in the surprise attack on the French at Quebec, still considered among the most audacious feats in military history. On June 17, 1775, at Bunker Hill, he personally led his grenadiers' second assault against "an incessant stream of fire…more than flesh could endure" from Israel Putnam's militiamen, and when his men broke and ran, William Howe momentarily remained, defiant and nearly alone on the hillside in his cocked hat and bright scarlet coat, before turning and walking away.
The Howe brothers, knowing war from experience, preferred peace. But how to address the letter to the rebel commander? "General" might seem to recognize the legitimacy of Congress, which had commissioned him. "Colonel," his highest rank as a militia officer in the King's service, might be insulting. Ah! the best address for a Virginian gentleman: George Washington, Esq.
In They Fought for New York, John Brick describes the arrival of Lieutenant Brown, R.N. of H.M.S. Eagle, with the letter under flag of truce. He saluted a blue coated colonel at the Battery stairs.
"Sir," Brown said, "I have a letter from Lord Howe to Mr. Washington."
"Sir," replied Colonel Joseph Reed, Philadelphia lawyer turned adjutant general of the United States Army, "we have no person here in our army with that address."
Opening negotiations is difficult when your foes won't even accept your mail on a lawyer's advice.
Sir William then addressed another letter to "George Washington, Esq., etc., etc." This, too, was refused. The bearer, Lieutenant Colonel James Patterson, Howe's adjutant general, then asked whether General Washington would care to meet with him.
Washington received Patterson at his headquarters at 1 Broadway. Patterson explained the "etc., etc." as terms used in diplomacy when a man's precise rank was in doubt. Washington replied there was no doubt about his precise rank and that "etc., etc." could mean "anything-or nothing." Patterson then suggested negotiations between Lord Howe and Washington. The Commander-in-Chief refused. He was merely a soldier, powerless to negotiate political issues: That was Congress's domain.
By August 19, 1776, Sir William had 32,000 professional soldiers on Staten Island, including two regiments of Guards, the Black Watch, and 8000 mercenaries, rented for the occasion from the Landgrave of Hesse-Cassel. Three days later, he invaded Brooklyn at Gravesend Bay. By noon, he had 15,000 men ashore with scarcely a shot fired.
Although Washington had fortified Brooklyn Heights, building Fort Greene, Fort Putnam and Fort Box, the American forces largely stood forward on the Heights of Guan (now Crown Heights, Stuyvesant Heights, Ocean Hill and Ridgewood). Apparently none of the American commanders knew of the Jamaica Pass, "a deep winding cut" at what is now Broadway Junction, near East New York. This led to the Jamaica Road, roughly parallel to what are now Fulton Street and Atlantic Avenue, which curved between the Americans on the Heights of Guan and their fortifications near Brooklyn Heights. During the early morning of August 27, Howe sent 4000 light infantrymen unopposed through the Pass. By dawn, they held the Jamaica Rd.
The Battle of Long Island opened with desultory skirmishing. Several hours after sunrise, two cannons boomed in the American rear. As the British and Hessians in their front suddenly stopped fooling around and began formal attacks, the Americans found Howe's light infantrymen charging from behind.
The rebel left and center collapsed. Many soldiers simply surrendered. Others fled into the woods. Through the ranks of British grenadiers sprinted Hessian jagers, vanishing into the trees after the rebels. They were green-coated professional huntsmen and gamekeepers, superbly fit, disciplined to an edge of ruthlessness, and armed with short-barreled rifles. They were trained to fight in forests, for at home they tracked poachers and thieves, and tended to take no prisoners. Decades later, the skulls of men run down and bayoneted by the jagers were still turning up on building sites, roadsides and tilled fields.
The American right comprised 1500 troops under General William Alexander, a stocky, jovial Scots eccentric, who, though fighting for a republican cause, claimed the title of Lord Stirling. He had been more than holding his own: Two of his regiments had driven British regulars from a flanking crest and seized the high ground. Stirling had not held the hill for fifteen minutes when thousands of British and German troops unexpectedly smashed into his front. His scouts then told him his left flank was in the air, the American left and center were gone and British regulars were cutting him off.
Stirling, unlike the other American commanders, had apparently studied his ground and even considered possible routes of retreat. He had one left: through marshes to Gowanus Creek, 80 yards wide at the mouth. Even then, his men would be slaughtered in the mud unless the British advance was stopped, if only for an hour.
Stirling, "with grim-faced Scottish fortitude," detached 250 Marylanders. They were militiamen. This was their first battle. He ordered his officers to move the rest of his command across the Gowanus. Then he rode to the Marylanders and put himself at their head.
They faced 10,000 British and German regulars, advancing in broad ranks two or three lines deep, now confident of victory, the field music's drummers beating a quick step, the King's and the regimental colors unfurled. The company-grade officers marched beside their men, swords at the carry, and the field-grade officers rode behind the lines, not out of cowardice but to maintain communications and control. As the enemy's shooting became effective, the ranks would close up, again and again, while marching forward. At 100 yards or so, they would halt. The soldiers would fire a volley and then charge at a full run, bayonets fixed, probably yelling at the top of their lungs. The effect was intentional: to seem terrifying, invincible and nearly inhuman.
Anyone watching the Guards' trooping the color on the Queen's birthday is observing 18th-century tactics. American propaganda trains us to ridicule this kind of magnificent formal spectacle. But the British and Germans fought thus because it usually worked. It certainly did on August 26, 1776. British soldiers generally were, as the Duke of Wellington later called them, "the scum of the earth": semi-literate at best, thuggish, crude and boisterous. They were controlled through harsh discipline, with floggings ordered on the slightest pretext. Their lives were a constant round of drill and maintenance (blacking boots, polishing buckles, pipe-claying breeches to keep them white and sponge-cleaning the red coats, dry-cleaning being unknown), occasionally interrupted by whoring and drinking. The constant drill strengthened the habit of obedience, enabling officers and non-coms to control and maneuver their men with great flexibility amidst the horror of battle.
But Stirling had seen it before. He told his men that he knew James Grant, the British general commanding the troops on his front, and had been in the House of Commons when Grant had boasted he could march from one end of America to the other with 5000 men. He urged them to prove Grant wrong.
Then his sword flashed from its scabbard, and with a broad sweep, Stirling pointed at the advancing enemy, roared, "Charge!" and spurred his horse forward. The 250 went with him. They charged, broke, withdrew, regrouped and charged again-five times. Because they "fought like wolves," they bought the time their comrades needed to cross the marshes. Of the 250, 10 men and one officer stumbled by nightfall into the American entrenchments at Brooklyn Heights. Stirling was not among them.
It was only noon. Howe had lost 65 killed and 255 wounded while inflicting more than 2000 casualties on the rebels. One imagines the response of Patton to a demoralized enemy hopelessly off balance with his back to a river. Howe could have ended the war that afternoon, and there would have been no United States. Imagine Elizabeth II's elegant profile on the shillings in our pockets.
And Sir William Howe said no. His men prepared for a careful assault on the American fortifications. In the harbor, Lord Howe's captains expected orders to place their ships in the East River between Brooklyn and New York to bottle up Washington in Brooklyn. The orders never came. Lord Howe did not even send out cutters-small boats, manned by expert oarsmen, carrying light cannon in swiveling mounts-to patrol.
More than 220 years later, this remains inexplicable. Probably, the Howe brothers, being half a world away from London, were making policy despite their orders. Thomas Fleming, in Liberty, wrote: "To achieve the kind of [negotiated] peace Admiral Howe envisioned, Washington's army had to survive. If it was battered into mass surrender in Brooklyn or slaughtered on the East River, hard-liners…would insist on a peace of unconditional surrender, [making] America another Ireland."
Washington had a genius for retreat. Few things are as difficult as the organized, controlled withdrawal of a defeated army. His mind turned to the 14th Continentals, a regiment of American regulars, mostly sailors in civilian life, largely raised from Marblehead, Massachusetts (characterized by one of his officers as "a dirty erregular stincking place"). Between nightfall on August 26 and August 29, Washington and his staff assembled every boat "that could be kept afloat and had either sails or oars." The 14th Continentals manned them. The army was gradually withdrawn from the lines and ferried to Manhattan under cover of darkness. At dawn on August 30, the last boats left. One carried George Washington. He had not slept in forty-eighthours.
Washington's withdrawal from Brooklyn, his army intact, was the first step in his retreat to victory.
New York Press, July 28, 1999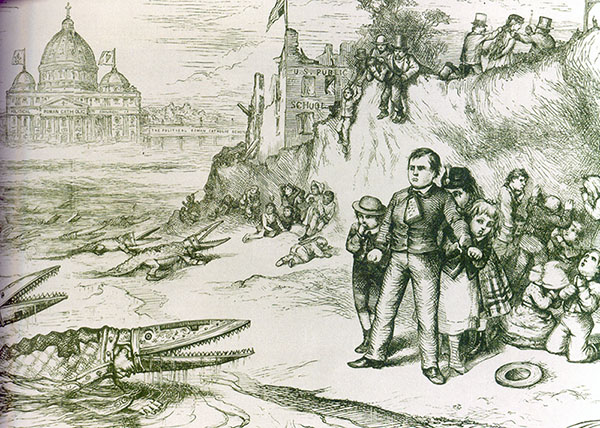 From New York Press, March 25, 2003
Among the publishing sensations of 1836 was a book by one Maria Monk entitled Awful Disclosures, which purported to be her memoir of life in a Montreal nunnery. Hot stuff by early 19th-century standards, Monk's book claimed that all nuns were forced to have sex with priests and that the "fruit of priestly lusts" were baptized, murdered, and carried away for secret burial in purple velvet sacks. Nuns who tried to leave the convent were whipped, beaten, gagged, imprisoned, or secretly murdered. Maria claimed to have escaped with her unborn child.
In fact, Maria had never been a nun. She was a runaway from a Catholic home for delinquent girls, and her child's father was no priest, but merely the boyfriend who had helped her escape. Nevertheless, Awful Disclosures became an overnight bestseller, echoing as it did the most popular anti-Catholic slanders of the day and reflecting the savage hatred of the Irish with which they went hand in hand. It was the cultural climate that partly led to John Joseph Hughes, fourth bishop and first archbishop of New York, becoming what one reporter called "the best known, if not exactly the best loved, Catholic bishop in the country."
John Hughes was an Irishman, an immigrant and a poor farmer's son. Though intelligent and literate, he had little formal education before he entered the seminary. He was complicated: warm, impulsively charitable, vain (he wore a wig) and combative (he once admitted to "a certain pungency of style" in argument). No man accused him of sainthood; many found him touched with greatness. He built St. Patrick's Cathedral and founded America's system of parochial education; he once threatened to burn New York to the ground. Like all archbishops and bishops, Hughes placed a cross in his signature. Some felt it more resembled a knife than the symbol of the redemption of the world, and so the gutter press nicknamed him "Dagger John." He probably loved it.
Born on June 24, 1797 in Annaloghan, County Tyrone, Hughes later observed that he'd lived the first five days of his life on terms of "social and civil equality with the most favored subjects of the British Empire." Then he was baptized a Catholic. British law forbade Catholics to own a house worth more than five pounds, hold the King's commission in the military or receive a Catholic education. It also forbade Roman Catholic priests to preside at Catholic burials, so that—as William J. Stern noted in a 1997 article in City Journal—when Hughes's younger sister Mary died in 1812, "the best [the priest] could do was scoop up a handful of dirt, bless it, and hand it to Hughes to sprinkle on the grave."
In 1817, Hughes emigrated to America. He was hired as a gardener and stonemason by the Reverend John Dubois, rector of St. Mary's College and Seminary in Emmitsburg, Maryland. Believing himself called to the priesthood, Hughes asked to be admitted to the seminary. Father Dubois rejected him as lacking a proper education.
Hughes had met Mother Elizabeth Ann Bayley Seton, a convert to Catholicism who had become a nun after her husband's death and occasionally visited St. Mary's. She saw something in the Irishman that Dubois had not and asked the rector to reconsider. So Hughes began his studies in September 1820, graduating and receiving ordination to the priesthood in 1826. He was first assigned to the diocese of Philadelphia.
Anti-Catholic propaganda was everywhere in the City of Brotherly Love. Hughes's temperament favored the raised fist more than the turned cheek. So when, in 1829, a Protestant newspaper attacked "traitorous popery," Hughes denounced its editorial board of Protestant ministers as "clerical scum." And after scores of Protestant ministers fled the 1834 cholera epidemic, which Nativists blamed on the Irish, Hughes ridiculed the ministers—"remarkable for their pastoral solicitude, as long as the flock is healthy…."
In 1835, Hughes won national fame when he debated John Breckenridge, a prominent Protestant clergyman from New York. Breckenridge conjured up the Inquisition, proclaiming that Americans wanted no such popery, no loss of individual liberty. Hughes described the Protestant tyranny over Catholic Ireland and the scene at his sister's grave. He said he was "an American by choice, not by chance…born under the scourge of Protestant persecution" and that he knew "the value of that civil and religious liberty, which our…government secures for all." The debate received enormous publicity, making Hughes a hero among many American Catholics. It was noted in Rome.
Dubois, who had left St. Mary's to become bishop of New York, suffered a series of blows to his health. Hughes was barely forty. Nevertheless, in January 1838, he was appointed co-adjutor bishop—assuring him the succession to Dubois—and was consecrated in the old St. Patrick's Cathedral on Mott Street. To the older man, it was a terrible humiliation to see a man he had deemed unqualified for the priesthood succeed him. When Dubois died, in 1842, he was buried at his request beneath the doorstep of Old St. Patrick's Cathedral so the Catholics of New York might step on him in death as they had in life.
Hughes's first order of business to gain control of his own diocese. Under state law, most Catholic churches and colleges were owned and governed by boards of trustees—laymen, elected by a handful of wealthy pew holders (parishioners who couldn't afford pew rents couldn't vote), who bought the property and built the church. When, in 1839, the trustees of Old St. Patrick's Cathedral had the police remove from the premises a new Sunday school teacher whom Dubois had appointed, Hughes called a mass meeting of the parish. He likened the trustees to the British oppressors of the Irish, thundering that the "sainted spirits" of their forebears would "disavow and disown them, if…they allowed pygmies among themselves to filch away rights of the Church which their glorious ancestors would not yield but with their lives to the persecuting giant of the British Empire." He later said that by the time he had finished speaking, many in the audience were weeping like children. He added, "I was not far from it myself."
The public schools were then operated by the Public School Society, a publicly funded but privately managed committee. They favored "non-denominational" moral instruction, reflecting a serene worldview that Protestantism was a fundamental moral code and the basis of the common culture. In fact, as Hughes biographer Father Richard Shaw pointed out, "the entire slant of the teaching was very much anti-Irish and very much anti-Catholic." The curriculum referred to deceitful Catholics, murderous inquisitions, vile popery, Church corruption, conniving Jesuits and the pope as the anti-Christ of Revelations.
Bishop Dubois had advised Catholic parents to keep their children out of the public schools to protect their immortal souls. But Hughes understood the need for formal education among the poor. He demanded that the Public School Society allocate funds for Catholic schools: "We hold…the same idea of our rights that you hold of yours. We wish not to diminish yours, but only to secure and enjoy our own." He concluded by warning that should the rights of Catholics be infringed, "the experiment may be repeated to-morrow on some other."
On October 29, 1840, a public hearing was held at City Hall, with numerous lawyers and clergymen representing the Protestant establishment and Hughes the Catholics. Hughes opened with a three-and-a-half-hour spellbinder. The Protestants spent the next day and a half insulting Hughes as an ignorant ploughboy and demonizing Catholics "as irreligious idol worshippers, bent on the murder of all Protestants and the subjugation of all democracies," according to historian Ray Allen Billington. The City Council denied his request.
With elections less than a month away, Hughes created his own party, Carroll Hall, named for the only Catholic signer of the Declaration of Independence. He ran a slate of candidates to split the Democratic vote, thereby punishing the Democrats for opposing him. The Democrats lost by 290 votes. Carroll Hall had polled 2,200.
In April 1842 the Legislature replaced the Public School Society with elected school boards and forbade sectarian religious instruction. When the Whigs and Nativists had the King James version declared a non-sectarian book, Hughes set about establishing what has become the nation's major alternative to public education, a privately funded Catholic school system. He would create more than 100 grammar and high schools and help found Fordham University and Manhattan, Manhattanville and Mount St. Vincent Colleges.
Anti-Catholicism had gained legitimacy by the 1840s. Now the Nativist movement included not only Protestant fundamentalists who saw Catholicism as Satan's handiwork, but also intellectuals—like Mayor James Harper, of the Harper publishing house—who considered Catholicism incompatible with democracy. All hated the Irish. Harper's described the "Celtic physiognomy" as "simian-like, with protruding teeth and short upturned noses." Their cartoonist, Thomas Nast, caricatured the Irish accordingly.
Between May and July of 1844, Nativist mobs in Philadelphia, summoned to "defend themselves against the bloody hand [of the Pope]," ransacked and leveled at least three churches, a seminary and nearly the entire Catholic residential neighborhood of Kensington. When Hughes learned a similar pogrom, beginning with an assault upon Old St. Patrick's Cathedral, was planned in New York, he called upon "the Catholic manhood of New York" to rise to the defense of their churches and he armed them. A mob that stoned the stained glass windows of the cathedral found the building full of riflemen, and the violence went no further. Hughes later wrote that there had not been "a [Catholic] church in the city…not protected with an average force of one to two thousand men-cool, collected, armed to the teeth…."
Invoking the conflagration that kept Napoleon from using Moscow as his army's winter quarters, Hughes warned Mayor Harper that if one church were attacked, "should one Catholic come to harm, or should one Catholic business be molested, we shall turn this city into a second Moscow." New York's buildings were largely wooden, and the city had burned twice in the previous century. There were no riots.
On July 19, 1850, Pope Pius IX created the archdiocese of New York, a development reflecting the growth of both the city's Catholic population and the influence of Hughes himself. Having received the white woolen band of an archbishop from the hands of the Supreme Pontiff, Hughes embarked on a new project, "…a cathedral…worthy of our increasing numbers, intelligence and wealth as a religious community." On August 15, 1858, before a crowd of 100,000, he laid the cornerstone of the new St. Patrick's Cathedral at 5th Avenue and 51st Street. He would not see it finished. On January 3, 1864, death came for the archbishop.
After Maria Monk gave birth to a second illegitimate child, her Protestant champions quietly abandoned her. She became a prostitute, was arrested for pickpocketing and died in prison. Her book is still in print.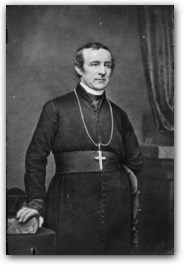 Twenty-five years ago, I was traveling by train up the Hudson's east shore. About an hour out of Manhattan, I glanced up from my book. We were about four miles north of West Point, near Storm King. About a thousand feet away, a great red castle towered above a craggy, lush green island. The massive keep was a roofless ruin. But it was nonetheless a vision unutterably romantic, and I wondered why and how it had come to stand there.
The island is called Pollepel, from the Dutch for "spoon" or "pot ladle." It is mostly rock and covers six and three-quarters acres with a maximum elevation of 115 feet.
Craig Poole, an area resident, noted in a recent article that the Indians believed the island was haunted and would not stay on it at night. This made Pollepel a useful refuge from Indian attacks. Early Dutch mariners believed Pollepel marked the northern limit of the domain of the Heer of Dunderberg, the fiend of the Hudson Highlands. New sailors were inoculated against the goblin king by ducking in the river as their boats passed the island. During the Revolution, patriots constructed a chevaux de frise—an underwater fence of 106 iron-tipped logs, designed to impale and sink ships—between the island and Plum Point on the western shore. For most of the next century, Pollepel was a center for rumrunners and moonshiners.
Then, on December 5, 1900, Pollepel was sold to Francis Bannerman VI and all things changed. Frank Bannerman was born in Dundee, Scotland in 1851. His family name had been granted to an ancestor by King Robert the Bruce at Bannockburn as an honor for valor in regaining a banner momentarily taken by the enemy.
Frank's family emigrated to Brooklyn in 1854. Francis Bannerman V, Frank's father, began buying flags, rope, and naval stores acquired at Navy auctions for resale. When he joined the Union army, Frank took his place. After the Civil War, the War and Navy Departments discarded weapons by the ton, often for mere scrap value. Frank bought as much as he could. During the next five decades, Bannerman's became the world's largest buyer of military surplus.
Frank loved old weapons and uniforms as historical artifacts and promoted their sale as decorative items. Thom Johnson, who lectures on Bannerman and his island, claims roughly half the cannon used as war memorials throughout the United States originally came from Francis Bannerman's Sons.
Most arms dealers are brokers: one orders the weapons and waits. Frank maintained a huge stock in his warehouses, ready for immediate delivery. After moving from Brooklyn to New York City, Frank began outfitting entire militia regiments. Later, he would equip whole armies.
During the 1870s, Frank began publishing a catalogue, which was revised and published annually into the 1960s. The catalogue was far more than a price list, illustrated with thousands of line drawings, engravings, and photographs. Frank described his guns, swords, and other militaria in mouth-watering detail with lavish accounts of their history and use. The New York Sun wrote, "Bannerman could tell an interesting story about everything he had for sale."
Frank Bannerman reveals himself in his catalogues: a practical romantic, enamored with tales of valor, intrigued by how things work, and a good writer with a dry sense of humor and an unembarrassed religious faith. He pointed out that the New Testament shows the Apostles carrying at least two swords with them as they accompanied Jesus in his preaching, Peter using "one to good effect," and argued that "the carrying of weapons met with the approval of the Prince of Peace." Yet he prayed for the day that Bannerman's Military Museum would become "The Museum of Lost Arts."
In the meantime, as "St. John's vision of Satan bound and the one thousand years of peace" was not yet in sight, Frank was making money in the second-hand arms market, particularly in South and Central America. Smaller countries needed weapons without needing state of the art equipment. Frank was their man.
Haiti, in particular, often dealt with him. Indeed, Bannerman could be considered almost a part of Haiti's political process. Robert Debs Heinl's admirable Written in Blood, perhaps the only extensive modern history of Haiti in English, points out that late Victorian Haiti enjoyed liberal democratic constitutions. They were ignored by all players. Every few years, some politician conceived presidential ambitions. He went unto the hills and sounded out the caciques, the local politico-military bosses. This is analogous to entering the New Hampshire primaries. If he found support, he then went to campaign contributors, usually promising that bread cast upon the waters now would return a thousand-fold upon his victory when his supporters could steal the customs house receipts. This is like raising campaign funds from road contractors when running for County Superintendent of Highways.
The money went to arms dealers in New York, comparable to political consultants who produce commercials. One gathers Bannerman was among them: the Haitian common soldiery were largely clothed in Civil War castoffs, a market Bannerman had long since cornered. Bannerman's catalogues offered everything a candidate might need, from muskets and Gatling guns to second-hand steam yachts, suitable for conversion to warships "fully armed and equipped," FOB New York—all, of course, strictly cash in advance.
The candidate then returned to Haiti, landing outside Port-au-Prince to link up with cacique armies streaming down from the hills. The incumbent president calculated his chances, looted the Treasury for the last time, and took the steamer for Jamaica. The victor seized the National Palace while the troops had a good time in the big city. A few years later, it would begin all over again.
Around the turn of the century, Frank purchased 501 Broadway, near Greene Street, for a retail store and free military museum, opened to the public in 1905. The New York Herald said of it, "No museum in the world exceeds it in the number of exhibits." There were the thousand different guns ("from the early matchlock, up to the present day automatic"), the thousand different swords (from the Roman "bronze blade…to the present day regulation"), the thousand different pistols, and the other appurtenances of the pride, pomp, and circumstance of glorious war.
Amid all this, after the Spanish-American War of 1898, Frank purchased ninety percent of all captured Spanish war materiel in a sealed bid auction. Buying the accumulation of Spain's four centuries in Cuba was all in a day's work for Frank: flags, body armor, medals, uniforms, swords, saddles, Gatling guns, field and coastal artillery, 200,000 Mauser rifles, 30 million cartridges, pistols, shells, and thousands of tons of black powder.
The City government took a dim view of keeping it within city limits. Hence Frank's purchase of Pollepel. For the next seventeen years, Frank Bannerman designed and supervised the construction of the island's storehouses, workshops, docks, gardens, and moat. He built a power plant and laid telephone lines to the mainland. He created an artificial harbor by sinking in place old wheat barges and railroad floats filled with stones and dirt, covering them with concrete, and building an ornate breakwater with towers and bridged gateways.
Then, in 1908, Frank Bannerman started his private castle, the fortress of his dreams, armed with an extraordinarily dark, brooding, and passionate misunderstanding of Scottish Victorian architecture. The entire complex — breakwaters and all — became an encrusted mass of crennelations, turrets, moats, and battlements. The Bannerman arms were above nearly every doorway; the street lights were formed like thistles; Biblical quotations were cast into the fireplace mantles. Almost all of it was done without the help of an architect.
Pollepel became, as one commentator said, "a bit of Scotland…deposited on a bare bit of rock mid-river." A heavily illustrated slick-paper pamphlet, Bannerman Island, published by the firm in 1918, captures Pollepel's eccentricity. On the cover, the warehouse glowers above the landing dock, ornamented with six-inch naval guns, with a road leading to a gate tower and portcullis. Along the roof line, just below the crennelations, the words "BANNERMAN'S ISLAND ARSENAL" stand out darkly against the light brick.
The largest cannon could be barged up the Hudson to his dock, with "the surrounding water provided at least moderate protection from casual visitors," as Joseph Schroeder wrote in his introduction and by motorboat, and gave them a great time with swimming, hiking, picnics, and firing cannon from his castle walls.
Frank died in November, 1918, worn out by the First World War. Within two years of his death, his arsenal survived a spectacular accident on August 15, 1920 when two hundred pounds of black powder exploded, heaving "brick, munitions, and equipment high into the summer sky." The explosion flung a twenty-five foot section of wall nearly a quarter mile to land across the New York Central tracks along the east shore. The cities of Hudson and Peekskill were shaken by the explosion. Schroeder wrote that "Contemporary newspaper reports state that rescue boats were kept from approaching the island for some time by…exploding ammunition." Yet only three people were injured.
The Bannerman family continued using the island as a summer residence. In a recent interview, Jane Bannerman, the widow of Frank's grandson Charles, said that the castle was well-maintained as late at the thirties, with the grounds cluttered with relics such as the great chain placed across the Hudson at West Point during the Revolution, sleighs and other equipment used by Peary to seek the North Pole, and a table used by George Washington.
The catalogue continued offering the stuff little boys' dreams are made of: African spears, Moroccan saddles, cannon, swords, scimitars, uniforms, helmets, cocked hats, armor, medals, pistols, rifles, artillery, armed yachts. But the Second World War bred massive competition: Frank Bannerman's heirs were not so much his own flesh and blood as the Army-Navy stores in every town. Francis Bannerman's Sons played no role in the disposition of World War II surplus comparable to that of the Spanish American War. The firm could no longer provide huge quantities of equipment from stock as when, during the Russo-Japanese War, Frank Bannerman had sold the Japanese 100,000 Mausers and 20 million cartridges — all from inventory, all immediately available.
The Broadway store, still considered the greatest private military museum in the world, was now five stories and several subbasements of dusty confusion. Yet, as Harry Wandrus wrote in the June, 1960 issue of Hobbies magazine, a searcher willing to get filthy could still find complete Civil War vintage Springfield and Enfield muskets and the spare parts to maintain them.
Conditions on the island were worse. The buildings had been neglected and much of the materiel in storage damaged beyond recovery. In the January, 1959 issue of Guns magazine, Bill Edwards described visiting the island with Val Forgett, an explosives expert whom Bannerman's had retained to deactivate the live ammunition: "Noting…two giant 16 inch shells flanking the entrance to the harbor, Val grabbed a wrench and had an assistant boost him up to the nose so he could unscrew the fuse…the fuses were live and the projectiles full of high explosive…" Apparently, their efforts were successful: they survived.
"The Largest Dealers in the World in Military Goods" closed 501 Broadway in 1959. The museum pieces from both the store and the island went to the Smithsonian Institution. In 1967, the Bannermans sold the island to New York State. They supposedly removed the old military merchandise. But the closing was a rush job: Jane Bannerman said, "We always meant to go back to get personal things, like my grandmother's Irish linen bed sheets."
The Taconic State Park Commission took possession on July 1, 1968. They offered public tours of the island and planned to preserve the buildings as a park. On the night of August 8, 1969, a great fire reduced the buildings to bare walls. Perhaps not all the munitions had been removed. Some still speculate about what lies under the ruins.
The Bannerman Island Trust, PO Box 843, Glenham NY 12527, telephone (914) 831-6346, has persuaded the State to study reopening the island to the public and works to stabilize the buildings for future restoration. For today, as Lenore Person recently wrote, the island "is covered with poison ivy. And it's infested with snakes and deer ticks."
Yet Frank Bannerman's castle still stirs the imagination, its ruined walls rising from the river mists, as distant, as untouchable, as a dream.