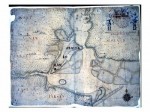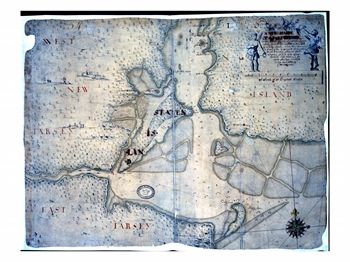 From New York Press, March 24, 1998
St. George, a city set upon a hill, the seat of Richmond County, is my hometown. On clear days, I look from my table across the Upper Bay to the Verrazzano-Narrows Bridge, the Lower Bay, the sea, and the horizon, where the distant Atlantic Highlands sink into mellow blueness.
Merchantmen lie for hours or days at anchor, waiting for space in the Port of Newark or lightering cargo to a barge or coastal tanker. Other vessels pass, day and night: pleasure yachts, container ships, tug boats, auto transports, cruise liners, guided missile frigates. Fogs change this utterly. Here, the sea vanishes, then the bridge, the bay, the mansard-roofed 1881 brick mansion next door. Out of the swirling mist come the foghorns' moans, punctuated by the deeper calls of the ships, feeling their way through the channels.
Despite radar and radio, the mists are still dangerous: in 1981, the Staten Island ferry American Legion was rammed amidships by a Norwegian merchantman during a heavy fog, seriously injuring several passengers and putting her out of service for months, her side smashed in the shape of the freighter's bow.
Yet foggy or clear, twenty-four hours a day the ferries toot their diesel horns once as they depart the ferry slips at St. George on their five-mile voyage for Whitehall. The old names remain. Ferrymen are traditionalists. Sailing ferries were traveling the Upper Bay before the War of 1812, long before the five-borough City of New York was even a dream. Hence Whitehall and St. George, rather than Manhattan and Staten Island.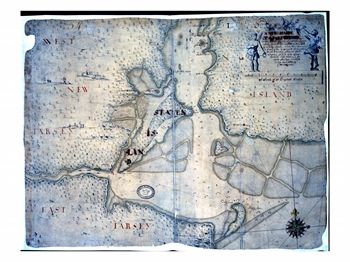 From St. George, the ferries bustle past the little pepperpot lighthouse on Robbins Reef. In the last century, when its  keeper died in the line of duty, his widow was given the job in lieu of a pension. It was round-the-clock work. She lived in the lighthouse with her children. Every morning and afternoon, in all weathers, she rowed them to and from St. George, where they attended the public schools. They are all long gone; the lighthouse is automated.
No trip is the same. Early morning skies can be delicate pink and silver, with the waves like mother of pearl. Or the horizon can be a thin line of fire, with a band of light sky beneath and rolling thunderheads above. The sunsets are often riotous with colors—outrageous scarlets, magentas, and purples, born of the pollutants emitted from the refineries along New Jersey's Chemical Coast.
An incoherent would-be evangelist sometimes wanders the boat, his unmemorable ranting punctuated by "Praise God!" Cameras always click at the Statue of Liberty or Ellis Island as the boat begins rounding Governor's Island to head into the Whitehall slips. Some evenings, the ferry is full of raucous, obnoxious drunks. The Manhattan skyline often seems a beatific vision, and I can only imagine my peasant grandfather's emotions when he first saw New York from the deck of an immigrant ship in 1905.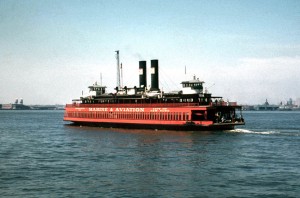 If you have a choice, take one of the old car-carrying ferries, the John F. Kennedy, the American Legion, or The Gov. Herbert H. Lehman. Like their steam-powered predecessors, their second decks have outdoor seating at the bow and stern, and the third decks have a roofed promenade. Both classes of newer passenger-only ferries—the enormous Samuel I. Newhouse and Andrew J. Barbieri, and the tiny Alice Austen and John A. Noble—lack outdoor seating. You might as well be on the subway.
Another ferryboat, the tiny Michael J. Cosgrove, sometimes moors at St. George for maintenance and repairs. She handles a .37 mile run up in The Bronx, from City Island to Hart Island. Although she is only sixty feet long, her passengers never complain of overcrowding. Most make only one trip, for her terminus is Potter's Field.
Although the last steam ferries were built only fifteen years before the Kennedy class diesel boats, their melodious whistles sound no longer. The Cornelius G. Kolff and Private Joseph F. Merrill became prison hulks at Riker's Island in  1987. After the Verrazzano was decommissioned in 1981, the City docked her at Pier 7, Staten Island. For the next two decades, people endlessly discussed converting her to a waterfront restaurant as a Connecticut businessman did  the 1938 steam ferry Miss New York. Using her for something was better than letting her rot in the mud, like the old ferries Dongan Hills and Astoria, now at their last moorings among a hundred hulks off Rossville in the Arthur Kill.
Then Pier 7 collapsed into the harbor. Years of neglect can do that to a dock. (Perversely, cleaning up the river helped, too, since marine borers, for which a neglected pier is bread and butter, can now live in the harbor's oxygenated water.) So a tugboat took the Verrazzano to Brooklyn. At least the City's planning and execution seem consistent: when the tugboat's captain arrived at Erie Basin with a 269-foot ferryboat, no one had told the Basin's management that he was coming.
How did St. George get its name? It has little to do with the warrior-hero and martyr, always shown astride his rearing  white horse, his lance impaling a dragon. Until 1886, the ferries landed at Clifton, further down the East Shore, the northern terminus of the Staten Island Railroad, an isolated short line controlled by the Vanderbilts (when it wasn't in receivership). The future St. George was called Ducksberry Point, was undeveloped and even unpleasant waterfront real estate owned by one George Law, an entrepreneur regarded as something of a minor scoundrel but with a sense of humor.
There was also a man with a vision named Erastus Wiman, a bit of a hustler himself. (His first name is a Latinized version of the Greek erastos, meaning "beloved." It was not a condition he would know throughout his life.) Born in 1834, Wiman came to Staten Island as an agent for R. G. Dun & Company of Toronto, which later evolved into Dun & Bradstreet. His manor house overlooking the Upper Bay was one of the finer residences on the island. If he had moved to Louisiana, he would have gone into oil. Having come to Staten Island, he went into real estate.
To enhance his investment's value, he improved local transportation. In 1884, with the Baltimore & Ohio Railroad's financial support, Wiman merged the ferries with the railroad to form one company, the Staten Island Rapid Transit. He wanted a new terminal for the Manhattan-bound ferries at the northernmost point on the island, where he had an option to buy George Law's land.
The option was expiring and Wiman was short of cash to complete the deal. According to local historian William T. Davis, Wiman asked Law for an extension of time, promising only to name the new ferry terminal "in Law's honor, but…with a title Law could hardly expect to earn either on his own or in his lifetime. Law thought it was all a fine idea [and] gave Wiman what he wanted."
The B&O had an agenda: its own terminal facilities on New York Harbor. Wiman sold Robert Garrett, the B&O's president, on building it at St. George. Wiman begged and borrowed every dollar he could and bought acre upon acre of Staten Island waterfront property, all of it mortgaged to the hilt as well. The B&O's money financed the extension of the Staten Island Rapid Transit–from St. George along the island's north shore over a huge railroad bridge to New Jersey. Once the connection was in place, Garrett and Wiman envisioned having the B&O's passenger trains terminate at St. George, where passengers would take the ferries to Manhattan. They saw an enormous freight terminal, with barges carrying B&O freight cars throughout the harbor, and perhaps even a transatlantic shipping terminal, so passengers might pass from trains to liners. St. George would have become a great seaport. Erastus Wiman would have become filthy rich.
It never quite worked out. Garrett's health failed and he lost control of the B&O, which went into receivership in 1891. The St. George project resulted in a big ferry terminal and freight yards, but no more. The B&O's passenger trains never came to St. George. Two years later, R. G. Dun & Company accused Wiman of forgery. He was convicted in 1894, although the verdict was reversed on appeal. His empire of real estate, ferries, and railroads flew apart like autumn leaves in a high wind.
Ten years later, Wiman died. He kept his fine house to the end. But a week before his death every stick of furniture he had–save his actual deathbed–was auctioned off for the benefit of his creditors. After his conviction, even the Staten Island Rapid Transit changed the name of its ferryboat from Erastus Wiman to Castleton, after one of Staten Island's towns.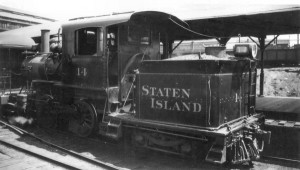 The Staten Island Rapid Transit gradually dwindled to a passenger commuter line, losing its last freight customers in 1979. The great Arthur Kill railroad bridge, still the largest vertical lift span in the world, was embargoed from 1991 to 2007, when freight service was restored along part of the North Shore line, still Staten Island's only link to America's railroads.
Even the one mayor who had great dreams for Staten Island saw them fail. John F. "Red Mike" Hylan, Mayor from 1918 to 1925, was an old-fashioned Democrat from Brooklyn with a full head of red hair and an enormous mustache. With Thomas Jefferson, he would have "strangled in their cradles the moneyed corporations, lest their organized power oppress the people." M.R. Werner, a New York World reporter, said wrote that he was "…possessed of…the loudest voice east of Omaha."
When he spoke from the steps of City Hall, small children burst into tears at 23rd Street, and the echoes of his eloquence drowned out the low moaning of the tugboats as they skittered down the bay. His tonal quality is hard to describe; it was somewhere between the trumpeting of an enraged elephant and the rumble of underground blasting, and the miracle was that his passionate outcries did not split his throat from ear to ear.
Hylan apparently enjoyed fighting more than winning. His was the kind of open mind that sometimes, as Damon Runyon observed in another context, "should have been closed for repairs." He dreamed of building a free port in Stapleton, a ten-minute walk from St. George, and spent millions of tax dollars on piers, warehouses, and rail connections.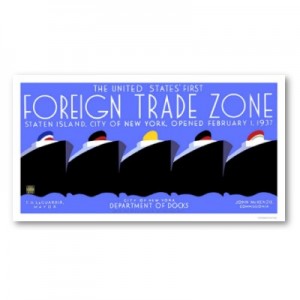 Unfortunately, first the Congress of the United States declined to cut tariffs or pass special legislation to exempt the Stapleton free port from them. Then, container ships replaced the old freighters. There was no incentive to rebuild the Stapleton facilities. The warehouses fell into ruin, the piers collapsed into weathered stumps, and the railroad tracks were paved over.
Hylan envisioned a railroad tunnel under the Narrows from Staten Island to Brooklyn, linking the SIRT with the subway of the Brooklyn-Manhattan Transit Company in Bay Ridge. His eloquence was so persuasive that the B&O lent $5 million to the SIRT for complete third-rail electrification comparable to that of the BMT. The City even began digging the tunnel.
Then Hylan was defeated by James J. Walker at the 1925 Democratic primary. After Walker took the oath, he canceled the project. (Some years later, asked why he had appointed Hylan a Judge of the Children's Court, Walker replied, "So the kids could be judged by their peer.") Hylan Boulevard, which bears his name, runs from Victorian photographer Alice Austen's gingerbread cottage on Upper New York Bay at Clifton across the South Shore to Tottenville, on the Arthur Kill, across from Perth Amboy.
Even the Homeport, the naval base built a decade ago in the hope that some defense dollars might drop into the local economy, was scheduled for closing before it was finished. Most of the money and jobs went to out of state contractors. Stapleton's streets are still lined with shuttered bars and night clubs.
Thus, Staten Island is the isle of forgotten dreams and St. George, the fruit of a real estate deal, its sleepy capital. St. George's relative poverty has encouraged development elsewhere, so it has become a backwater with convenient transportation. Its ethnic and religious diversity are astonishing; its quiet streets are lined with buildings from the bombastic to the boarded-up: courthouses like classical temples; a Babylonian movie theater; a Carnegie library; a 1920s Georgian bank, and numerous Victorian gingerbread mansions, ranging from exquisite restorations to rundown boarding houses.
Above all, almost literally, is Borough Hall, a Beaux Arts French chateau with an Italian Renaissance tower (its narrow windows presumably ready for the Borough President's use in pouring molten lead on his enemies), its illuminated clock guiding the ferries home, its bells gently striking every hour. Architecturally incoherent yet romantic, imposing, and homey, Borough Hall has dominated St. George without oppressing it for nearly a century.
Erastus Wiman no longer schemes in his manor house. The SIRT's old camelback steam locomotives no longer wheeze about the St. George railroad yards. But the ferries still run, quiet largely reigns, and beyond my window the wooded hills roll down to the sea.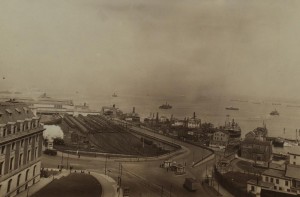 Phoebe Snow started here. I mean the train, not the singer–although she started here too, come to think of it. Born in New York City, she borrowed her stage name from the premiere express train of the Delaware, Lackawanna & Western Railroad, "The Route of Phoebe Snow," "The Road of Anthracite," which passengers boarded by taking a ferry boat from the railroad's lower West Side ferry terminal to the massive Lackawanna Terminal in Hoboken, New Jersey.
The ninety-two-year-old ramshackle bronze-green Beaux-Arts giant, now operated by New Jersey Transit, still crouches a mile upriver from Jersey City's financial district, its ferry slips gaping toward Manhattan. There, the Lackawanna began its long run to Scranton, Elmira, Binghamton, and Buffalo, where it connected with the Wabash, the Erie, the Nickel Plate,  and other trains serving all points west. It is the last working railroad-ferry terminal on the Hudson's west shore.
Until the Hudson Tubes (now the PATH lines) linked New Jersey and New York in 1908, the Hudson had been untunneled and unbridged south of Poughkeepsie, ninety miles from the sea. Most regional railroads terminated at Jersey City, Hoboken, Weehawken, or Edgewater. They built or shared vast terminal stations where trains met the Manhattan steam ferries. It was a magnificent, leisurely way to enter or leave the city.
At the turn of the century, the Lackawanna's locomotives burned what they hauled, smokeless anthracite coal. The railroad's advertising emphasized this cleanliness through Phoebe Snow, a fictional woman passenger whose flowing white dress remained spotless by using the Lackawanna. The line even named its premiere express train for her. Thus the jingles ran:
Says Phoebe Snow about to go
Upon a trip to Buffalo,
"My gown stays white from morn till night
Upon the Road of Anthracite."
With dimpling face all full of grace
Fair Phoebe pictures in a daze
That journey bright when clad in white.
She used the Road of Anthracite.
The same copy writer probably later worked on Burma Shave.
In 1914, the Pennsylvania Railroad—The Standard Railroad of the World (their ads said so)—finished tunneling under the Hudson, through Manhattan, and under the East River to Long Island while completing Pennsylvania Station at 34th Street. The Pennsy spent some 400 million prewar dollars over two decades to create history's greatest privately financed public works project. (Advocates of a new Yankee Stadium should note: not one cent was the taxpayers' money.)
However, the Pennsy monopolized Penn Station. At Hoboken, the Lackawanna's passengers still changed to either ferries or the Tubes. A new jingle made the best of it:
Now Phoebe Snow direct can go
From Thirty-Third to Buffalo.
From Broadway bright the "Tubes" run right
Into the Road of Anthracite.
For another two generations—until they went bankrupt one after another—The Lackawanna and the other railroads ran passenger trains into their Jersey terminals. The Lackawanna ran boats between Hoboken and Manhattan's Barclay Street until November 25, 1967, when the old steam ferry Elmira made its last run. The Phoebe Snow was discontinued. The Lackawanna (which in its last years was nicknamed the "Lackamoney"), vanished into Conrail and New Jersey Transit. Most of the terminals were torn down. But Lackawanna Terminal endured to link New Jersey Transit's commuter trains with PATH and New York Waterways.
In May 1998 New Jersey Transit held its annual Hoboken Transit Festival in the Terminal's great train shed. NJT displayed its latest, brightest, and best equipment. Little railroads also showed off their toys. The Morristown & Erie (called the "Ben Central" after its late president, Ben Friedman) had a fire-engine red switcher and the New York, Susquehanna & Western ("The Susie-Q") a stainless steel rail-diesel car.
I thought of the fallen flags, the railroads that run no more. Gone are Thomas Wolfe's "names of the mighty rails that bind the nation," those names "that roll richly from the tongue and fire the imagining with sonorous and heroic imagery, with the sweep and wonder of plains and deserts, great rivers of empire…" Most modern railroad names seem selected by the accounting department. The CSX Corporation is the anonymous successor to nearly a dozen famous lines: Chesapeake & Ohio, Baltimore & Ohio, Western Maryland, Seaboard Air Line, Atlantic Coast Line, Louisville & Nashville, whose Pan American express—"Old Reliable"—was so prompt that a radio station used its thunderous passage by an open mike to signal noon every day.
Some names live on in old songs. The Wabash Cannonball. The Rock Island Line. The City of New Orleans. The Atchison, Topeka and Santa Fe. And who would not be intrigued by the Memphis, Ultima Thule & Arkadelphia?
Amid all the cheery modern colors at the festival darkly loomed a massive steam locomotive. The legend CHESAPEAKE AND OHIO in gold lettering emblazoned its tender, while the number 614 decorated its cab. The engine is the last dual-service steam locomotive built in North America, and it used to haul passenger trains across the Appalachians to Chicago, as well as deliver half-mile long strings of coal-laden hopper cars from West Virginia to tidewater, no sweat.
As with any work of art, the 614 symbolizes things uncontemplated by her makers, particularly the speed of obsolescence. The machine is fifteen years younger than my father, who in 1948 was shooting hoops with Waterford High's sophomore team as the 614 rolled new from the Lima Locomotive Works in Hamilton, Ohio. Only eight years later, the C&O put her in storage where she remained for a generation until a new owner restored her to service.The 614 is as complicated as its 28,000 parts and as simple as boiling water. The same force that makes your teapot whistle sounds the 614 steam chimes,which can be heard five miles away booming two octaves below middle A.
As recently as a decade ago, the United States government tested the 614 for fuel efficiency, putting her back to work hauling coal trains in the West Virginia mountains. The results were inconclusive. Diesels are much less expensive to operate and maintain. However, a steam locomotive as large as the 614 is more powerful than most individual diesel-electric units, and it burns domestic coal, not imported oil. Only recently have diesels rolled out of the shops with power approaching that of Union Pacific's Big Boy steamers, which hauled freight trains of up to five miles long at 55 to 60 miles an hour across the Rockies.
Even forty years ago, steam locomotives had largely disappeared from American railroads. And yet, and yet…on July 8, 1998, an express freight train failed at a siding at Carr, Colorado. The ultra-modern diesel's computer went down, poor thing. Oddly, the nearest locomotive was one of Union Pacific's two working steamers—the 844, a fifty-six-year old similar to the 614. Union Pacific had never retired the 844 (the railroad proudly claims it never totally dieselized), which now hauls fan trips and employee specials.
Now UP put the 844 to work. She passed and backed into the siding. The crews coupled her to the dead diesel, hooked up the air hoses, and tested the brakes. Waves of heat rippled off the firebox as gray oil smoke drifted from the stack.
The whistle sounded twice. The engineer released the brakes. The 844 sighed and eight brake shoes relaxed their grip on the drivers. He set the valve gear forward. Then, the engineer's gloved hand opened the throttle, one notch, releasing steam into the cylinders, slowly forcing back the pistons, moving the main rods, turning the drivers.
A puff of exhaust burst from the stack. Steam hissed from the cylinder cock and the pistons returned. She crept forward. The engineer opened the throttle, notch by notch, and she slowly accelerated.
At five miles an hour, the exhaust began barking up the stack in rhythm with the moving pistons. She gained speed, effortlessly rolling into the Colorado hills, the stack talk faster and louder until the blasts blended into continuous roar that lasted all the way to Denver.
New York Press, September 1, 1998
Around 11:55 a.m. on Thursday, September 16, 1920, an old single-top wagon, drawn by an elderly dark bay horse, plodded westward on Wall Street. It stopped about seventy-five feet from Broad, near the offices of J.P. Morgan & Co. at 23 Wall Street.
The day was lovely: clear and blue with no humidity and a temperature of sixty-nine degrees. The stock market was up. In NYPD, Jim Lardner and James Repetto note that police presence was thin in the area that day. According to Sidney Sutherland's "The Mystery of the Wall Street Explosion," in Liberty magazine for April 26, 1930, much of the police force was on duty at a Brooklyn transit strike; some officers, including the one assigned to the Broad and Wall intersection, had been ordered "a few blocks north to help herd the paraders in a procession of colored folk."
Trinity Church struck noon. The sidewalks filled with brokers, clerks and receptionists heading for lunch. At 12:01, a bomb of roughly 100 pounds of TNT, resting on the wagon floor above the left rear axle, exploded in "a blinding sheet of saffron-green light." Five hundred pounds of fragmented sash weights piled about the bomb tore into the passersby like shrapnel. A nearby automobile flipped 20 feet into the air. Thousands of plate-glass windows shattered over a half-mile radius, their fragments tinkling from sill to ledge to pavement. A pillar of brownish-lemon smoke soared heavenward. Awnings twelve stories above street level caught fire.
The explosion blasted the façade of J.P. Morgan & Co. The bank's windows burst inward in a blizzard of razor-sharp shards. Two metal fragments nicked the statue of George Washington on the Subtreasury steps. Thomas Joyce, the chief clerk, working at a window facing Wall St., died instantly.
Next door, the massive iron bars across the Assay Office's windows bent. The Stock Exchange's huge windows fell to the trading floor. Trinity Church trembled. Thirty people were killed instantly, some mere scarlet blots on the pavement. (Ten more would ultimately be added to the casualty list.) A woman's head, still wearing a hat, stuck to 23 Wall's façade. A messenger lay decapitated, a package of securities smoldering in his hand. An eyeless clerk, his feet blown off, tried to crawl. Two hundred lay wounded. One of the carthorse's hooves lay in a pool of blood; a witness recalled how the pool had sparkled in the sunlight.
The terrified crowds now ran toward the shambles, even trampling the dead to see what had happened. On the floor of the Stock Exchange, where running is forbidden, the president strode to the rostrum and rang the gong to close the day's trading. The Curb Exchange, whose brokers transacted business on the Broad Street sidewalk roughly 200 feet south of Wall, adjourned less formally when the brokers ran off.
Police and firemen then cleared the way for ambulances. Half a dozen officers, guns drawn, stood before the Assay Office and Subtreasury. Forty minutes after the explosion, federal troops from the Governor's Island garrison  were double-timing into Wall Street, rifles loaded and bayonets fixed.
The horse had been torn to fragments; of the wagon and harness, as reported in Liberty, the cops gathered up "a few spokes, a strap or two, an armful of splinters and canvas, a piece of the shafts, an axle and hub cap, and a handful of bolts and nuts." The NYPD reconstructed both horse and rig with the help of veterinarians, livestock experts, and wagon builders. Their description reads:
HORSE—Dark bay mare, fifteen and three-quarters hands, fifteen years, about 1,050 pounds, long mane and stubby foretop, clipped a month before, scars on left shoulder and white hairs on forehead.
SHOES—Hind shoes marked JHU and NOA, about half an inch apart. Front shoes had pads, circle in center reading 'Niagara Hoof Pad Co., BISON, Buffalo, N.Y.'
HARNESS—Single set of heavy wagon harness, old and worn and frequently repaired. Turret rings originally of brass, one broken; the other silver mounted and evidently belonging originally to coach harness.
WAGON—Single top, capacity one and one-half tons, red running gear, striped black with fine white lines. Three-foot wheels on front; four and one-half on back, of Sarvant patent. Body 5 feet 6 inches high, 53 inches wide, about eight feet from ground to top of wagon.
Between the 11:30 and 11:58 mail collections, just before the explosion, someone had deposited crudely printed circulars in the post box at Cedar St. and Broadway. They read:
Remember we will not tolerate any longer. Free the political prisoners or it will be sure death for all of you.
They were signed "American Anarchists Fighters."
While the Secret Service and the nascent FBI chased Reds, the NYPD went to every sash-weight manufacturer and dealer in America to find the source of the shrapnel; they visited nearly 5000 stables in every town along the Atlantic seaboard to track the horse; they checked hundreds of wagon manufacturers and harness makers to identify the wagon.
According to Sutherland, the letters on the shoes symbolized the Journeymen's Horseshoers' Union and National Horseshoers' Association: in effect, they bore the union label. More importantly, the blacksmith who made the shoes had been trained abroad. The police concentrated on immigrant farriers.
The De Grazia brothers ran a smithy at 205 Elizabeth Street. Dominick De Grazia identified the horseshoes. A detective had him make another pair. They were identical, "a defect in the anvil appearing on the top plates of both the sample shoes and those worn by the dead horse."
Dominick said a man driving a horse and a wagon matching the police description had asked him to tighten a rear shoe. Noticing a slight crack in the hoof, the farrier suggested new shoes, which Dominick made and nailed to the hooves within 20 minutes. The De Grazias said the driver spoke with a Sicilian accent, was 25 to 30 years old, about 5-feet, 5-inches tall, and weighed about 165 pounds, with broad shoulders, deep chest, black hair and mustache, and soft, well-kept hands.
Dominick examined the hoof when the cops brought it from Bellevue's pathological laboratories. He found the crack. There the trail ended. The NYPD examined ten tons of broken glass, analyzed steel fragments that might have contained the bomb, and reconstructed some twisted bits of tin into two five-gallon containers from the Atlas Can Company of Brooklyn. After searching the company's records, the NYPD questioned all of Atlas's customers. None identified the containers.
A small iron ball lightly struck a city street sweeper, standing four blocks from the explosion. The NYPD, finding a number engraved on the ball, identified it as the knob to a Victor military field safe manufactured in Cincinnati. The manufacturer's records showed the safe's initial delivery to the U.S. Army barracks at Jeffersonville, Indiana. An NYPD detective tracked the safe to Omaha, New Orleans, Washington, D.C., France, and Hoboken. There the trail ran out. The Army had not recorded the safe's disposition, whether sold to a junk dealer or dumped in a vacant field.
Eyewitness descriptions of the driver conflicted. Most resemble the man seen by the De Grazias. He was also Jewish or Italian, an "East Side peddler" type, or a "greasy fellow." One noted a broad Scots accent. He had as many ethnicities, religions, and modes of escape as eyewitnesses. Some saw two or three drivers.
NYPD detectives visited every garage in the metropolitan area to check the hours of departure and return and the errands of all vehicles, motor-driven or horse-drawn, on Sept. 16. Some eyewitnesses said the wagon was lettered EXPLOSIVES, DYNAMITE, or DU POWDER WORKS. Hercules Powder and Aetna Explosives had no vehicles carrying explosives that day in the city. Dittmar Powder's wagon had not gone below 45th Street. Du Pont had sold its last horse-drawn powder wagon in 1918.
Edwin P. Fischer, a graduate of City College and New York Law School and a championship tennis player, was an occasional inpatient at mental hospitals. Two weeks before the explosion, he had told his tennis club's caretaker that either "We" or "They" were blowing up Wall Street Fischer, then predicted a Wall Street explosion on September 16 to a stranger on a Hudson Tube train.
Between September 11 and 13, he mailed postcards from Toronto to friends and acquaintances advising them to get out of Wall Street as soon as the gong struck at 3 p.m. on Wednesday. On the morning of the 16th, Robert Pope, his brother-in-law, having heard of the postcards and concluded Fischer was having a breakdown, caught up with him in Niagara Falls. On learning of the explosion, Pope persuaded Fischer to see the police.
Fischer arrived at Grand Central wearing two business suits for warmth and tennis whites underneath in case he had a chance for a game. The police questioned him at Bellevue. He said he had received the messages "through the air." Realizing Fischer was merely demented, the cops soon released him to the Amityville Asylum, from which he emerged after two months. The warnings are otherwise unexplained.
The feds and the NYPD arrested or interrogated thousands of suspects, such as Florean Zelenska, a Romanian who possessed radical literature and had worked for a gunpowder company. They questioned Alexander Brailovsky because he was of Russian extraction and "said to be a Trotsky-Lenin agent." Wolfe Linde, a radical turned stool pigeon, was reported near Wall and Broad on the morning of September 16. He disappeared to Warsaw. Several detectives brought him back. His alibi was perfect.
The NYPD had linked Pietro Angelo to the Gimbel Brothers bomb plot of April 1919. Mail bombs addressed to national figures in packages with Gimbel's return address were detected when held for insufficient postage. Angelo's alibi for September 16, 1920, was perfect. Nonetheless, the United States deported him to Italy, where he tossed a bomb into the crowd at an opera, killing thirty-nine.
The NYPD gave up around 1940. The north façade of 23 Wall Street, with its scars up to an inch deep, is unrepaired. John Brooks quoted an old Morgan partner: "There's no particular feeling of martyrdom in leaving them there. It's the practical thing to do. After all, replacing those great blocks would be inordinately and unnecessarily expensive. And besides, it's right and proper that they should stay there."
New York Press, March 6, 2001
Every August 6 for more than three decades, an attractive older woman entered a Greenwich Village bar that had been a restaurant back in the Jazz Age. She sat alone in a booth and ordered two cocktails. She raised one, murmured, "Good luck, Joe, wherever you are," drank it slowly, rose, and walked out leaving the other drink untouched.
Thus Stella Crater mourned her vanished husband, Justice Joseph Force Crater, who had become famous on August 6, 1930 by disappearing, as the Daily News later said, "efficiently, completely, and forever."
Born to Irish immigrants in Easton, Pennsylvania in 1889, Joe Crater worked his way through Lafayette College and Columbia Law School. He opened his office at 120 Broadway (The Equitable Building, a huge white marble pile that was once the largest office building in the world) and joined the Cayuga Democratic Club, the power base of Tammany district leader Martin Healy, where Crater spent thousands of hours organizing election workers and representing the club in election law cases. He also married Stella Wheeler, whom he had represented in her 1912 divorce.
In 1920, State Supreme Court Justice Robert F. Wagner Sr., who would become a United States senator in 1926, appointed Crater his secretary. Joe was also an adjunct professor at Fordham and New York University law schools. But most of his income came through his law practice, which was enriched by his political connections.
At first, he received the usual minor appointments from the courts: receiverships, refereeships, guardianships. Over time, Crater's pieces of pie were cut large. In February 1929, he was appointed receiver in foreclosure of the Libby Hotel. Four months later, the hotel was auctioned for $75,000 to the American Mortgage Loan Co. Two months after that, the City of New York condemned the hotel, paying American Mortgage Loan $2,850,000—a profit of $2,775,000 on its two months' investment of $75,000. Cynics suggested that American Mortgage Loan's managers knew about the city's plans before buying the building.

Crater could afford a new apartment: a two-bedroom cooperative at 40 5th Avenue. He became president of the Cayuga Club and Martin Healy's right-hand man. And on April 8, 1930, Governor Franklin D. Roosevelt appointed him to a vacancy on the state Supreme Court (actually the lowest among New York state courts, comparable to superior courts in other states).
Politics had everything to do with it. That and ability: even the respectables at the Association of the Bar of the City of New York supported Joe's appointment. He was forty-one—young for a Supreme Court justice in New York—a well-tailored 185-pound six-footer, with fleshy features and slicked-down iron-gray hair that made him seem older than he was. He was also a fine pianist, a good dancer, and he liked theater.
When the courts recessed in June 1930, the Craters went to their summer home in Belgrade Lakes, Maine—six miles from the nearest telephone. In July, they read that New York County District Attorney Thomas C.T. Crain was charging Healy with selling judgeships. Crater seemed undisturbed then, although he went away for two days in late July to confer about Healy's legal problems.
On Sunday, August 3, one of the locals dropped in with a message that the judge had received a long-distance telephone call at the town's drugstore. Crater went into town to return the call. When he returned, he told Stella he had to go to New York for a few days. "I've got to straighten out a few people," he reportedly said. Then, promising to return for her birthday on Saturday, August 9, he left for the city.
Crater arrived at their apartment on Monday. He gave the maid a few days off and saw his doctor about an index finger that had been crushed in a car door some weeks before. On Tuesday, he worked in his chambers at the New York courthouse at 60 Centre Street.
On the morning of August 6, he spent two hours going through the files in his chambers. He had his personal assistant, Joseph Mara, cash two checks for him amounting to $5150, worth roughly $50,000 in today's money. He and Mara went by cab to the Crater apartment with locked briefcases containing five large portfolios, which Mara left on a chair. The judge then dismissed Mara for the day.
He bought a ticket for that night's performance of a new hit comedy, Dancing Partners, at the Belasco Theater on W. 44th Street. He had dinner nearby at Billy Haas's chophouse, with two friends—William Klein, a lawyer specializing in entertainment law, and Klein's girlfriend, Sally Lou Ritz, a showgirl generally considered to be one fine-looking babe.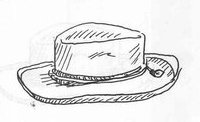 Afterward, the trio stood on the sidewalk chatting and laughing. Although the curtain had gone up on Dancing Partners, Crater seemed unhurried. Between 9 and 9:15, he hailed a passing cab. Klein later recalled it was tan. Crater waved his Panama out the window to his friends. On the record, no one saw Joe Crater again. Someone called for the ticket at the Belasco's box office. No one knows if that person was Crater.
At first Stella had been miffed about Joe missing her birthday but assumed he had been detained on political or legal business. His friends and colleagues thought he was in Maine. After a week Stella began telephoning friends of Joe's in New York. Simon Rifkind, who had succeeded him as Wagner's secretary, reassured her that everything was all right. Eventually the judge would turn up.
The Supreme Court opened on August 25. Justice Louis Valente telephoned from New York to ask whether Joe was still in Maine. His fellow justices arranged a discreet inquiry. On September 3, when the inquiry proved fruitless and the court remained one justice short, the police were notified. Joe Crater became front page news, with the tabloids suggesting he had been murdered, vanished with a showgirl mistress, or disappeared to avoid the Healy scandal.
In October 1930, District Attorney Crain empaneled a grand jury to dig into bankbooks, telephone records, and safety deposit boxes. None of those inquiries led anywhere. Mrs. Crater, bewildered by her husband's disappearance, revolted by the sensational press coverage, and enraged by Crain's suggestions that she knew her husband's whereabouts, refused to go before the grand jury and remained in Maine, outside of his jurisdiction.
The grand jury was dismissed on January 9 1931, after hearing hundreds of witnesses and taking 2000 pages of testimony, concluding: "The evidence is insufficient to warrant any expression of opinion as to whether Crater is alive or dead, or as to whether he has absented himself voluntarily, or is a sufferer from disease in the nature of amnesia, or is the victim of a crime."
Mrs. Crater returned to 40 5th Avenue on January 18. Three days later, while going through her dresser, she found four manila envelopes in a hidden drawer containing Crater's will, which left everything to her, plus $6619 in cash, several checks, life insurance policies worth $30,000 and a three-page note, listing twenty companies or persons who supposedly owed the judge money. On the bottom of the list was penned a note: "Am very weary. Love, Joe."
The police had already searched the apartment several times, and although Mrs. Crater insisted that they could not have searched the hidden drawer that held the newly discovered documents, this incident merely deepened the mystery.
The investigation lasted for years and cost hundreds of thousands of dollars. Some said he was the victim of amnesia, some that he had simply run away with a secret lover. Other theories linked the judge's fate to organized crime. Crater had known Arnold Rothstein, the man believed to have fixed the 1919 World Series, as well as other criminals. Perhaps he had known too much about something-or-other and had to be silenced. There were whispers that Jack "Legs" Diamond had done the job and buried the body in the sub-basement of the Diamond-controlled Peter Barmann Brewery in Kingston, New York.
No one ever found anything illegal in Crater's role as receiver of the Libby Hotel. Yet there were those who persisted in believing some party to the transaction had not received his share of the profits and had taken it out on Joe. Others thought he had been abducted and slain by a criminal gang disappointed with one of his rulings. A few thought he had been murdered by some stickup man who had successfully disposed of the remains.
Emil K. Ellis, who represented Stella Crater in litigation against her husband's insurance company, argued that Crater had been murdered in a blackmail scheme engineered through June Brice, a showgirl. Ellis said the large sum of money her husband had withdrawn the day before he disappeared was probably a payoff. He believed a gangster friend of the showgirl then killed the judge when he refused to give her more money. One incident lent this plausibility: on the evening of his disappearance, Judge Crater had been seen talking to Brice, who vanished the day before the grand jury had convened. (In 1948, investigators working for Ellis tracked her to a Long Island mental hospital: she was hopelessly demented.)

Others tied Crater to Vivian Gordon, a prostitute and blackmailer found garroted in Van Cortlandt Park, up in the Bronx, on February 26, 1931. The tabloids, ever true to form, suggested that "a red hot diary" found in her apartment listed her wealthy politician and businessmen friends, including Joe Crater. Gordon had been due to testify before a special state commission investigating the Healy scandal. Even that came to nothing: Healy was acquitted three times.
Yet Crater's actions from August 3-6 seem to foreshadow his disappearance. He purged his personal files, obtained a large amount of money and wrote the letter describing the debts owed to him found five months after his disappearance. Police Commissioner Edward Mulrooney simply expressed common sense when he said, "Crater's disappearance was premeditated."
Herbert Mitgang, in The Man Who Rode the Tiger: The Life and Times of Judge Samuel Seabury, notes that Seabury's investigation of the Healy scandal (which led to other investigations, ultimately forcing the resignation of Mayor Jimmy Walker) found Crater had raised more than $20,000 shortly before his disappearance. This was equal to a Supreme Court justice's annual salary. There was, as many noted, a Tammany tradition that anyone granted a judgeship paid a year's salary to the party leadership. Roosevelt-haters whispered that Franklin Roosevelt's friends had killed Crater, because his possible grand jury testimony about the sale of judgeships to swell party funds would hurt FDR's presidential hopes: "Mr. Roosevelt hoisted himself into the presidency on the body of his friend," as long-time Crater researcher Alice Amelar once told The New York Times.

Sightings of Judge Crater were reported all over the country, and for a while the police followed up every lead. He was seen on trains and on ships, driving a taxi in a dozen towns, panning for gold in California and Alaska. He was sighted in the South Seas and in the French Foreign Legion. In the 1950s, a Dutch clairvoyant "sensed" Crater's body buried near Yonkers, and in 1959, Westchester authorities dug up a Yonkers backyard in search of Crater's bones.
Eventually, detectives would interview more than 300 people and review thousands of letters, telegrams, and depositions. They never found a trace of Crater or the papers that he had taken from his files.The state of New York declared Joe Crater legally dead on June 6, 1939, nine years after he went missing. Stella Crater sued three insurance companies to collect her husband's death benefits. Eventually, the insurance companies settled.
And Crater became a cultural figure, "the Missingest Man in New York," the butt of nightclub jokes ("paging Judge Crater…"). As late as the 1960s, the name of Judge Crater was invoked as a symbol of the missing. His name even became popular slang: to "pull a Crater" is to vanish.
Stella Crater remarried, divorced, and never stopped looking for her husband. The police closed the case in 1979. On the record, no one knows what happened to him. In this life, no one will.
New York Press, June 25, 2002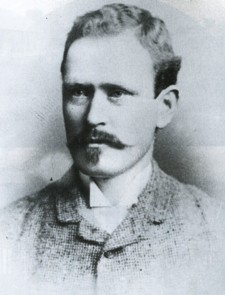 From New York Press, September 16, 1998
Elections are dull because politicians are. They can't help it: only safe, conventional men and women with bland, plausible personalities can raise the kind of money required to pay for television commercials and bulk mailings. Authentic old-fashioned elections—those orgies of repeating, ballot-box stuffing, and election day riots with their torch-lit parades and bonfires, their bunting and barbecues—have vanished from the land.
"Elections nowadays are sissy affairs," complained "Dock Walloper Dick" Butler even seventy years ago. "Nobody gets killed any more and the ambulances and patrol wagons stay in their garages. There's cheating, of course, but it's done in a polite, refined manner compared to the olden days. In those times murder and mayhem played a more important part in politics. To be a challenger at the polls you had to be a nifty boxer or an expert marksman. A candidate, especially if he ran against the machine, was lucky to escape with his life. I was lucky—I only had my skull bashed and my front teeth knocked out and my nose broken."
Few aspiring statesmen of our time have enjoyed a resume like that of the Hon. John Morrissey, who once told the United States House of Representatives: "I have reached the height of my ambition. I have been a wharf rat, chicken thief, prize fighter, gambler, and Member of Congress." At times he seemed hard-pressed to separate his various metiers. Once, when irritated during debate, he roared, "If any gentleman on the other side wants his constitution amended just let him step into the rotunda with me." It was not an empty threat.
Yet Morrissey was enormously popular, simply because he was his own man. His early career hinged on the electoral customs of his day. Each party and faction printed its own ballots. Voters brought a ballot to the polls and dropped it in the box. This simplicity permitted elaborations, exploited by Morrissey and his contemporaries, that are now almost fully comprehended and forbidden by the Election Law. There were repeaters, who voted more than once, either through multiple registrations or under names not their own. Morrissey was a gifted campaigner. "As an organizer of repeaters," said the great William M. "Boss" Tweed, "he had no superior."
The Hon. Timothy D. "Big Tim" Sullivan once explained his specialty, the bearded repeater. "When they vote with their whiskers on, you take 'em to a barber and scrape off the chin fringe. Then you vote 'em again with side-lilacs and mustache. Then to the barber again, off comes the sides and you vote 'em a third time with just a mustache. If that ain't enough, and the box can stand a few more ballots, clean off the mustache and vote 'em plain face." This made every man "good for four votes."
A repeater needed some savoir faire. Up in Albany, a scruffy fellow once gave his name to the poll clerks as William Croswell Doane. "You don't look like Bishop Doane," a clerk objected. "Fuck you, man," the repeater replied. "Gimme the goddamn ballot."
Another technique was the "cannon" ballot, so named because just a few could blow the opposition sky-high. A contemporary of Morrissey's wrote, "Ballots were easy to get, and we took plenty. Each candidate could get all he wanted. Why, kids even played with them. I got huge stacks of the ballots and carried them home to Mary."
"Mary, put your irons on the fire," I told her. She put three or four irons on the coal stove, and when they were nice and hot, we went to work on the ballots. We folded the ballots in sets of ten…and then Mary pressed the bundles of ten until they were thin enough to slip through the slit in the ballot boxes.

I distributed these ballots to my…workers and they slipped in ten at a time while the organization's men thought they were doing a smart thing by piling in two at a time…One of my repeaters went to the polls twenty times and dropped in ten ballots every time. It was wonderful to see how my men… [preserved] the sanctity of the ballot [to] stop the corruption of Tammany Hall.
A poll clerk vigorously shook the box before opening it for the count, separating the cannon's individual sheets to prevent its detection.
The Irish-born Morrissey apparently spent his youth learning to fight in barrooms and riverboats. He made his metropolitan debut in the Arena, Captain Isaiah Rynders's saloon at 28 Park Row, across from City Hall. The Captain was a kind of political consultant, specializing in ballot-box stuffing and general mayhem on a cash retainer basis. Morrissey, whom an Arena habitue had addressed with inadequate respect, asked if any prize fighters were present, took off his cap, and said, "I can lick any man in the place." Some eight men silently turned from their drinks, grabbed chairs, bottles, and other handy utensils, and rushed him as one. Nonetheless, Morrissey held his own until Rynders hit him under the ear with a spittoon."
But Rynders, who admired men of spirit, had him carefully nursed until he recovered. Morrissey then became an immigrant runner. He met immigrants at the dock, found them work and shelter, and, after obtaining their pledges to vote the Tammany ticket, helped them obtain American citizenship, a simpler process in those days, that involved merely  satisfying a single judge of one's loyalty to the United States. (The Hon. Fernando Wood, when he was Mayor of New York, once managed to naturalize some 3,500 men in a day by sending them to a judge with preprinted cards requesting his signature as a personal courtesy.)
Once, when armed competitors attempted to drive him from a ship with belaying pins, a commentator described Morrissey clearing the decks "single-handed, like a young Ajax." Testimony during the Tweed Ring scandals indicated tht the hardworking Morrissey had been convicted of assault with intent to kill and for burglary in 1849, serving 60 days. He was indicted three times in one day in 1857 for three separate assaults with intent to kill. And he was convicted of breach of the peace in 1861 and sentenced to a $50 fine and three months' hard labor.
Busy as he was, Morrissey continued his professional development as a bare-knuckle boxer under the old London Prize Ring rules, the Marquess of Queensberry having not yet reformed the sweet science. The old rules were brutal: a round ended only when a fighter fell, was knocked down, or was thrown; matches ended when a fighter could not stand up at the beginning of a round. In 1858, Morrissey fought John Heenan, the Benicia Boy, for the Championship of America at Long Point, Canada. They battled for 32 minutes, during which, after Heenan broke his hand on a ring stake, Morrissey beat him into the ground "as a hammer beats a nail." The New York Times, which found the spectacle a "triumph of brutality," nonetheless, provided a blow-by-blow account.
Morrissey's most renowned exploit was recounted by William E. Harding, longtime sporting editor of the late lamented National Police Gazette, in his 1881 biography, John Morrissey: His Life, Battles, and Wrangles, from His Birth in Ireland until He Died a State Senator.
Morrissey, during his visits to New York, became infatuated with a noted Cyprian, Kate Ridgeley, who was a mistress of Tom McCann, a noted rough and tumble fighter…Kate coquettishly pretended to think highly of Morrissey. This inflamed McCann's jealousy, and when he met his rival in Sandy Lawrence's house proposed to fight him for an undivided share in Kate's affections…At the commencement of the fight McCann was successful, and threw Morrissey heavily. As he fell a stove was overturned, a bushel of hot coals rolled out, and Morrissey was forced on them. McCann held him there until the smell of burning flesh filled the room. The bystanders made water on the coals, and the gas and steam arose in McCann's face and choked and exhausted him. Morrissey then…pounded McCann into insensibility. From that time until the day of his death Morrissey was called "Old Smoke."
Such a man rose steadily in the world of mid-Victorian New York. He made a substantial fortune and married a beautiful woman. Retiring from the ring in 1859, Morrissey built a clubhouse and bought the racetrack at Saratoga Springs, N.Y., then a genteel watering hole. In 1866, he opened what were reputed to be the world's most lavish gaming rooms on 24th Street in Manhattan. Some neighbors maintained that his casino lowered the moral tone of the community. Their wives, when the Morrisseys attended grand opera at the Academy of Music, glared at Mrs. Morrissey through mother-of-pearl opera glasses.
On a fuck-you basis, with the help of Tammany, Morrissey ran for Congress from the district in which his casino was located. He won handily and just to be sure nobody missed the point, ran a second time and was re-elected by an even wider margin. To celebrate his second victory, he commissioned a $75,000 pair of opera glasses in diamonds and sapphire from Lemaire of Paris as a gift for his beloved wife. They enabled the delighted Mrs. Morrissey to glare back at her detractors on opening nights.
After the Tweed Ring's collapse during the early 1870s, Morrissey joined with Samuel Tilden and "Honest" John Kelly to control Tammany Hall. By 1875, he was serving as Police Commissioner, for which his experience with the criminal justice system eminently qualified him. But Tilden was then Governor of New York and running for President, leaving the Hall in the hands of Morrissey and Kelly. Their ambitions clashed. Kelly purged Morrissey, who then, having nothing better to do, won election to the State Senate from Tweed's old district. Honest John's followers said that only the district which had elected Tweed would send a vicious thug, a rowdy prize fighter, and a notorious gambler to the State Senate. These criticisms annoyed Morrissey because they hurt his wife's feelings.
Accordingly, in 1877 he ran for the State Senate from the Seventh District, the most reputable in the City. Tammany orators denounced Morrissey as a gambler, prize fighter, ballot-box stuffer, and burglar. It was also said that when he had been in Congress, he had a percentage in Washington's leading illegal faro game. All was for naught: Morrissey won by a huge majority.
He had defeated the respectables and the machine politicians alike. But Morrissey did not long enjoy his triumph. He had contracted pneumonia during his last campaign and, failing to shake it off, died at Saratoga on May 1, 1878, at the age of forty-seven. Over 15,000 mourners, including the Lieutenant Governor and the Attorney General, saw the dead statesman to his grave in St. Peter's Cemetery, Troy, New York, where he lies with his family.