Every August 6 for more than three decades, an attractive older woman entered a Greenwich Village bar that had been a restaurant back in the Jazz Age. She sat alone in a booth and ordered two cocktails. She raised one, murmured, "Good luck, Joe, wherever you are," drank it slowly, rose, and walked out leaving the other drink untouched.
Thus Stella Crater mourned her vanished husband, Justice Joseph Force Crater, who had become famous on August 6, 1930 by disappearing, as the Daily News later said, "efficiently, completely, and forever."
Born to Irish immigrants in Easton, Pennsylvania in 1889, Joe Crater worked his way through Lafayette College and Columbia Law School. He opened his office at 120 Broadway (The Equitable Building, a huge white marble pile that was once the largest office building in the world) and joined the Cayuga Democratic Club, the power base of Tammany district leader Martin Healy, where Crater spent thousands of hours organizing election workers and representing the club in election law cases. He also married Stella Wheeler, whom he had represented in her 1912 divorce.
In 1920, State Supreme Court Justice Robert F. Wagner Sr., who would become a United States senator in 1926, appointed Crater his secretary. Joe was also an adjunct professor at Fordham and New York University law schools. But most of his income came through his law practice, which was enriched by his political connections.
At first, he received the usual minor appointments from the courts: receiverships, refereeships, guardianships. Over time, Crater's pieces of pie were cut large. In February 1929, he was appointed receiver in foreclosure of the Libby Hotel. Four months later, the hotel was auctioned for $75,000 to the American Mortgage Loan Co. Two months after that, the City of New York condemned the hotel, paying American Mortgage Loan $2,850,000—a profit of $2,775,000 on its two months' investment of $75,000. Cynics suggested that American Mortgage Loan's managers knew about the city's plans before buying the building.

Crater could afford a new apartment: a two-bedroom cooperative at 40 5th Avenue. He became president of the Cayuga Club and Martin Healy's right-hand man. And on April 8, 1930, Governor Franklin D. Roosevelt appointed him to a vacancy on the state Supreme Court (actually the lowest among New York state courts, comparable to superior courts in other states).
Politics had everything to do with it. That and ability: even the respectables at the Association of the Bar of the City of New York supported Joe's appointment. He was forty-one—young for a Supreme Court justice in New York—a well-tailored 185-pound six-footer, with fleshy features and slicked-down iron-gray hair that made him seem older than he was. He was also a fine pianist, a good dancer, and he liked theater.
When the courts recessed in June 1930, the Craters went to their summer home in Belgrade Lakes, Maine—six miles from the nearest telephone. In July, they read that New York County District Attorney Thomas C.T. Crain was charging Healy with selling judgeships. Crater seemed undisturbed then, although he went away for two days in late July to confer about Healy's legal problems.
On Sunday, August 3, one of the locals dropped in with a message that the judge had received a long-distance telephone call at the town's drugstore. Crater went into town to return the call. When he returned, he told Stella he had to go to New York for a few days. "I've got to straighten out a few people," he reportedly said. Then, promising to return for her birthday on Saturday, August 9, he left for the city.
Crater arrived at their apartment on Monday. He gave the maid a few days off and saw his doctor about an index finger that had been crushed in a car door some weeks before. On Tuesday, he worked in his chambers at the New York courthouse at 60 Centre Street.
On the morning of August 6, he spent two hours going through the files in his chambers. He had his personal assistant, Joseph Mara, cash two checks for him amounting to $5150, worth roughly $50,000 in today's money. He and Mara went by cab to the Crater apartment with locked briefcases containing five large portfolios, which Mara left on a chair. The judge then dismissed Mara for the day.
He bought a ticket for that night's performance of a new hit comedy, Dancing Partners, at the Belasco Theater on W. 44th Street. He had dinner nearby at Billy Haas's chophouse, with two friends—William Klein, a lawyer specializing in entertainment law, and Klein's girlfriend, Sally Lou Ritz, a showgirl generally considered to be one fine-looking babe.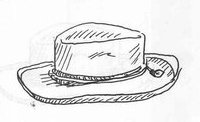 Afterward, the trio stood on the sidewalk chatting and laughing. Although the curtain had gone up on Dancing Partners, Crater seemed unhurried. Between 9 and 9:15, he hailed a passing cab. Klein later recalled it was tan. Crater waved his Panama out the window to his friends. On the record, no one saw Joe Crater again. Someone called for the ticket at the Belasco's box office. No one knows if that person was Crater.
At first Stella had been miffed about Joe missing her birthday but assumed he had been detained on political or legal business. His friends and colleagues thought he was in Maine. After a week Stella began telephoning friends of Joe's in New York. Simon Rifkind, who had succeeded him as Wagner's secretary, reassured her that everything was all right. Eventually the judge would turn up.
The Supreme Court opened on August 25. Justice Louis Valente telephoned from New York to ask whether Joe was still in Maine. His fellow justices arranged a discreet inquiry. On September 3, when the inquiry proved fruitless and the court remained one justice short, the police were notified. Joe Crater became front page news, with the tabloids suggesting he had been murdered, vanished with a showgirl mistress, or disappeared to avoid the Healy scandal.
In October 1930, District Attorney Crain empaneled a grand jury to dig into bankbooks, telephone records, and safety deposit boxes. None of those inquiries led anywhere. Mrs. Crater, bewildered by her husband's disappearance, revolted by the sensational press coverage, and enraged by Crain's suggestions that she knew her husband's whereabouts, refused to go before the grand jury and remained in Maine, outside of his jurisdiction.
The grand jury was dismissed on January 9 1931, after hearing hundreds of witnesses and taking 2000 pages of testimony, concluding: "The evidence is insufficient to warrant any expression of opinion as to whether Crater is alive or dead, or as to whether he has absented himself voluntarily, or is a sufferer from disease in the nature of amnesia, or is the victim of a crime."
Mrs. Crater returned to 40 5th Avenue on January 18. Three days later, while going through her dresser, she found four manila envelopes in a hidden drawer containing Crater's will, which left everything to her, plus $6619 in cash, several checks, life insurance policies worth $30,000 and a three-page note, listing twenty companies or persons who supposedly owed the judge money. On the bottom of the list was penned a note: "Am very weary. Love, Joe."
The police had already searched the apartment several times, and although Mrs. Crater insisted that they could not have searched the hidden drawer that held the newly discovered documents, this incident merely deepened the mystery.
The investigation lasted for years and cost hundreds of thousands of dollars. Some said he was the victim of amnesia, some that he had simply run away with a secret lover. Other theories linked the judge's fate to organized crime. Crater had known Arnold Rothstein, the man believed to have fixed the 1919 World Series, as well as other criminals. Perhaps he had known too much about something-or-other and had to be silenced. There were whispers that Jack "Legs" Diamond had done the job and buried the body in the sub-basement of the Diamond-controlled Peter Barmann Brewery in Kingston, New York.
No one ever found anything illegal in Crater's role as receiver of the Libby Hotel. Yet there were those who persisted in believing some party to the transaction had not received his share of the profits and had taken it out on Joe. Others thought he had been abducted and slain by a criminal gang disappointed with one of his rulings. A few thought he had been murdered by some stickup man who had successfully disposed of the remains.
Emil K. Ellis, who represented Stella Crater in litigation against her husband's insurance company, argued that Crater had been murdered in a blackmail scheme engineered through June Brice, a showgirl. Ellis said the large sum of money her husband had withdrawn the day before he disappeared was probably a payoff. He believed a gangster friend of the showgirl then killed the judge when he refused to give her more money. One incident lent this plausibility: on the evening of his disappearance, Judge Crater had been seen talking to Brice, who vanished the day before the grand jury had convened. (In 1948, investigators working for Ellis tracked her to a Long Island mental hospital: she was hopelessly demented.)

Others tied Crater to Vivian Gordon, a prostitute and blackmailer found garroted in Van Cortlandt Park, up in the Bronx, on February 26, 1931. The tabloids, ever true to form, suggested that "a red hot diary" found in her apartment listed her wealthy politician and businessmen friends, including Joe Crater. Gordon had been due to testify before a special state commission investigating the Healy scandal. Even that came to nothing: Healy was acquitted three times.
Yet Crater's actions from August 3-6 seem to foreshadow his disappearance. He purged his personal files, obtained a large amount of money and wrote the letter describing the debts owed to him found five months after his disappearance. Police Commissioner Edward Mulrooney simply expressed common sense when he said, "Crater's disappearance was premeditated."
Herbert Mitgang, in The Man Who Rode the Tiger: The Life and Times of Judge Samuel Seabury, notes that Seabury's investigation of the Healy scandal (which led to other investigations, ultimately forcing the resignation of Mayor Jimmy Walker) found Crater had raised more than $20,000 shortly before his disappearance. This was equal to a Supreme Court justice's annual salary. There was, as many noted, a Tammany tradition that anyone granted a judgeship paid a year's salary to the party leadership. Roosevelt-haters whispered that Franklin Roosevelt's friends had killed Crater, because his possible grand jury testimony about the sale of judgeships to swell party funds would hurt FDR's presidential hopes: "Mr. Roosevelt hoisted himself into the presidency on the body of his friend," as long-time Crater researcher Alice Amelar once told The New York Times.

Sightings of Judge Crater were reported all over the country, and for a while the police followed up every lead. He was seen on trains and on ships, driving a taxi in a dozen towns, panning for gold in California and Alaska. He was sighted in the South Seas and in the French Foreign Legion. In the 1950s, a Dutch clairvoyant "sensed" Crater's body buried near Yonkers, and in 1959, Westchester authorities dug up a Yonkers backyard in search of Crater's bones.
Eventually, detectives would interview more than 300 people and review thousands of letters, telegrams, and depositions. They never found a trace of Crater or the papers that he had taken from his files.The state of New York declared Joe Crater legally dead on June 6, 1939, nine years after he went missing. Stella Crater sued three insurance companies to collect her husband's death benefits. Eventually, the insurance companies settled.
And Crater became a cultural figure, "the Missingest Man in New York," the butt of nightclub jokes ("paging Judge Crater…"). As late as the 1960s, the name of Judge Crater was invoked as a symbol of the missing. His name even became popular slang: to "pull a Crater" is to vanish.
Stella Crater remarried, divorced, and never stopped looking for her husband. The police closed the case in 1979. On the record, no one knows what happened to him. In this life, no one will.
New York Press, June 25, 2002
January 29, 2015 No Comments
Arecent encounter with the first half-hour or so of Jane Eyre, The Musical put me in mind of the 1857 murder of Dr. Harvey Burdell. (The connection won't immediately be apparent.) A friend with a professional interest in seeing the show had asked me along, and since she'd paid for the tickets and wanted to leave, we did—well before the act break—driven out by the inexorable staccato of the leading lady's enunciation.
The show had not been exceptionally or unexpectedly appalling, but it made you realize that it's possible to get anything produced on Broadway these days, provided it has a child in it. Absolutely anything. People are desperate to get their offspring out of the house, and anything with a kid in it is considered family fare.
This re-emergence of the child as live attraction may be a by-product of the current baby boom. But it has its roots, I think, in the Burdell affair and its aftermath. That's really where the great show-business tradition of exploiting children for profit begins. The Burdell case is one of my very favorite New York murder stories—about a woman who, having killed a man in cold blood, had the audacity to lay claim to his estate as his wife. She was not his wife. But having been arrested, imprisoned, and charged with his murder, she purported to be pregnant with his child. She was not pregnant with his child—or anyone's. But having been tried and acquitted, she carried on with the charade, trying to persuade even her own doctor that she was soon to give birth to the murdered man's heir.
The best account of the Burdell affair is to be found in Murder Won't Out, Russel Crouse's wonderful 1932 anthology of unsolved New York homicides, but I first stumbled on it in a book by Jack Finney (of Time and Again) called Forgotten News, which said that on a cold winter's morning in 1857 a rather unlikable dentist named Burdell had been found murdered in his home at 31 Bond Street. It was not possible to determine the precise cause of death (Burdell had been strangled first and then stabbed fifteen times, apparently in places where it counted) but suspicion fell on Emma Cunningham, a young widow who had been residing in his house for more than a year.
Mrs. Cunningham, to whom Dr. Burdell actually leased the premises at 31 Bond, had for some time been carrying on a not-very-clandestine affair with the doctor. It was a volatile romp, now on, now off. She had marital designs. The two had met at a resort and formed an acquaintance that, back in New York, Mrs. Cunningham had strengthened along with her teeth by going to see him in a professional capacity. She had five children, two boys around eight and nine, and three teenage girls. The whole passel of them wound up moving in with Dr. Burdell, with Mrs. Cunningham eventually taking over the lease from a previous landlady.
The Cunninghams and Dr. Burdell never lived as a family, exactly, though now and then he seems to have shared the widow's board as well as her bed. At a certain point, though, relations seem to have gone awry. There was an incident with a fetus that either miscarried or, as Cunningham later claimed, was aborted (a procedure she said Burdell had both demanded and performed) and a couple of lawsuits. Burdell began to be heard vilifying Mrs. Cunningham, saying he wished she didn't live at 31 Bond Street and that he feared for his life.
She seems to have been a piece of work, a creature in whom a seemingly endless capacity for guile was mingled with chronic ineptitude. In various unsubtle ways she set about alienating Burdell from his friends and acquaintances, particularly other women, moved a number of longtime boarders out and a couple of her own associates in, had him arrested for breach of promise and—when he countersued, claiming she had stolen back her promissory note for the year's rent—for slander; all of which led to a settlement and an uneasy truce, broken only by the murder. Now Mrs. Cunningham came forward with the announcement that she and the doctor had been secretly wed some months before.
She had, in fact, been secretly married to someone. In late October of the previous year a man with a beard and a tendency not to meet one's eye had shown up at 623 Greenwich Street, home of the Rev. Uriah Marvin, and arranged a wedding for the following day. The ceremony had been performed, Dr. Marvin officiating and one of the daughters bearing witness, but whether Mrs. Cunningham had married Dr. Burdell or another occupant of 31 Bond posing as Dr. Burdell was a matter that the minister would later keep changing his mind about. Mrs. Cunningham's claim on Dr. Burdell's $100,000 estate was turned over to the Surrogate. Meanwhile, she was arrested and tried for murder. She got off, owing largely to the fact that the coroner had gathered too much (i.e., conflicting) information.
The likelihood that Mrs. Cunningham was Burdell's widow had been somewhat undercut by the groom's failure to point out the misspelling of his name on the marriage license. (It appeared as "Berdell.") Possibly it was with a view to improving the Surrogate's opinion of her that Mrs. Cunningham embarked on the pregnancy ploy. But Mrs. Cunningham's doctor ratted her out to the district attorney, a man named A. Oakey Hall, who was to become a member of the infamous Tweed ring and mayor of New York.
He was, it appears, no ordinary prosecutor but something of an impresario manqué, a man who today might have made a name for himself as a minor auteur, producing straight-to-video movies, say, or reality television. "A lifelong lover of the arts," according to American National Biography, Hall had moved to New York in 1848 "to take advantage of Gotham's cultural opportunities." By 1851, he was contributing whimsical little pieces to something called The International Magazine of Literature, Art, and Science. One of these, a work of dramatic criticism, is entirely written in the voice of a lorgnette.
Hall proposed to Mrs. Cunningham's physician, one Dr. David Uhl, that they collaborate on a complicated sting operation. He suggested that the doctor play along with Mrs. Cunningham, pretending to be in league with her, all the while reporting back to him. Mrs. Cunningham had asked Uhl to help her procure an infant that she might pass off as her own. She had, she said, $2000 to spend—half for him and half for the baby's family. Hall told the doctor to go ahead and locate a suitable baby. In the charity wards at Bellevue a woman was found who was willing to be separated from her newborn child for a single night in exchange for a thousand dollars.
Hall's plan involved stringing along Mrs. Cunningham—who at that point was claiming the birth to be almost imminent—for several weeks. While she strove to build up an illusion of gravidity (simulating cravings and nausea, expressing anxiety about whether she would go to term) Hall invented an elaborate cover story to explain how a complaisant mother had been found so easily: she could be a "California widow"—a woman anxious to remove the evidence of an ill-timed pregnancy achieved while her husband had been off panning for gold.
Hall also hired his brother-in-law from upstate, another doctor, whose role in the masquerade would be to transport the baby to 31 Bond. At Hall's instigation, the two physicians scoured the Lower East Side for an apartment in which they might pretend this fictional mother was about to give birth. On Elm Street (now Elk Street) they found a wine-and-beer merchant with a set of rooms to let. Hall not only rented the rooms on Elm Street, he had them furnished and filled with props. He even brought in a Spring Street pharmacist to play the mother, when Mrs. Cunningham came by Elm Street at one point,  and the fellow put on a frilly cap and simulated birth pangs heroically from the bed.
To make a long story short, the police totally nailed it, and everything went off like clockwork. They let the baby arrive and be admitted to the house. Then before you could say "fallopian tube" they were up the front steps of No. 31 and in the door. Hall's brother-in-law later claimed that on confronting Mrs. Cunningham he even remembered to say, "Do you claim this child as the child of Harvey Burdell?" to which he said she replied, "Of course—whose else should it be?" And that was it—busted.
Mrs. Cunningham, though arrested that night, was apparently never prosecuted for the Bogus Baby escapade. So it seems as if all that Hall had wanted was to put on a big show. In later years Hall himself would  be accused of fraud, but like Mrs. Cunningham would be acquitted. And though he would end his career in disgrace, he shares a biographer with Eugene O'Neill, which would no doubt have pleased him.
The baby in the case (and here is my point) wound up in Barnum's American Museum, where it had a nice little run earning its mother $25 a week—Broadway's first child star.
Incidentally, a No. 31 Bond Street still exists. Inside is a pretty little auditorium.
New York Press, March 20, 2001
February 10, 2009 Comments Off on Family Fare