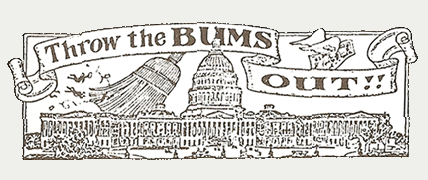 From New York Press, Janury 21, 2004
One of my New Year's resolutions was to throw out the old papers piled up on my desk. I'm not a pack rat like the Bronx guy who spent two days trapped in his apartment under an avalanche of his own magazines and newspapers, but I've a weakness for letting interesting documents accumulate. So, late on the afternoon of January 1, 2004, I went to work.
One thing I turned up was the New York City Campaign Finance Board's Voter Guide for the General Election of November 4, 2003. I kept it for laughs after reading the statements published in it by the candidates in my city council district. Although the Democratic incumbent, an affable party hack, seemed pleasant enough, his pompous,  jargon-ridden prose indicted him for bad thinking. His sole opponent, a Democrat who, having lost his party's primary in September, had been nominated by the Republicans, was more interested in advertising his East Harlem restaurant—complete with directions—than public policy. I don't know about his food, but publicizing one's business with taxpayers' money seems to betray bad taste, if not bad ethics. Neither man would have satisfied James Madison's hope that our elections should feature candidates "who possess the most attractive merit."
What to do about such losers? In New York, nothing. One of these guys was going to be elected. Furthermore, as we now know, despite their assaults on liberty and property (tax hikes of 18 percent on residential property and nearly 2000 percent on cigarettes, banning smoking in bars, and laws penalizing this newspaper's street boxes), every incumbent city council member seeking re-election in November was returned to City Hall. Much of the reason wasn't apathy. The incumbents were mostly unopposed at the general election, or opposed only by characters you would vote for only as a joke. The same was true of last year's judicial elections in Manhattan. Nor is this a phenomenon peculiar to New York: in 2002, seventy-eight of the 435 seats in the U.S. House of Representatives were uncontested by one of the two major parties, which usually meant no contest at all.
Mere elections—even honest elections—are no symptom of democracy. For example, a generation ago in the Philippines, Ferdinand Marcos's dictatorship held regular and contested elections. However, the only opposition candidates allowed on the ballot were wackos: the Filipino equivalent of our Prohibitionists, Greenbackers, and Lyndon LaRouche. Electable opponents had an odd way of being bumped off. And we all know now that Yugoslavia's Milosevic repeatedly won freely contested elections on the road to ethnic cleansing. Democracy is more than a ritual we observe every November. At any rate, it should be.
A workable alternative to New York's system of bad choice/no choice has been used in Nevada for a generation. One of the Silver State's attractions (beside the absence of state income tax) is  its voters' right to vote against all candidates. Since 1975, under The Nevada Revised Statutes 293.269, ballots for statewide office or for president and vice president must always include "None of these Candidates."
Consequently, sometimes you can beat somebody with nobody.  In 1976, "None of these Candidates" won the Republican congressional primary with 47.3 percent of the vote, much to the embarrassment of the hack perennial candidates left far behind. Two years later, it won the Democratic  congressional primary. In the 1980 Democratic presidential primary, it outpolled Senator Edward Kennedy and nearly defeated President Carter. It won the 1986 Democratic primary for state treasurer, beating five real candidates, and beat Ralph Nader  in the 1996 Green presidential primary. Two years ago, in the Democratic gubernatorial primary, "None of these Candidates" embarrassed the machine candidate (who openly favored raising taxes) by polling 24 percent of the vote to his 35 percent (a topless dancer came in third with 21 percent).
But Nevada law still lets the candidate with the most votes be elected or nominated, even if "None of these Candidates" wins. It's a safety valve, not a barrier to the hacks. A better option would be to require a new election if "None of these Candidates" outpolled the candidates, with the losers barred from the ballot. This is the practice in Russia and a few Eastern European countries, where voters may simply reject all the candidates and try again.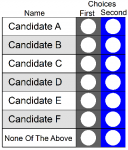 The option of voting for "None of these Candidates" or "None of the Above"—NOTA for short—enjoys support on both left and right. The Wall Street Journal endorsed NOTA in 1996, after Representative Wes Cooley of Oregon was re-nominated despite being exposed as both a fraud and a  phony war hero. Although unopposed at the Republican primary, Cooley received only 23,000 votes while 31,000 voters cast blank ballots or various write-ins. The voters had no effective way to deny his re-nomination. This was two years after Representative Mel Reynolds of Illinois was re-elected unopposed following his post-primary indictment for raping a minor, possession of child pornography, and obstruction of justice. (Later convicted, forced to resign, and imprisoned, Reynolds was pardoned by President Clinton on his last day in office so he could work as a youth counselor for the Reverend Jesse Jackson).
And the hits just keep on coming. Some of us remember the 1991 Louisiana gubernatorial runoff between Klansman/hustler/racist agitator David Duke (now imprisoned for mail fraud) and the flamboyantly dishonest Edwin Edwards (now imprisoned for fraud, racketeering, and extortion). Then, it was a choice between vulgarity and obscenity. Governor Edwards, whose supporters proclaimed, "Vote for the crook. It's important," later quipped that the only folks who didn't vote for him were one-armed people: they couldn't hold their noses and pull the lever by his name at the same time.
Others may recall some local elections in New York, such as the 1987 Bronx district attorney's race in which the effectively unopposed incumbent died before Election Day, requiring voters to elect a corpse; or the death of West Side Representative Ted Weiss in September 1992, which permitted the Democratic machine to anoint a loyalist assemblyman as his successor and then a party district leader as the assemblyman's successor, all without a single primary.
Presently then, New Yorkers have three empty options in elections such as the one in my city council district last November: voting for one or another empty suit; writing in someone's name (which will not be counted); or not voting. None of them matter. But adopting NOTA would let voters simply reject unacceptable candidates and try again. Even an unopposed candidate might lose if the voters found him unworthy, or felt they just didn't know enough to make an informed decision.
Some oppose NOTA because holding a new election every time "None of these Candidates" won might be expensive. Against this is the possibility of defeating unqualified hacks who merely know how to game the system and whose incompetence would probably lead to inefficiency and waste at the taxpayers' expense. More absurd is the possibility of a series of elections in which "None of these Candidates" wins, instead of allowing on the ballot better candidates who actually wage informative campaigns on relevant issues. (And some political puritans argue that the Nevada option would let voters avoid making hard choices: as if most Americans weren't already avoiding such decisions by simply not voting at all.)
Of course we all understand that most of these arguments are mere eyewash to conceal the hacks' self-interest. Having spent nearly fifteen years in City Hall, I speak from personal experience in suggesting that most politicians only pay lip service to democracy. For them, the paramount issue is controlling the system.  Anything that weakens that control is unacceptable. They don't have to read Machiavelli to understand that.
Yet, as Dr. John Pitney suggests in "The Right to Vote No," NOTA really may come down to first principles. If free government is really based on the consent of the governed, the people should have a clear way of effectively withholding their consent from candidates who are unworthy, unknown, or unopposed. Otherwise, they simply may passively withdraw their consent. Perhaps, by not voting, they're doing that already.